The edited book by Stefanie Van de Peer won the award for best edited book from the British Association of Film, Television and Screen Studies.
The British Association of Film, Television and Screen Studies gives its annual awards (since 2013)  in order to promote the recognition of the discipline, and represent the academic and professorial interests of those engaged in it to the academy.
An animation scholarly book is one of the 2018 winners. Stefanie Van de Peer (University of Glasgow) and her collaborators won the 2018 Best Edited Collection Winner for the book Animation in the Middle East: Practice and Aesthetics From Baghdad to Casablanca, IB Tauris. The book uncovers the richness of Middle East animation that films like Persepolis and Waltz with Bashir only hinted at. Animation in the Middle East argues that a changing cultural climate in Middle East (art that reflects politics, popularization and proliferation of film festival, and emergence of animation studios) has led to innovative visions of contemporary animators in the region.
The book started with Stefanie Van de Peer's immersing into the world of Syrian animation featureThe Jasmine Birds  by Sulafa Hijazi (2009), which she watched at Rotterdam Film Festival. Stefanie Van De Peer talks to Zippy Frames:
The many layers of beautiful images and dissident content really made me sit up and look and listen. I met Sulafa and discovered she had made more films, all around the Middle East. This meeting and discovery of films made me want to know more, but there were no popular or academic sources at all, apart from one excellent little guide by Mohamed Ghazala. So it became a passion project: a mix of love and necessity. Even where cinema has historically struggled, animation is now flourishing, and I wanted more people to sit up and look and listen... The politics of animation really captured me, alongside feeling the need to bring more attention to the amazing films and their histories. And that is now my feeling with winning the BAFTSS Award: personally I felt really happy, but I also felt vindicated for the field, both Arab studies and of animation studies, because they are mostly neglected in film studies. And here they have taken centre stage and first prize. I really hope this means that more attention will be paid to animation in general and Arab filmmaking in particular - Stefanie Van de Peer

Book Contributors cover geographically Middle East and Northern Africa. They are: Maya Ben Ayed (Tunisian animation), Paula Callus (Moroccan animation), Yael Friedman (Israeli animation), Lina Ghaibeh and George Khoury (JAD) (Lebanese animation),  Mohamed Ghazala (Egyptian animation), Maryam Ghorbankarimi (Iranian animation), Coleen Jankovic (Palestinian animation) , Nisrine Mansour (Libyan animation), Omer Adam Sayfo (Saudi Arabian animation), Amber Shields (Iraqi animation), Başak Ürkmez (Turkish animation) and Stefanie Van de Peer (intro, Syrian animation).
This book is particularly notable for opening up virtually uncharted territory. Its wide geographic scope, negotiation of politically sensitive issues, mix of contributors, and its emphasis on both practice and aesthetics are hugely impressive. Also worthy of note is its emphasising of local histories before (but not at the expense of) global or transnational ones, and its well-thought-out structure, which combines chronologically - BAFTSS Panel
Stefanie Van de Peer (Research Associate at University of Glasgow and Research Fellow at the University of Exeter), has co-edited two books: Art and Trauma in Africa (I.B.Tauris, 2013) and Film Festivals and the Middle East (2014). She has also worked behind the scenes of several Arab and African film festivals around the world, including the Africa in Motion Film Festival, REEL Festivals, the Middle Eastern Film Festival, and the Boston Palestine Film Festival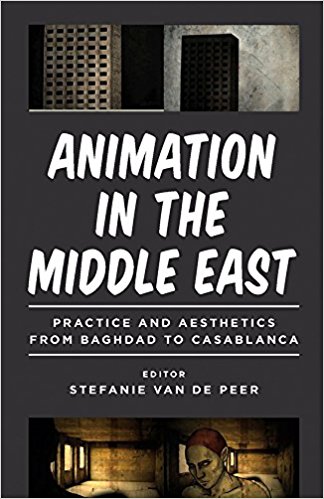 Related Articles

Jayne Pilling to Receive Outstanding Contribution to Animation Studies Award at Animafest Zagreb
The UK animation scholar to be awarded during the opening...

Eliane Gordeeff Prepares Book On Stop-Motion and Animation Narrative
Aesthetic Interferences: The Stop-Motion Technique in the...