Jose Miguel Ribeiro, The 7 Boxes and altogether a vast array of projects for the 10th edition of 3DWire Fest and Market in Segovia, Spain.
The 10th edition of 3D Wire will feature a total of 106 selected projects, a large amalgam of works that will show the future of animation and video games from Spain and Portugal. A total of 17 feature films and another 18 short films, 29 animation series, 39 video games and 3 VR projects define this selection that is completed with 9 European transmedia projects and 11 international on line series.
 The market (Segovia, 4-7 Oct 2018) will feature the Spanish 3D production: Dogtanian and the Three Muskehounds; a film directed by Toni García and produced by Apolo Films. This ambitious bet aims to e-launch the iconic character of the 80s that is based on the most famous novel by Alexandre Dumas.
The jury member of the 3D Wire Fest, the Portuguese Jose Miguel Ribeiro, will also talk about his new work, the feature film Nayola. A production of Praça Filmes that immerses the adult public in an Angola under the vision of three generations of women: grandmother, daughter and granddaughter; an initiatory journey in a country that undergoes a true metamorphosis.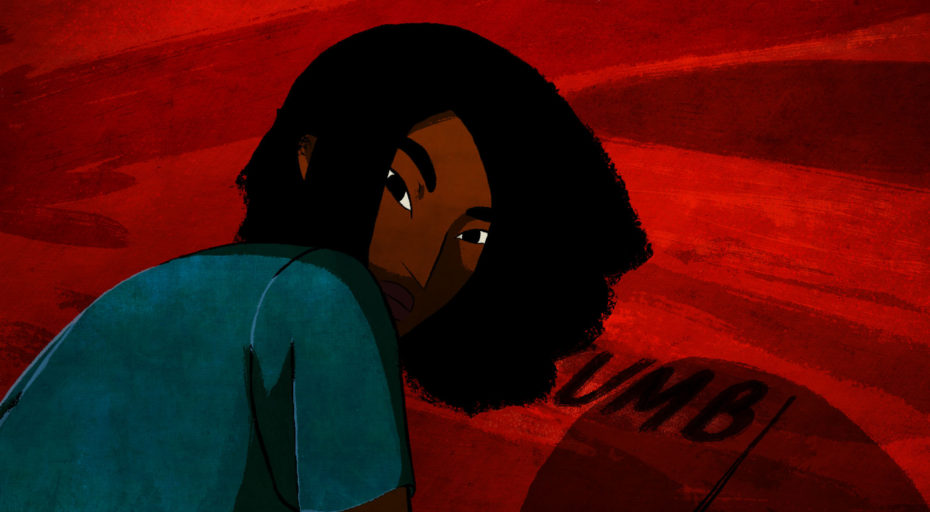 Nayola
Another feature film is MiBots, a co-production between Spain, UK and US (Wise Blue Studios). Currently in pre-production status, the film has already confirmed its scriptwriter, Rob Edwards (author of the Disney films: The Princess and the Frog or Treasure Planet), who will work on an original idea of the Spanish Maxi Valero.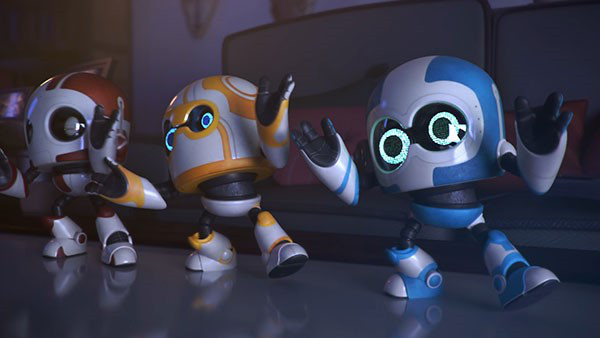 Mibots
Maxi himself also prepares The Watchmaker, a 3D short film that goes deep into time, destiny and life. Colossal Jane by Roc Espinet (animator in Alberto Vázquez's and Pedro Rivero's Psiconautas and Decorado is a short film project. In addition, Espinet was already selected in 2016 with his transmedia project: Girl and Wolf.
Iván Carmona and María Buitrago (Sunshine Animation Studio, Madrid) will come to advance news of the short film I'm not Alone,  a story about a devastated and dominated by machines world where a child must face his past in order to have a future.
 CHILDREN'S SERIES
The series will have its own voice withTuruleca's Funny Farm by Víctor Monigote or Tiko Taiko by Manuel Sicilia and Jesús Gallego. Monigote, multidisciplinary artist responsible for the artistic direction of the blockbuster Mortadelo and Filemon: Mission Implausible by Javier Fesser, will present the work with his personal stamp and where he turns to the animal world to get into musical learning. Sicilia (Justin and the Knights of Valour) and Gallego, on the other hand, will bring a comedy of space adventures that is immersed in science for the little ones. The first is a production of Tandem Films, while the second is a co-production between Rokyn Animation and Gallego Bros.
The third series to be presented is the Portuguese production The 7 Boxes, directed by Nuno Amorim (Animais). The series talks about a city where children should watch their screens all the time.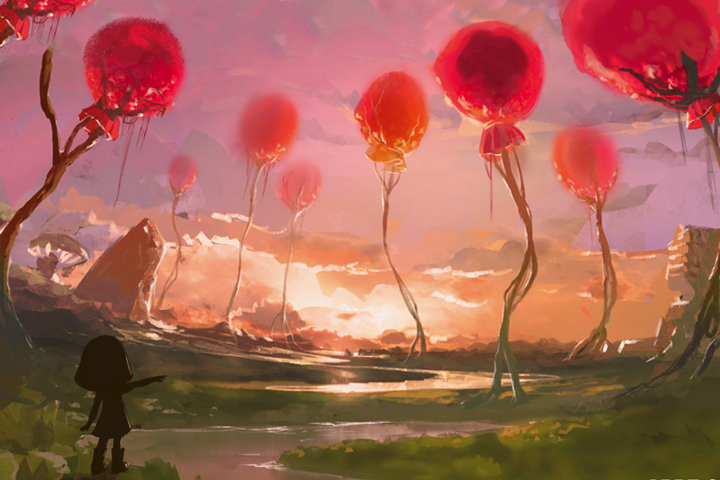 The 7 Boxes
In the video game area, there will be Endling. An ecological adventure (for PC and console), developed by the Spanish studio Herobeat Studios that takes us to a world devastated by humans seen through the eyes of the last fox of the Earth. Jingle & Merry. Who gave Christmas Away? will also be discussed. This title is a proposal of Whytah Games that takes us to Santa's toy factory and where the player must put himself in the skin of the elves, Jingle and Merry, to save the most important night of the year. The third title to be presented is Kluest from Sons of a Bit Entertainment, an app for mobile devices that makes use of AR (Augmented Reality) in an innovative way. And Pendulo Studios will talk about "Blacksad: from comics to video games".
EUROPEAN TRANSMEDIA PROJECTS AND INTERNATIONAL ONLINE SERIES
11 international transmedia projects have been selected. Among those, the presentation of Protanopia and RRR 1, by its creator André Bergs, had already been confirmed;also  Madrid Noir: The Prologue project, by the British studio No Ghost; a moving story about a detective in Madrid in the 30s and a stray dog. In the webseries section, FHS will be presented by Laura Edith Lara and Héctor Peinado Díaz and The Rustis by Txabi Mira. The public entity, RTVE, maintains one more year its interactive awards for the most innovative video game / app project, and VR video game, which may be presented to RTVE's Interactive Department.
For its part, Movistar + supports the call for the third consecutive year by awarding the Movistar + Short Film Project Award. The short film selected in this section will obtain the acquisition of the emission rights by Movistar + for an amount of 9,000 euros during the term of 2 years and unlimited number of passes, being the first year exclusively for the aforementioned channel. In addition, the work will be officially released in the 2019 or 2020 edition of the 3D Wire Market. The novelty this year is in the animation series; those whose director or producer is their first or second series may opt for the Best Young Creator Series Project. A recognition that will give them a free accreditation for the next edition of Annecy-MIFA (MIFA professional accreditation). Regarding on line series, Átomo Network (main contributor) will grant a series of prizes: Átomo Network Award, to the best on line series in any language other than Spanish; and Premio Robot Atómico, for the best on line series in Spanish language. 
Full line up:
SHORT FILMS
Arnold y Harold, by Gregorio Melamud
Blue & Malone, Impossible Cases, by Abraham López Guerrero (ESDIP ESCUELA DE ARTE, EL VIAJE IMPOSIBLE PRODUCCIONES CINEMATOGRÁFICAS)
Hunting Gamusinos, by Silvia Mañes Velasco (UNIVERSIDAD POLITÉCNICA DE VALENCIA)
Cinderella Swing, by Myriam Ballesteros (MB PRODUCCIONES)
Cocorico, by Shira Ukrainitz, Omar Razzak (TOURMALET FILMS, MARMITA FILMS)
Colossal Jane, by Roc Espinet Lizarralde
Él corrió junto a su camarada, by Genís Rigol (UNIKO)
Flocky, by Esther Casas Roura (CLAYMANIAK STUDIOS, APEMAN STUDIOS)
Homomaquia, by David Fidalgo Omil (ABANO PRODUCIÓNS)
I'm Not Alone, by Iván Carmona Marín, María Buitrago Vicente (SUNSHINE ANIMATION STUDIO)
Loop, by Pablo Polledri (UNIKO)
Martín Is Cold, by Adrián Rivas Roldán
Me, a Monster?, by Belinda Bonan (MOST WANTED STUDIO)
The Peculiar Crime of Oddball Mr. Jay, by Bruno Caetano (COLA – COLECTIVO AUDIOVISUAL)
The Watchmaker, by Maxi Valero (WISE BLUE STUDIOS, ALESA PRODUCCIONS)
Routine, the Prohibition, by SAM (HAMPA STUDIO, CONFLICTIVOS PRODUCTIONS)
No Return Address, by Valle Comba  (VERBENA FILMS)
Souvenir, by Paloma Canonica, Alicia Bayona, Cristina Vilches
 
FEATURE FILMS
Animagika, by Javier Martinez (BIG BANG BOX, LIGHTBOX, WALKING THE DOG, TIMELESS FILMS)
My Grandfather Used to Say He Saw Demons, by Nuno Beato (SARDINHA EM LATA)
Black is Beltza, by Fermin Muguruza (TALKA RECORDS, BLACK IS BELTZA, ELKARLANEAN, SETMAGIC AUDIOVISUAL)
Buñuel in the Labyrinth of the Turtles, by Salvador Simó (SYGNATIA, GLOW, THE GLOW ANIMATION STUDIO, SUBMARINE AMSTERDAM, HAMPA STUDIOS)
The Cuby House Project, by Óscar F. Vega (NCTP SA., 12 PINGÜINOS ESTUDIO,  PALAMONT PICTURES)
Dogtanian and the Three Muskehounds, by Toni García (APOLO FILMS)
Dragonkeeper, by Ignacio Ferreras (DRAGOIA MEDIA, CFA, TELEFÓNICA, ATRESMEDIA CINE)
Memoirs of a Man in Pajamas, by Carlos Fernández de Vigo (ÉZARO FILMS, DREAM TEAM, HAMPA STUDIOS)
Mibots, (WISE BLUE STUDIOS)
Nayola, by José Miguel Ribeiro (PRAÇA FILMES, S.O.I.L, JPL FILMES E ILLUSTER)
Rock Bottom, by María Trénor (ON AIR COMUNICACIÓ)
Capablanca's Secret, by Alejandro Cruz, Álvaro Castellanos e Irene Hernández
Skate or Die, by Marta Alcubilla, Carlos Monteagudo, Alfredo Carroquino
Super Summer, by Carlos Bleycher (NIÑO VIEJO)
Unicorn Wars, by Alberto Vázquez (AUTOUR DE MINUIT, ABANO PRODUCIÓNS, PANIQUE!, UNIKO)
Valentina, by Chelo Loureiro (ABANO PRODUCIÓNS)
The Travel to the Fantastic World of Gloria Fuertes, by Manuel Sirgo

SERIES
The 7 Boxes, by Nuno Amorim (ANIMAIS)
A.S.S, by Almudena Sancho de Bustos (BARREIRA ARTE Y DISEÑO)
Annie & Carola, by Myriam Ballesteros (MB PRODUCCIONES)
Apokatlipsis Cyborn Planet, by Silvia Tapia, Gastón Mass (ALKIMIA ANIMATION STUDIO )
Bento, by SalBa Combé (MR. KLAUS STUDIO, SALON INDIEN FILMS)
Bumpy the Bear, by Emi Ordas (WEDOO STUDIO)
The Call of Mystery, by Víctor López Aguado (ALL THE KIDS ENTERTAINMENT)
Cry Babies, Magic Tears, by Alex Cervantes (HAMPA STUDIOS)
Undercat, by André Matos, Sara Marques (TAKE IT EASY)
The Diary of Bita and Cora – Second Season, by Vicente Mallols (TV ON PRODUCCIONES)
Ferociously Happy, by Alberto Vázquez (UNIKO)
Flo & the Intrepids, (ÁNIMA SPAIN)
Turuleca's Funny Farm, by Víctor Monigote (TANDEM FILMS)
Home Villa Tours, by Irene Chica
Islands of Fire, by Josemi de Alonso (NOONE)
Loopyzoo, by Irene Chica
Lunnis de leyenda, by JM Isidoro (CORPORACIÓN DE RADIO Y TELEVISIÓN ESPAÑOLA – RTVE)
Mikromus, by José Arredondo (FILMS 7 MAGIC)
The Monster Valley, by Héctor Zafra, Santi Amézqueta (MID ANIMATION)
Los Muguis, by Isabel Chica (COTIPIA)
Petoons, by Benet Román (PETOONS STUDIO)
Princess Greta of Kalamata, by Teresa Rodríguez Hago, Salomé Rodríguez Hage  (3DOUBLES PRODUCCIONES)
Sex Symbols, by Alejandro Cervantes (ADMIRABLE FILMS)
Tiko Taiko, by Manuel Sicilia, Jesús Gallego (ROKYN ANIMATION, GALLEGO BROS)
Toby, the Squirrel Kid, by Mario Domínguez Soler
Unlockers, by Irene Chica
Trip to the Antarctic, (TREE ISLAND STUDIO)
Villains Campus, by Samuel Colomer Minguet
The Zurf, by Álex Cervantes (HAMPA STUDIOS)
 
VIDEO GAMES
Albacete Warrior, by FAS3 STUDIOS
Anyone's Diary, by WORLD DOMINATION PROJECT STUDIO
Arcade Mixer, by NAPABLACK
Asahi: Sunrise's Fires, by ESTUDIO NEMO
Blacksad: Under the Skin, by PENDULO STUDIOS
Blue y Malone: lugares imposibles, by ESDIP
Catpocalypse Meow, by FRAXELGAMES
The Crown of Wu!, by ESCUELA TRAZOS
Death Tycoon, by KORON STUDIOS
Debris Infinity, by SVC GAMES
Deiland, by CHIBIG
Desolate City: The Bloddy Dawn, by NETHERWARE ENTERTAINMENT
Endling, by HEROBEAT STUDIOS
Eternum Ex, by FLYNNS ARCADE
Focus Cat App, by NOXFALL STUDIOS
Gamshal. The Forsaken Monk, by YAKGAMES
Hello, my Name is Nobody, by NO WAND STUDIOS
Injection π23 'No Name, No Number', by ABRAMELIN GAMES
Insomnis, by PATH GAMES
Islabomba, by SONS OF A BIT ENTERTAINMENT
Islabomba: Ready to Bomb, by SONS OF A BIT ENTERTAINMENT
Jingle & Merry. Who Gave Christmas Away?, by WHYTAH GAMES
Kluest, by SONS OF A BIT ENTERTAINMENT
Mibots Playroom, by WISE BLUE STUDIOS
Monster Prom, by BEAUTIFUL GLITCH
Motor Strike: Racing Rampage, by FIVEXGAMES
Neonwall, by JANDUSOFT
Noahmund, by ESTUDIO ÁBREGO
Numantia, by RECOTECHNOLOGY
Oh My Lord Tournament, by GREENGLOB SALSA
Petoons Party, by PETOONS STUDIO
Project Lethe, by CUATRO MONOS
Rime, TEQUILA WORKS
Rock Defender, by GRAFENOGAMES
The Signal, by DIGITAL SUN, SILLY WALKS STUDIO
Souldier, by RETRO FORGE GAMES
Super Dodgebal Beats, by FINALBOSS GAMES
Super Hydorah, by LOCOMALITO, GRYZOR87, ABYLIGHT
Super Hyperactive Ninja, by GRIMORIO OF GAMES

 


VIRTUAL REALITY

Fx Carnival, by FX ANIMATION BARCELONA 3D & FILM SCHOOL
Bear, Tiger and Dragon, a VR Fable, by IRALTA FILMS, IRALTA VR & AUDIOVISUAL PRODUCTION, GLUK MEDIA
Red Matter, by VERTICAL ROBOT
Related Articles

Dissonance, Decorado Take Home 3DWire Awards
Full report from the Segovia fest. Results are in for the...

3DWire 2018: A Special Animation Event
Eliane Gordeeff reports from the latest edition of 3DWire...