Sunday, 13 May 2012 15:22
The French film Aya of Yop City, directed by Marguerite Abouet and Clément Oubrerie, will now have its avant-premiere at the 40th Angoulême comics festival, France.
Aya of Yop City (Aya de Yopougon) is based on the memories of Marguerite Abouet, born in the working-class neighborhood of Yopougon, in Abidjan, Ivory Coast.
Her memories surface in the graphic novel series "Aya de Yopougon" (prepared with the collaboration of the graphic artist Clément Oubrerie), in which she presents an Africa country at peace, more urban and modern than otherwise expected.
The team of Autochenille Productions (responsible for the Annecy-awarded feature film Le chat du rabbin (The Rabbi's Cat) prepares an animated version of the acclaimed novel, with the French actress Aïssa Maïga asAya.
It has now been officially announced the Aya of Yop City will premiere at the 40th'Angoulême festival of comics (31 January- 3 February 2013). The film will screen on February, 2nd (19:00 screen Méga CGR).
The French theatrical release for the film is scheduled for 24 July 2013 (distributor: UGC).
See some new images below (and more images here) and read the official synopsis. Visit the official Fb page of Aya de Yopougon .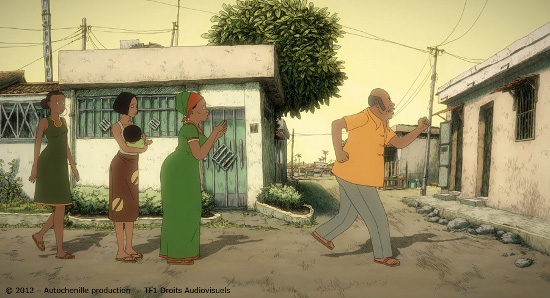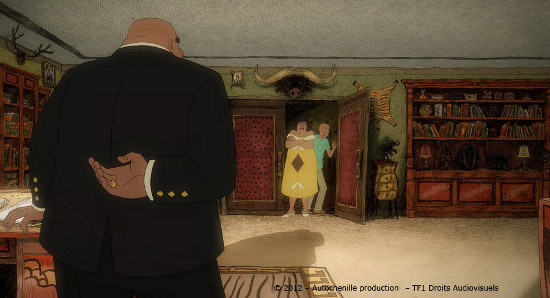 Welcome to Yopougon, a working-class neighborhood of Abidjan in the late 70s, renamed Yop City – to sound like an American movie ! This is home to Aya and her two friends, adjoua and Bintou. The're 19-years-old, a time in your life when everything seems possible. But while Aya would like to become a doctor one day, her friends are more into nightclunning at the locaol "maquis" and hunting for a husband. Around this dynamic trio, we cross characters with diverse destinies like Ignace, Aya's runaround father who juggles several "offices", Moussa, the son of the powerful Bonaventure Sissoko who counts on his Toyota to pick up girls. There's also Fanta and Koro, the mothers who try to protect their daughters. Or Grégoire, the "Parisian" who bloaws his cash at the famous hotel Ivoire.
A true chorale comedy, Aya of Yop City is a chronicle of an unexpected Africa, modern and urban.
<![if gt IE 6]>
<![endif]>
Last Updated on Friday, 25 January 2013 09:32