Wednesday, 12 February 2014 00:00
Have a look at the synopsis and the fiirst image of the premiere animation feature by the Oscar-awarded director of Father and Daughter. A sneak preview will be presented during the 2015 Annecy festival.
The Dutch director and animator Michaël Dudok de Wit (Academy Award for Father and Daughter, Oscar-nominated for The Monk and the Fish), after a long gestation period, has assembled together an international production team to develop his first animated feature The Red Turtle.
The film will be presented as a work in progress in the 2015 Annecy Festival, where the director will talk about his unique style using charcoal and watercolour.
According to the official synopsis given by Arte France Cinéma (which co-produces the film), the story of the film (which has no dialogue) takes place after a shipwreck.
The castaways find shelter in a deserted tropical island populated by turtles, crabs and birds. The film will tell the major life stages of a human being.
Dudok de Wit remains faithful to his 2D charcoal animation, and states that the film "shows a deep respect for nature, including human nature, and it conveys a sense of peace and awe before the immensity of life "
The first image of the film (via Catsuka):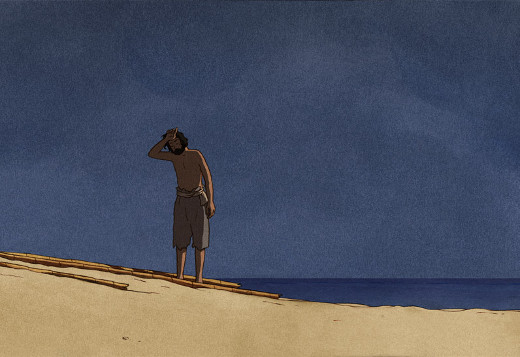 Production partners include, apart from Arte France Cinéma, Why Not Productions,Wild Bunch, and Studio Ghibli, the celebrated studio behind Hayao Miyazaki's works.
Executive production will take place at Prima Linéa Studios.
<![if gt IE 6]>
<![endif]>
Last Updated on Thursday, 19 March 2015 14:41