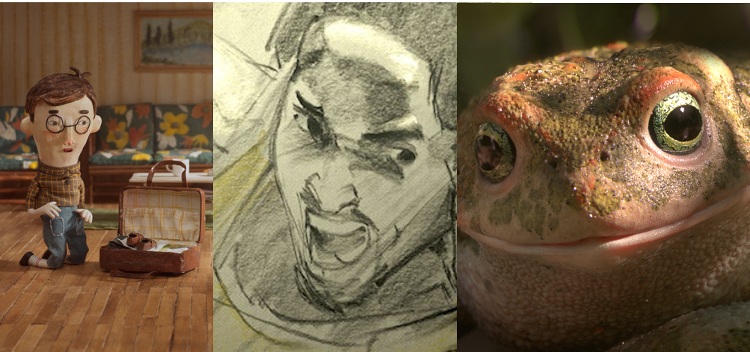 The 2017 Oscar award race for short animation films has a definite pattern - and cements a recent trend in animation preferences.
It was certainly a situation of bad timing; 3 announcements of major awards/festival coincided the same day. First, the 45 Annie Awards Nominations, which offered an unprecedented record of 10 nominations for Cartoon Saloon's The Breadwinner (dir. Nora Twomey).
Then, the Academy Motion Pictures Arts and Sciences announced their shortlist of 10 pre-selected films which continue to the next nomination stage, and get their chance at an Oscar (feature animation films don't get a shortlist, but move directly to the nomination phase).
At the same time, the 2018 Sundance animation shorts selection revealed what everybody already had imagined: if there's any justice at all to be done to the animation world outside the world of big animation festivals, all these nominations would need magically to be combined, in order to get a coherent view of what's at stake in contemporary animation production.
Otherwise, one cannot explain the curious Oscar shortlist pattern that has started to appear in recent years -and this irrespectively of the quality of the included films themselves. US student films -this year we have In A Heartbeat by Beth David and Esteban Bravo and Cradle by Devon Manney - compete with both animation veterans, a Pixar / Disney short, and some European shorts which feature children or animal characters. A National Film Board of Canada short usually manages to enter both the shortlist and nominations.
In 2017, Glean Keane with his Dear Basketball takes the place of Richard Williams Prologue last year. NFB, which had a nomination in 2016 with Theo Ushev's Blind Vaysha, did not make it this year. However, Hedgegog's Home by  Eva Cvijanović  (a co-production between NFB and Bonobo Studio) was nominated in the Annies instead (Best Animation Short).
So, it is not really a case for technique of films for children anymore: Oscar shortlists and nominations wish to combine both the old and the new, 3D animation with stop-motion (the fine film, itself a combination of puppet animation, hand-crafted elements and 3D,  Negative Space by Max Porter and Ru Kuwahata has managed to capture the hearts of more people than they actually fit in the boy's suitcase); whereas the sly Garden Party by Victor Caire and Gabriel Grapperon brings memories of Hollywood's Sunset Boulevard transformed to a frog colony -and it works.
Oscars want them all, but they want it in their own way.
Otherwise, the continuous recent scandal of not including films which are outside this circle cannot be explained. Zbig Rybczynski won an Academy Award for his 1980 Tango, but Špela Čadež can't even be nominated for her more narrative-based, David Lynchian excellent parable of alcoholism in Nighthawk (Slovenia/Croatia). Čadež was at the 2017 Sundance festival, and Niki Lindroth von Bahr follows in her festival footsteps with the musical existentialism of The Burden -again the film absent from both Oscars and the Annies.

Annies fare better in the feature department -but no Psiconautas there, whereas Loving Vincent is being nominated in the category it has the most weaknesses: writing.
But it definitely needs to be acknowledged that the independent animation feature category in the Annie Awards has opened up the field for more diversity in the other categories as well.
So perhaps it's the time for the Academy  to do something similar, and introduce at least an independent/ Foreign animation short category (if not feature as well)? Foreign language category in live-action films is haphazard, but still can get some of the finest films of the year. A similar category and selection either by countries or festivals alone could bring similar results. Studio and US films could still be judged as a separate short category by the existing system and Academy branch.
It's true that in this case only one film per country could compete, and there are various logistics and interests involved that could make it equally problematic (who selects, what will be the role of the animation branch etc.) But, letting all difficulties aside,  it will definitely give an additional chance to films that otherwise have no chance to compete in Animation Short  category, as now structured.
Independent animation community may feel that Sundance and animation festivals is indeed the natural habitat for films like Among the Black Waves  (Anna Budanova),  I Like Girls (Diane Obomsawin),  Impossible Figures and Other Stories II (Marta Pajek),  Love (Réka Bucsi), Nothing Happens  (Michelle Kranot, Uri Kranot ) - so who cares about the Oscars, anyway? 
That could indeed be the case, but still  this does not help the visibility of independent animation on the other side of the Atlantic, which also controls most of the marketing tools and weapons to publicize its nominees around the world.  
It is a harsh game around these awards, and perhaps if some of the filmmakers had the budget and the stamina to campaign for their film in the US, it would indeed make a case for a more comprehensive overview of short animation production. The other option, of course, would be to do the staff that the the Oscar-awarded Piper film is made of -but really we need more diversity around here.
Vassilis Kroustallis