Festivals
3DWire 2018: A Special Animation Event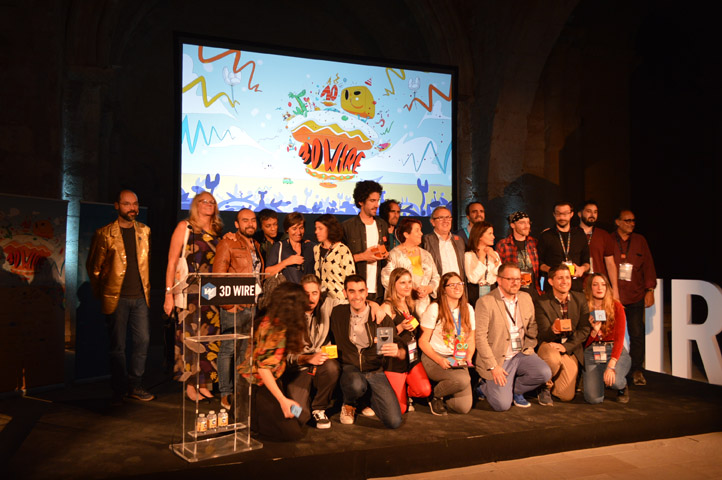 3DWire 2018 Award Ceremony- Photo by Cláudio Roberto
On 3DWire's birthday, we received the gift! 2018 is the 10th year of one of most important festival and meeting of professional animation, video games and new media market in Europe. 3D Wire, International Animation, Video Games and New Media Market takes place in historical Segovia (Spain) city, which were declared World Heritage Sites by UNESCO in 1985. Of course, the beautiful site turns 3DWire meeting in an amazing animation event. And it happens for some reasons: through the contrast between the event technology and the ancient buildings; by the goodwill and receptivity of the people (inhabitants and the 3D Wire crew); via the good and high performance of the presentations; for the importance of the subjects being discussed; and through the unique spirit that grows among the participants during the four days of an animated marathon that links everybody! There are so many things to write about, that it could be a book! However, I try to bring to ZF readers a little bit of 3D Wire, with some impressions from great highlights, at least to me, because everything was very exciting, but I have to choose… (So, I'm sorry for those who could not be there!).
The first relevant moment was the screening of feature animation, Thursday night, Un día más con vida (Another Day of Life) directed by Raúl de la Fuente and Damian Nenow, and based on a novel by the Polish reporter Ryszard Kapuściński (1932-2007) that talks about the Cold War reflected in the post-independence civil war in Angola, 1975. With live-action shots from documentaries and animated images, the film creates a special moment to the audience, which has the opportunity to watch another good design work of Damian Nenow, director of the awarded Paths of Hate (2010). Friday morning, synchronized with the world tendencies, we could know a little bit about Women in the Spanish Animation Industry Association, and verify that the issues are the same, despite different places and cultures. In Spain, where so many women were burned by Inquisition, I can feel a kind of historical revenge! 
After that, Agnieszka Kowalewska-Skowron and Katarzyna Gromadzka (Momakin, Poland) talked about Animarkt Stop motion Forum (Poland), an event focused on puppet animation, with pitchings, discussions, presentations, workshops and individual face-to-face meetings. However, the highlight of this presentation was a project for motion capture for puppet animation: Smodo! It is in development, in testing stage, with a launch foreseen to 2020-21. The presentation of How to work in a Series with Mixed Techniques (Eva Figueroa and Juan Pedro Arroyo - Cartoon Network/UK), showed us some details of The Amazing World of Gumball series production, which was very funny and enlightening about the use and production of mixed 3D and 2D elements.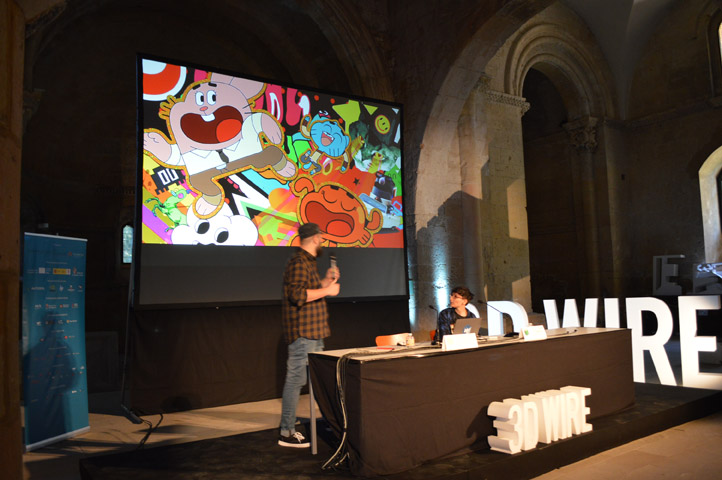 Gumball presentation (photo: Cláudio Roberto)
Another interesting point was Mariano Melman-Carrara (Nexus Studio) talking, that explained how difficult is to plan and to produce a VR narrative, as the one created for Back to the Moon (Google Spotlight Stories). It should take into consideration all possibilities of audience interest. The viewer can walk and keep her/his sight anywhere in the scene, which may not be the main action… Space is a vector that interferes in the time in VR narratives. At afternoon, The Presentation of Projects was the special moment. In short category El Relojero (The Watchmaker) (Maxi Valejo/Wise Blue Studios) caught my attention, with a baroque visual and philosophical plot about life and its finiteness. As well as Colossal Jane (Roc Espinet) with a proper utilisation of colours and drawings to compose the actions of the characters.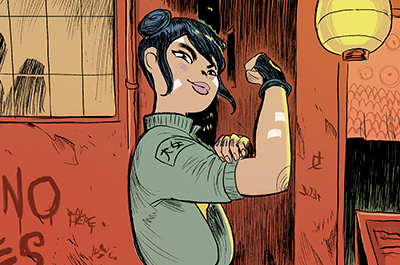 Colossal Jane
In the feature film category, Nayola (Praça Films, S.O.I.L., JPL) stands out, even because as the film screened the previous night, it also looks to civil war in Angola. The Portuguese project will be produced in stop motion and drawing animation and intends to present the relationship of three generations of women from the same family - with the Angola political and social situation as background.
In Series category, three presentations were special each one with its peculiarity. As 7 Caixas (The 7 Boxes) (Animais) brings a critique vision to the children. Through a plot which mixes fantasy and technological dependence, it shows the children trying to escape from surveillance drones' control, in a post-apocalyptical society. By another hand, Tiko Taiko (Rokyn Animation, Gallego Bros) and La Granja de Turuleca (Turuleca's Funny Farm) (Tandem Films) are for younger audience, with a cuter character design. The three projects are in 3D. Tiko Taiko is a kind of Star Trek for children, with 30% based on science information + 70% of fiction.
In the next day, subjects about production, financing, and market issues were the highlights. Cases of transmedia productions, like Madrid Noir – Luke Gibbard (No Ghost) and Juancho Crespo (Madrid Noir) – and RRR 1 – André Bergs, Thawatchai Chunhachai (Plastiek) - was presented, looking for financing and partners. However, the My Preschool Monsters case really kept the attention from audience, because Darνo Sanchez (3 Double Producciones), Fernando Alcatraz and Guillermo Velasco (Big Bang Box) exhibited how this idea is developed throughout the narrative, game, and even a plush doll. They explained how to elaborate on this relationship between a toy and the game. The challenge is to compose a narrative able to handle all different moments and creating interaction, at the same time.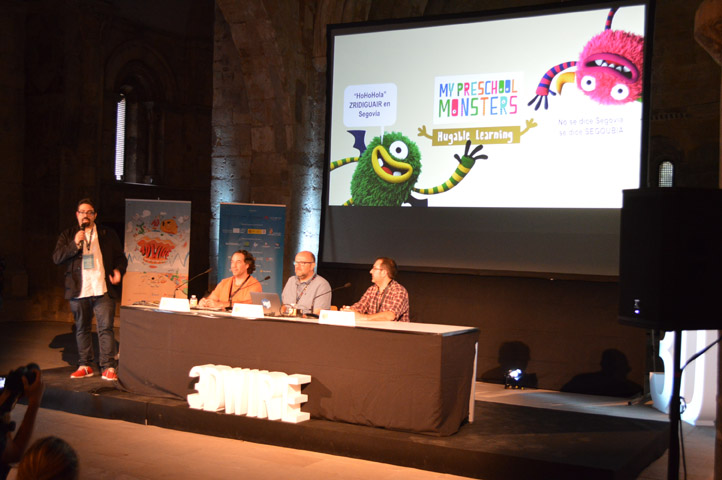 Monsters Pitching at 3DWIre (photo: Cláudio Roberto)
Another good point of Saturday was the talking of David Alric (Bobbypills), which shows three cases of adult animation production, of which Super Fuck Friends (Balak) is one of the funniest things I had seen during this event. It is a really intelligent, informative comic, without censorship – for me it was great! Beginning at night, the table composed by Eleanor Coleman (Indie Sales), David Alric (Bobbypills), Ivan Mirambres (Uniko) and Roger Torras (WKND), discussed production and distribution of animation for adults. They talked over the importance of local financing, and new paths of distribution and production (like Netflix way), in addition to changing the "aesthetic taste" of the public, still linked to the Disney visual. After this talking, we could watch a little preview of Buñuel in the labyrinth of the turtles (Buñuel En El Laberinto De Las Tortugas) (Salvador Simó), which is produced by Sygnatia, Glow, The Glow Animation Studio, Submarine Hampa, Telemadrid, and Canal Extremadura TV. With a story adapted from Fermín Solís  comic, it explores the period of Buñuel life during the filming of documentary Tierra sin pan. As Un Día a Más con Vida (Another Day of Life), the feature mixes live-action shootings of Buñuel and animated images. 
The full winners' List:
National Competition, Audience and Jury Award: "Soy una Tumba" (Mum's the Word) by Khris Cembe (Spain)
International Competition, Audience Award: "Voyageurs" by G. Ammeux, V. Baillon, B. Chaumιry, A. Dumez, L. Finucci, M. Roger (France)
International Competition, Jury Award: "American Weekends" by Trevor Jimenez (USA)
Best European Short Film (Jury): "Wildebeest" by Nicolas Keppens (Belgium)
Special Mentions International Short Films: "Dolls Do Not Cry" by Frιdιric Tremblay (Canada)
Special Mentions National Productions: "Patchwork" by Marνa Manero Muro (Spain)
Atomo Grand Prix for Best Web Series: "Garrote Vengativo" by Veronica Cortιs (Spain)
Movistar+ Short Film Project Award: "Colossal Jane" by Roc Espinet (9,000 Euros) (Spain)
RTVE Most Innovative VR Video Game Award: "Islabomba" from Sons of a Bit Entertainment (Spain), and "Anyone's Diary" from World Domination Project Studio (Spain). Now, both can be presented to the Interactive Direction of RTVE.
Best Video Game Project (which grants an accreditation to Cartoon Games): "Endling" by Herobeat Studios (Spain)
Best serial project of a young creator (grants a free accreditation for the next edition of Annecy-MIFA): "The Call of Mistery", by Víctor López (Spain)
Atomic Robot Award: FHS, from Kreatida Animation Studio (Spain)
Atomo Network Award: "The Heroic Quest of the Valiant Prince Ivandoe - The Prince and the Pretty Poodle" by Christian Boving-Andersen, Eva Lee Wallberg (Denmark)
SIGN UP: Want to read more free articles like this? Sign up for Our Newsletter