Festivals
Anima Festival Opens with Wolfwalkers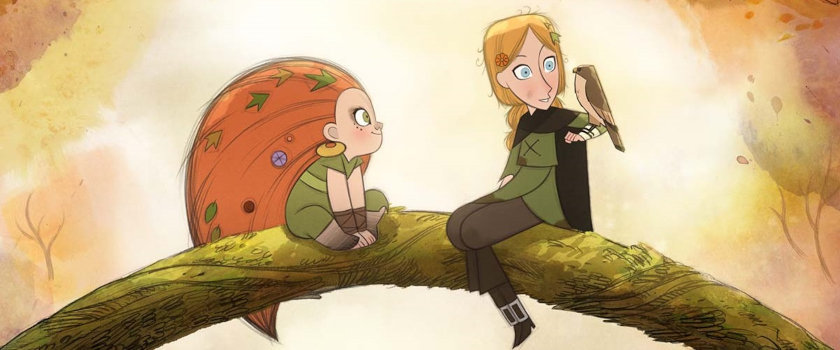 Anima, the Brussels International Animation Film Festival, set to take place from 12th to 21st February 2021, will be kicking off its 40th edition with Wolfwalkers, the latest feature from Tomm Moore and Ross Stewart.
 
Tomm Moore's fourth outing is full of legends and magic and completes his trilogy of Irish fables, following on from The Secret of Kells and Song of the Sea, both nominated for the Oscar for Best Animated Feature in 2009 and 2015. This latest adventure is an invitation for the viewer to see what happens when Robyn, the hunter's daughter, encounters Mebh, a strange little girl with tousled hair, who turns into a wolf during the night. Their meeting will take the two into a magical and fascinating world as they wander the forest in search of other wolves in this film for all the family that celebrates friendship and nature through its fantastic story and dazzling visual world.
After presenting Tomm Moore's two previous films in 2009 and 2015, Anima 2021 is once again featuring the director in its official selection.
The Anima Festival has been following Tomm Moore's exceptional work from the beginning. We immediately believed in his talent and it's a great honour to open this 40th Festival with him - Dominique Seutin, Anima co-director.

 We are firm believers in the big screen experience and even more with an instant classic like Wolfwalkers. This is why we are very proud to show the film on the big screen with Anima at such a special time -  Bregt Van Wijnendaele, Head of film at JEF (co-distributing Wolfwalkers in Belgium with Le Parc Distribution).
Read our review of Wolfwalkers

After its premiere at Anima Festival (12 Feb 2021), Wolfwalkers will be released on February 17th 2021 by JEF in Dutch-speaking Belgium and by Le Parc Distribution in French-speaking Belgium in April 2021 (exact date TBC).
Details of the whole Anima programme will be announced on January 19th
SIGN UP: Want to read more free articles like this? Sign up for Our Newsletter
Read More About: