Festivals
Annecy Festival Welcomes Richard Williams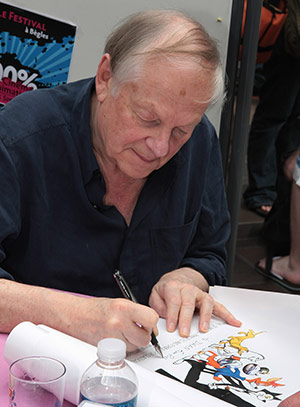 Best known for his animation work on Who Framed Roger Rabbit,  Annecy Festival honours the double Oscar winner and "animator of animators" for two exceptional screenings of The Thief and the Cobbler, a film that started its production back in 1964, was released in 1995 in a re-edited version and whose Director's cut finally saw the light of day in 2013, after numerous vicissitudes.
(Signing session with Richard Williams in 2008 Photo: E. Perdu/CITIA)
Born in Toronto, Canada, in 1933, Richard Williams is a brilliant animator. Throughout his distinguished career, he has proved to be a true innovator able to bridge the gap between the Golden Age of traditional animation and its contemporary style.
 He started out in the 1940s at UPA (United Production of America), before settling in England in 1955 and subsequently making the short film The Little Island in 1958.


During the 60s and 70s, his work included several advertising films, with such campaigns in France as Régilait "Recette" and Régilait "Petit déjeuner", Dim "Pour lui" and later Père Dodu "Le loup", in 1984. He also created title sequences for live action features What's New, Pussycat? and Casino Royale, as well as a remarkable contribution to The Charge of the Light Brigade.
In 1971, he picked up his first Oscar for his adaptation of Dicken's A Christmas Carol, and after directing the animation on the 1988 feature Who Framed Roger Rabbit, he walked away with his second Oscar and a special achievement award the following year.
He is author of the very popular The Animator's Survival Kit (2001), and has been giving Masterclasses since 1995, acclaimed both in the USA and Europe and followed by animators from Walt Disney Animation Studios, Pixar, DreamWorks, Blue Sky and Warner Bros.
Annecy already played host to him in 2008, as jury member for features.

In its 2015 edition, two sessions are set to take place at Annecy Festival, one to discover the Director's cut of his The Thief and the Cobbler, and the other to meet and talk with this giant of the animation world.
The 2015 Annecy Festival takes place between 15 and 20 June 2015.
Read More About: