Festivals
Berlinale Animation Part II: Berlinale Shorts
They are described as radical and independent, at times controversial, disturbing, testing the limits of our comprehension. The shorts competing in the 66th Berlin Film Festival for the Golden Bear are always daring, avant-garde choices.
The animation shorts of the selection this year prove the point.

In the Soldier's Head, Christine Rebet, USA / France, 4' (WP)
Produced during a New York residency, In the Solider's Head  by Christine Rebet is self-described as  Bubbling  machines,  objects  that  turn,  curious  levers  activated  in nothingness,  a  woman  on  a  divan,  yes,  no,  disappears,  reappears. 
Directly from the core of the imagined, those invisible thoughts are transformed  on  the  screen  into  the  concrete  of  the  experienced, simultaneously setting the unyielding concept in motion.

Kaputt (Broken – The Women's Prison at Hoheneck), Volker Schlecht & Alexander Lahl, Germany, 7' (WP)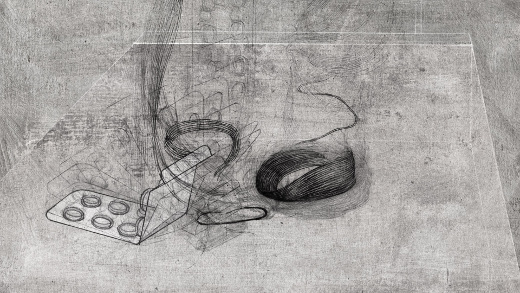 Based on interviews with former prisoners, this animated documentary provides a glimpse into the most notorious women's prison in East Germany. A film about political imprisonment, forced labour, and enormous profits on both sides of the Iron Curtain.

Love, Réka Bucsi, France / Hungary, 14' (WP)
The new film by Réka Bucsi comes after her Symphony no. 42 which also premiered at last year's Berlinale [read her interview at Zippy Frames] . 
 Love is a short film describing affection in 3 distinct chapters through an impact on a distant solar system.

Moms On Fire, Joanna Rytel, Sweden, 12' (IP)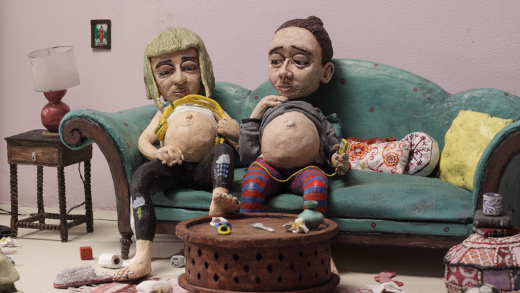 An ordinary neighbourhood in an ordinary town. Two women sit on a sofa and scratch their pregnant bellies. Four days till the due date. The situation is as unbearable as it is unavoidable.
Warsaw-born artist and filmmaker Joanna Rytel uses claymation for subjects and topics that are daring and usually unacknowledged.
Vita Lakamaya, Akihito Izuhara, Japan, 8' (WP)
 Studio Mangosteen formed by  Akihito Izuhara and Ikuko Mizokami brings Vita Lakamaya.  "Vita-Lakamaya" is a name of imaginary world, which exists in their works.
 In beautiful forests and lakes, there are mysterious characters, which looks as if the hybrid of human being and animals. Studio Mangosteen depicts these characters' life in harmony with nature through mysterious folk songs and music in their animation. 
All films (including live-action shorts) will run for the following prizes:
Golden Bear for the Best Short Film
Silver Bear Jury Prize (Short Film)
Audi Short Film Award, endowed with € 20,000, enabled by AudiBerlin
Short Film Nominee for the European Film Awards
Don't forget to check the animation shorts in the Generation competition.  The 2016 Berlin Film Festival takes place 11-21 February 2016.
Read More About: