Reviews
Daddy I'm a Zombie review: Dorothy goes to the underworld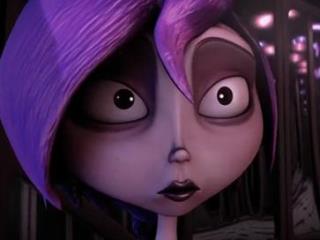 Animated features of late have a bent to represent comedy horror in large quantities. Daddy, I'm A Zombie (Papa, soy una zombi) is a Spanish feature helmed by Ricardo Ramón and Juan Esposito (supervising animator in the Oscar-nominated Chico & Rita).
Its main thread and subject-matter is closer to ParaNorman: a young teenager is constantly misunderstood, and needs to redefine her identity by entering the world of the dead. The difference is, she needs to die first.
It is a welcome change to see female aggressiveness and young rebellion to be represented so prominently in an animated film, a fact that by itself lifts the film away from the safe family flick territory. Still, Daddy, I'm A Zombie is not a horror but a rock adventure film.
The 13-year-old Dixie (Paula Ribó) seems ready to face any adventure concerning the dead from her inception. Her father is a funeral director, and Dixie's linen depict a gallery of skulls. She herself is dressed in gothic colors; her parents' divorce, and a failed dream of a love interest make Dixie the perfect bait for Hades' arms (or branches).
From then on, the adventure begins. The inquisitive Dixie (like her predecessor Dorothy in the Wizard of Oz) wishes for something more than her cemetery surroundings. Dixie undertakes a road trip to encounter the world of the living, but her main opponent is the zombie queen and tyrant Nigresa (Roser Batalia), who represents both the Wicked Witch and has the phoney machinery that the Great Wizard of Oz utilized.
Dixie will be surrounded by Isis (Núria Trifol), an Egyptian talkative mummy zombie with the best one-liners in the film. They will soon learn that Nigresa wants a heart-shaped material that Dixie has in her possession to bring evil to the upper world, and soon their conflicting aims will meet
Daddy, I'm A Zombie carefully avoids any direct interaction with the world of the humans, and does not want to enter into the well-trodden part of surprise and fear humans face. This is a wise move, since all the film characters are not at all frightening; their skinny members invite more pity than awe. But their majestic, baroque coiffure cannot be passed aside.
The best example in this department is the violent and vile Piroska (Elisabeth Bergalló), whose royal pumpkin hairdo makes her a distant relative of Cinderella and her stepsisters. She will initiate the adventures Dixie will take, the most significant of which is the meeting with Gonner (Ivan Labanda) a pirate zombie and a love interest for Dixie (onscreen kisses are thankfully permitted in this feature).
The episodic plot of the film brings forward more curiosities than surprises. Vitriol, a forgotten rock-motorcycle star in the manner of Dennis Hopper will help Dixie reassemble her aims, and the central scene in Nigrosa's palace has its own twists.
Daddy I'm A Zombie takes seriously its purpose of leading Dixie into adolescence, and does not make so much fun of the zombie world. The cemetery backgrounds are sometimes more imposing than the characters, and Manel Gil-Inglada's fi soundtrack is ready to serve whatever mood the adventure takes (rock included).
The variety of characters with limited screen time or stock characteristics (Nigrosa is among them) makes part of Daddy I'm A Zombie erased fast from consciousness. On the other hand, its determination to face the problems of young persons (instead of kids) makes the whole rock ride a familiar, but still welcome trip to take.
Vassilis Kroustallis