Festivals
Encounters: largest ever animation line up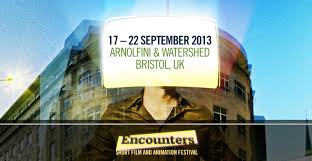 The 19th Encounters Short Film and Animation Festival announced an international line-up with its largest ever programme of animated short films.
Encounters is the UK's leading showcase and meeting point for short film and animation talent, returning from 17th to 22nd September 2013 to Watershed and Arnolfini in Bristol, one of the world's leading cities for animation.
The Animated Encounters strand will feature 113 works divided into 7 international competition programmes; designed to showcase films under loose themes which this year will include 2 puppet animation threads "No Strings Attached" and "Power to the Puppets".
 The "Power To The Puppets" programme includes "Bydlo" by Patrick Bouchard (Canada), which won best animated film at the Clermont-Ferrand International Short Film Festival.
This year the programme also includes strong representation from experimental shorts, highlighting work that pushes the boundaries of filmmaking in "The Weird & The Wonderful" featuring Thomas Renoldner's "Sunny Afternoon" and Peter Millard's "Boogodobiegodongo".
Fresh from his BAFTA win for "The Making of Longbird", Will Anderson is in competition with his new short "Sweetie & Sunshine" (UK), and Tony Donoghue's "Irish Folk Furniture" (Ireland), which won the Sundance prize for best short animation, will be screening. Encounters alumni Paul Bush ("Lay Bare", UK) and Theodore Ushev ("Gloria Victoria", Canada) are also back with new work. Meanwhile, the world premiere of "Risehigh" by Adam Wells (UK) is hotly tipped to make an impression at the festival this year.
Meanwhile up and coming animators are invited to a series of industry events including Peter Lord of Aardman Animations giving a masterclass on making the move to animated features and a Producing Animation Course designed to explore traditional methods and cover the most up to date issues effecting animators now
The course is supported by the Skillset Skills Investment Fund and presented in partnership with Aardman Animations and the University of the West of England.
Liz Harkman, Managing Director explained: "As Encounters approaches the end of its second decade, we continue to be amazed by the quality of work that we receive with so many animated films making the cut this year that we had to add an additional programme to the festival line up. Whether people are attending the whole festival or just single shows, there will be works sure to delight, inspire and most definitely surprise!"
Short film contenders will be in the running for the festival's prestigious awards (up to £2,000 cash prize) as well as nomination for the top short film and animation accolades to which Encounters is a leading UK gateway: the Academy Awards, BAFTAs and European Film Awards.
 In addition to its competition selections, the festival will host a range of gala events, special guests, industry activities, live music performance, free events and much more. Delegate passes are now on sale. You may, as well, click here to read about the Swiss theme of Encounters festival.
Read More About: