Shorts
Entertainer drama: Fred by Misha Klein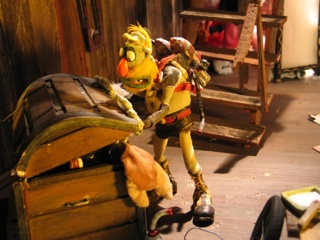 Fred is an entertainer who suddenly decides that, after a long run of shows, he cannot perform again -at least, this night.
Yet his complaints go unnoticed by Jim, the stage manager.
Fred is a daring film that won't give reasons or excuses for Fred's sudden stage fright. It just monitors his aimless movements inside the worn-out theater backstage, and listens to him deliver his monologue he never had the chance to perform in front of an audience.
Pay attention to the contrast between the manipulated puppet of stop-motion and the shadowy character of traditional, hand-drawn animation.
Misha Klein confesses that Fred got finished "thanks to many friends, bank loans, and credit cards". It was worth the effort.
Read More About: