Festivals
Fantoche International Animation Film Festival Winners 2020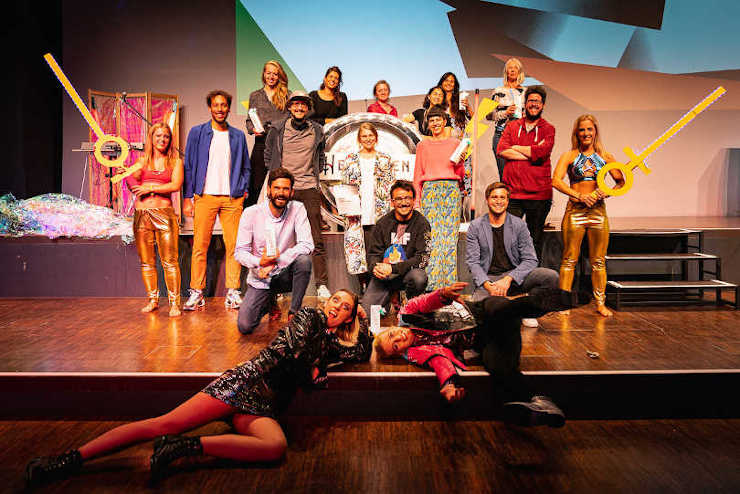 Fantoche Award Ceremony 2020 © Johannes Hofmann
A grand total of 361 short and feature films were shown this year at Fantoche fastival, The Fantoche audience and the juries have given out a total of 13 awards and three special mentions.
International Competition Best Film
Something to Remember, Niki Lindroth von Bahr SE | 2019 | 5 min 13 sec
International Competition High Risk
Freeze Frame, Soetkin Verstegen BE|2019 |5 min
International Competition New Talent
Précieux, Paul Mas FR | 2020 | 13 min 45 sec
International Competition Best Sound
Cage MatchBryan Lee US| 2019 | 9 min 12 sec
International Competition Special Mention
TIE, Alexandra Ramires (Xá) PT | 2020 |11 min 39 sec
International Competition Audience Award
Ties, Dina Velikovskaya RU |2019 |7 min 39 sec
Best Swiss
Aletsch Negative, Laurence Bonvin CH | 2019 |11 min 30 sec
High Risk Swiss
Little Miss Fate, Joder von Rotz CH |2020 | 8 min 14 sec
New Swiss Talent
THE EDGE, Zaide Kutay, Géraldine Cammisar CH | 2020 |7 min 23 sec
Fantastic Swiss
Interdimensional Melancholy, Team Tumult CH |2019 | 1 min 17 sec
Swiss Competition Special Mention
Un lynx dans la ville Nina Bisiarina CH |2019 |6 min 48 sec
Swiss Youth Award
Average HappinessMaja Gehrig CH| 2019 |7 min
Audience Award Swiss Competition
Signs, Dustin Rees CH |2020 | 10 min 40 sec
Best Kids
Avec le do de la cuillère, Laurent Wassouf, Clément Crosnier, Edgard Cros, Theoline Chapas, Nolwenn Pétereau, Nedellec Anouk, Lucas Ancel
FR |2019 |6 min
Kids Competition Special Mention
La pêche miraculeuse, Fabrice Luang-Vija FR| 2019 |7 min
Young Audience Award
Apple Tree Man, Alla Vartanyan RU |2020 |10 min 43 sec
A selection of the honoured films will be shown in the programmes of «Best of Fantoche on Tour», which can be watched in various cinemas all over Switzerland starting from October. All screening schedules and further information will be available mid-September.  
The next edition of Fantoche will take place from September 7 to 12, 2021.
SIGN UP: Want to read more free articles like this? Sign up for Our Newsletter
Read More About: