Festivals
Precious, Wolfwalkers in the ITFS 2021 Winners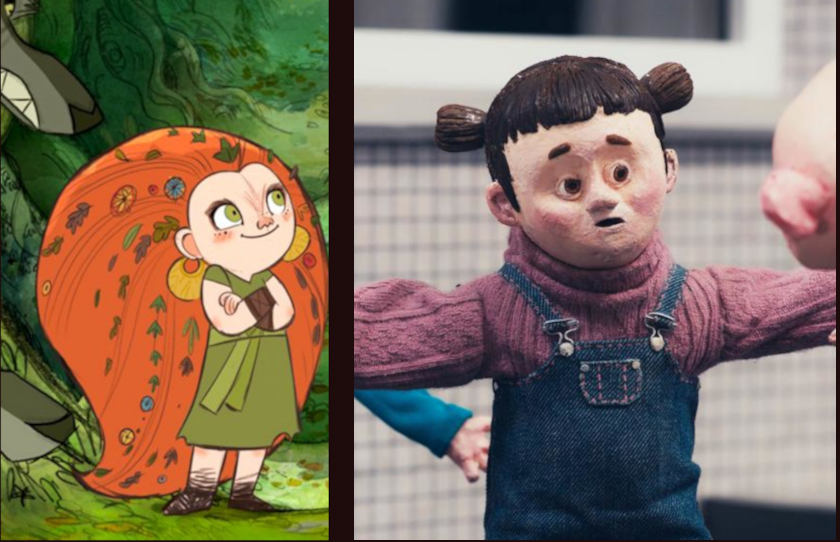 The motto of this year's festival was Creating*Diversity for ITFS. The programme was comprised of screenings, videos on demand, numerous video conferences, virtual exhibitions and concerts, as well as the  ITFS live stream. 400 short and features films were available on the ITFS Website - the short films alone totalled 16,000 views so far and the feature were watched more than 5,000 times.
We have professionalized our online festival. Initially planned as a hybrid event, the complete changeover to an online only ITFS21 may have been unfortunate at first glance. However, we have been able to hugely benefit from last year's experience. We succeeded in creating glamour at the galas and personal interaction through our ITFS VR Hub as well as numerous interactive lectures. Those formats created the possibility of excellent face-to-face discussions and chance encounters – in a much more pleasant atmosphere than created through video conferences! -  Ulrich Wegenast, Artistic Managing Director of ITFS:

After his PÖFF Shorts  victory (Tallinn, Estonia) , Paul Mas and the puppet film Precious won the Grand Award  for Animated Film (State of Baden-Württemberg and the City of Stuttgart with a cash prize of 15,000 €)

Precieux // Precious France 2020, 14:00 Min. Director: Paul Mas
Producer: Perrine Capron, Marc Jousset  Production: Je Suis Bien Content

Jury statement: "Tackling subjects familiar to all of us, that of being othered and misunderstood, of bullying and of friendship, 'Precious' skilfully handles the sensitive narrative with subtlety and a gentleness of expression. The story presents complex layers of social forces in a seemingly simple narrative. The gentle pace, quiet atmosphere and minimalism of the Mise en Scène, not only gives a sense of isolation, but holds the attention of the viewer, pulling them closer to evoke a deeper sense of empathy. Through the story, there is gradual accumulation of pressure and tension borne by the protagonist as the masterfully constructed narrative presents her painful lessons, yet leaves the viewer to wonder whether the experience has changed her for the better or for the worse. "Precious" is a timeless animation that touched us all and kept us thinking."

Special Mention
Only a Child Switzerland 2020, 6:00 Min.
Director: Simone Giampaolo Producer: Gabriella de Gara  Production: AMKA Films Productions

Jury statement: "'Only a Child' deserves the honour of receiving the Special Mention of the 28th Stuttgart International Festival of Animated Film, because it is a collaborative project, celebrating the plethora of designs, styles, and techniques, that a century of animation has brought to the World. By adding animation to an important voice from the past, 'Only a Child' reminds us all, that only by believing in and acting as one responsible global community, there is a way forward for humanity on earth.
Some may comment that 'Only a Child' is part of a campaign, but this campaign, this movement, that unites young people across countries, cultures, and nationalities, is exactly what we need right now, to understand how humanity can succeed in the great game of evolution.

(Jury: Candice Gordon (Berlin), Anita Killi (Norway), Anna Mantzaris (Sweden), Monique Rénault (The Netherlands), Morten Thorning (Denmark)

Lotte Reiniger Promotion Award for Animated Film– Award for best graduation film with a cash prize of 10.000 €, sponsored by MFG Filmfunding Baden-Württemberg

Have a Nice Dog! Germany, Syria 2020, 13:00 Min.
Director: Jalal Maghout Producer: Karsten Matern School: Filmuniversität Babelsberg KONRAD WOLF
Jury statement: "In 'Have a Nice Dog!' we are dragged into a waking nightmare, a reality for many people in the world, but which is unimaginable to most. This is therefore an extremely valuable story, told in imaginative ways to express the horrors of war and the desperation of fleeing in an over-crowded rubber dinghy. This is an uncomfortable film to watch. The deformed characters, the woozy, morphing visions. The world appears to be made from fragile paper-mâché, cut-up and distorted. This is Guernica of a modern age, where dreams are Facebook posts and nightmares are at your door. This intelligent film is full of visual metaphors that intensify the viewers interest with every revisit. The aesthetic choices creatively express the confusion, compounding terror and the sense of hopelessness. The Jury found 'Have a Nice Dog!' to be a highly impressive and important film.
Special Mention
Jestem tutaj // I'm here Poland 2020, 15:00 Min.
Director: Julia Orlik Producer: The Polish National Film, Television and Theatre School Lodz
Jury statement: "Our special mention goes to 'I'm here'. The film has a clever film language that never let's us look away from the main character. While life is moving around her she is always in the centre of our view, and with a minimalistic expression she, and the film, still expresses incredible emotional depth. The jury found this film very touching and empathetic.
A film sensitive and intelligently told, cutting into our deepest fears and emotions about death and loss. 
Young Animation – Award for the best student film with a cash prize of  2,500 €, sponsored by the Landesanstalt für Kommunikation Baden-Württemberg and MFG Film Funding Baden-Württemberg.
Have a Nice Dog! Germany, Syria 2020, 13:00 Min.
Director: Jalal Maghout Producer: Karsten Matern School: Filmuniversität Babelsberg KONRAD WOLF
Jury statement: "A disturbing exploration of a man's deteriorating psychological state caused by the ravages of war. Boldly drawing a dotted line between war and the refugee crisis, the film follows the disintegration of the wall between reality and nightmare, leading to isolation and the search for escape that is forever elusive. 'Have a Nice Dog!' is layered, atmospheric, visually and emotionally full of grit. It often toys with the right juxtaposition of dynamism and phantasmagorical imagery. However, its real mastery is in its coherence articulation of the consequence of war on the individual. The sound design is bold and its absorbing parallel narratives and scenic nuances will yield on repeat festival viewings."
Special Mention
The Song of a Lost Boy UK 2020, 10:00 Min.
Director: Daniel Quirke Producer: Jamie MacDonald
School: NFTS - National Film and Television School Beaconsfield Film Studios
Jury statement: "A light-hearted, finely animated, somewhat ironic look at the sudden emergence of puberty in a young choirboy. Playing with the simple metaphor of the protagonist losing his voice, 'The Song of a Lost Boy' is a well- crafted, sublime use of puppetry, light, movement and sound to illustrates themes of self-discovery and "finding your own voice." It does all this while heavily leaning on themes of the divine with post-futuristic apocalyptic tropes, and it works."
Jury: Akin Akinsiku (London), Daniel Höpfner (Berlin), Daria Kashcheeva (Prague)
AniMovie – Award for the best animated feature film
Wolfwalkers Ireland, Luxembourg, USA 2020, 103 Min.
Director: Tomm Moore, Ross Stewart Producer: Paul Young, Nora Twomey, Tomm Moore, Stéphan Roelants Production: Cartoon Saloon, Melusine Productions
World sales: Cartoon Saloon
Jury statement: "'WolfWalkers' is the third in a series of animated films by Tomm Moore in which Irish-Celtic motifs from art and myth are translated into stylish animated films. For us, this film, which he directed with Ross Stewart, represents a new high point in this series because it now adds depth to the level, ornamental style without appearing conventional. Almost every shot could be a painting in itself. The cooler colours of the city and interiors contrast with the intoxicating colours of autumnal nature. And even the special perception of the world of wolves, who sense smells much more strongly than humans, is visualized in a surprising and convincing way and the feeling of walking on four legs through the dynamic camera movements. The score and the song about the wolves are the perfect accompaniment. With just a few strokes and excellent voice acting, four strong characters are depicted in a drama about life and death: the foreign English girl who wants to escape the preordained role as a servant, the funny, wild nature girl who needs help and friendship so much, the father, torn between duty to the Lord Protector Cromwell and concern for the disobedient daughter and Cromwell, who does what he believes is his job: to bring order and economic progress to Ireland, which also means to tame and subjugate nature, and, should it not be possible, to destroy it. All this is told in this film at an increasing pace leading up to a furious showdown which breathlessly carries away and emotionally touches the audience, children and adults alike. In the guise of a semi-historical fantasy film, a highly topical message is conveyed to us, namely that we must rethink our relationship to nature. That we must dare to allow wilderness - and also wildness - into our hearts. With the wolves, the filmmakers have chosen the perfect symbol for this message."
Special Mention
Josep France, Spain 2020, 72 Min.
Director: Aurel Producer: Serge Lalou Production: Les Films d'Ici Méditerranée, Imagic TV
World sales: The Party Film Sales
Jury statement: "'Josep' by the director and illustrator Aurel sheds light on a largely unknown chapter from the time of European fascism: the fate of the Catalan illustrator Josep Bartoli, who, fleeing from Franco, is imprisoned in a French concentration camp where hunger, disease and violence reign. In a half-documentary, half-fictional narrative framework that spans its arc to the present day, the film portrays one of the former camp guards, who tells his grandson about his friendship with the painter on his deathbed.
The film is appropriately complex in its design, both through the different layers of the narrative and in the artwork, which in the biographical flashbacks is largely based on the impressive drawings by Bartoli, which he made in the camp. The somber, often sketchy, still images of captivity are followed at the end by scenes in the bright, warm colors of Mexican exile.
'Josep' surprises with many historical details, it shocks, moves and stimulates reflection, about European history, xenophobia, about courage in difficult times - and about the role of art."
Jury: Reza Memari (Berlin/New York), Hideki Nagaishi (London), Irene Wellershoff (Mainz)
Trickstar Nature Award – Award for the best international animated short film that deals with the topics of climate protection, biodiversity, environment, and sustainability, with a cash prize of 7,500 €,  sponsored by Verband Region Stuttgart.
Migrants France 2020, 8:20 Min.
Director: Hugo Caby, Zoé Devise, Antoine Dupriez, Aubin Kubiak, Lucas Lermytte Producer: Carlos De Carvalho
"Climate change is one of the biggest issues we'll be facing in the coming decades. Melting glaciers and rising sea levels are just a few of the countless facets which comes along by global warming. Times are changing and many of us won't have the same environments and societies anymore as they used to know. In order to survive, people need to leave their beloved homelands, so it is the job of the privileged ones to help them to find their new places in our community. Once more the key is cohesion instead of supremacy to overcome this challenge, because we're all on the same raft.
That's why the jury chooses 'Migrants' as the winner of the Trickstar Nature Award 2021. This film convinced us not only how the story showing the many levels of this frightening topic. But also in which unique style the film was realized. The film is warming but simultaneously uncomfortable. He is touching but also contradictory. He is on point but leaves enough space too to build our own interpretation about this issue. In other words 'Migrants' will stay in our minds and leave a lasting impression. That's what good films do."
Special Mention:
Haboob Iran 2020, 9:00 Min.
Director: Mahsa Samani Producer: Mahsa Samani
"We decided to give a special mention to 'Haboo'  because we found it to be a very sensitive and touching film with a very clever use of the material it's talking about as the medium of the film. The ending was especially putting the all film together and shared a light on the phenomenon of the Haboob in south Iran."
Jury: Caroline Attia (Paris), Kay Hoffmann (Stuttgart), Pascal Shelbli (Zürich)
Fantastic Award – Award for the best animation talent, with a cash prize of 1,000 €, sponsored by the FANtastic jury, the most faithful fans of ITFS
Cha UK 2020, 8:20 Min
Director: Gagandeep Kalirai Producer: James Bowsher | School: NFTS - National Film and Television School Beaconsfield Film Studios
Jury statement: "Sometimes a smell is enough to reactivate memories. Like in our winning film 'Cha' by Gagandeep Kalirai, where a cardamom capsule evokes the Sikh massacre in Delhi in 1984. The unagitated yet haunting narrative style convinced us just as much as the elegant lines, the flowing transitions, the interweaving of then and now, animations and photos and, last but not least, the conciliatory ending. At a time when conflicts between different groups of people are fought out with all vehemence, this personal memoir is a reminder to finally overcome these rifts. "
Special Mention
Mon ami qui brille dans la nuit // My Friend who Shines in the Night France 2020, 8:40 Min.
Director: Grégoire De Bernouis, Jawed Boudaoud, Simon Cadilhac, Hélène Ledevin Producer: Moïra Marguin School: GOBELINS, l'école de l'image
Jury statement: "Our Special Mention goes to 'Mon ami qui brille dans la nuit' by Grégoire De Bernouis, Jawed Boudaoud, Simon Cadilhac and Hélène Ledevin. We liked the literally friendly shine of the main characters, the helpfulness across the borders of being and the combination of animation and real film."
(Jury: Folke Damminger, Jürgen Frick, Sebastian Heck, Dorothea Kaufmann, Michaela Rehm, Karen Schmitt, Sven Schoengarth, Sabine Willmann)
New World Classic Animation Award – Award for the best use/the best implemenztation of music in an animated short film with a cash prize of 2,500 €, sponsored by Instant Music Licensing.
Flower Duet by Haemin Ko, UK 2020, 02.27 Min.
Jury statement: "'Flower Duet' by Haemin Ko has realised the mood of the given song very aesthetically. Film composer Yin Lu also managed to perfectly integrate the main theme of Leo Delibes Song 'Flower Duet' into the soundtrack. We are pleased to present the 'New World Classic Animation Award' to Haemin Ko, as image and sound create a beautiful symbiosis and perfectly underline the drama of the ephemeral."
Special Mention
Abadabude by Kim-Quy Nguyen, Germany 2020, 01:20 Min.
Jury statement: "As a counterpoint, we would like to give a 'Special Mention' to the short film 'Abudabude' by Kim Ngyuen. Naïve animation meets classical music, as well as not quite adult content. This entertains and provokes in equal parts.  Amoeba copulations in Tchaikovsy's 'Nutcracker' rhythm, including the inevitable climax ... definitely worth a mention."
Jury: Michael Fakesch (Rosenheim), Elisabeth Jacobi (Vienna), Zeljko Lopicic (Stuttgart), Daniela Schübel (Stuttgart)
The entirety of the ITFS media library (including recordings of lectures and presentations) will be available to accredited users until May 16, 2021.
SIGN UP: Want to read more free articles like this? Sign up for Our Newsletter
Read More About: