Festivals
ITFS Presents Honorary Award to Bruno Bozzetto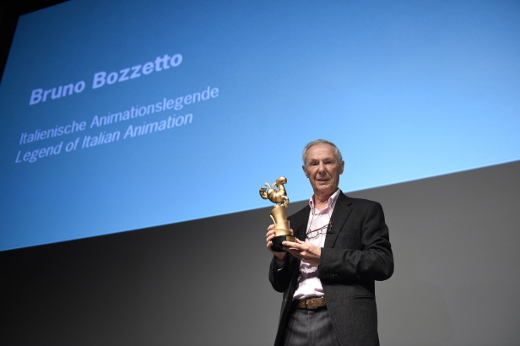 The Oscar-nominated Italian animation director Bruno Bozzetto (for Grasshoppers in 1991) was awarded a Honorary Award from the Stuttgart International Festival of Animated Film (ITFS).
He is one of the great animation artists of the last decades, his figure "Mister Rossi" belongs to the cultural heritage and has inspired a whole generation. Born in Milano in 1938, Bozzetto started his success in 1958 (Tapum! La storia delle armi),  and soon after established his company Bruno Bozzetto Film.
In 1960, with "Un Oscar per il Signor Rossi", he gave birth to the distinctive little man, with the red hat, Signor Rossi,  who would become the Bozzetto trademark -nowadays among the animation classics. Together with actor and animator Maurizio Nichetti, Bozzetto made Allegro Non Troppo (1977), which mixed live action and animation to illustrate six pieces of classical music including Maurice Ravel's "Bolero", Jean Sibelius's "Valse Triste" and Antonio Vivaldi's "Concerto in C Major".
American animator and cartoonist Bill Plympton, in his award laudatio on Bozzetto's work and social commitment, stated:
Bruno Bozzetto has influenced the European identity like few others. (...) His critical and, at the same time, affectionate observations of everyday life in the "Signor Rossi" TV series, are an expression of European diversity and universality.
Apart from the Honorary Award, Bruno Bozzetto has also been awarded (among others) the Golden Bear for "Mister Tao" at the 1990 Berlin International Film Festival in 1990, as well as the Lifetime Achievement Award at the Animafest Zagreb in 1998.
Bruno Bozzetto himself stated with a smile after the award ceremony: "I wanted to say I'm not finished yet. Even if such a prize could mean that. "
For proof of the above, visit the Italian master's Youtube channel.
 In the festival competitive section, Marta Pajek and her Impossible Figures and Other Stories II was the big winner at this year's ITFS.
 View the whole list of festival prizes.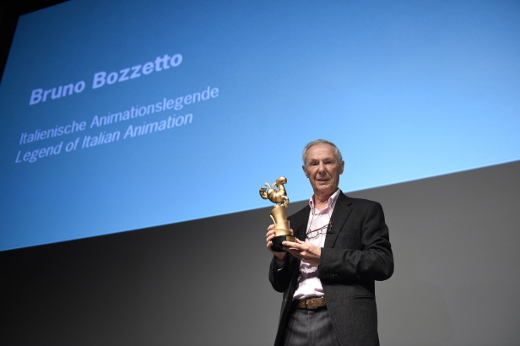 Bruno Bozzetto at the 2017 ITFS (c) ITFS
Read More About: