Festivals
London International Animation Festival 2021: Highlights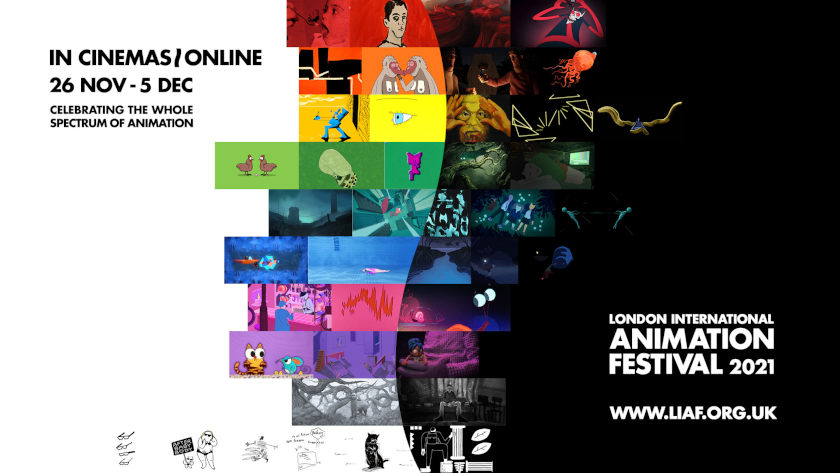 This year's LIAF's programme promises to inspire, delight and challenge the notion that animation is merely for the 3D CGI blockbuster genre or cute cartoons for kids. Independent animation is an art form that continues to thrive and develop as a breathtaking medley of styles, materials, techniques and production - from hand drawn, paint on glass, collage, sculpture, cut outs, puppets, abstract, sand/salt, to some of the more interesting developments in CGI – all of which can be seen at this year's LIAF.
LIAF 2021 includes 279 films from 40 countries and 120 premieres. There will be 8 international competition screenings: Including From Absurd to Zany (humorous shorts), Into The Dark (scary shorts), Animated Documentaries and the Abstract Showcase; 80 films of every technique, genre and style from the international indie-animation universe showing that animation is alive and well and thriving. 
With regard to the British Showcase, the best, most recent 94 short films from around the world and the UK will be presented. Nobody in the world screens more British animation than LIAF and the British Showcase programme paints a vibrant picture of a spirited and imaginative animation nation. Several of the filmmakers will be onstage to introduce their films and talk about the ideas and processes behind them.
Japanese animation includes 3 screenings looking at the thriving, fascinating and surreal world of recent independent Japanese animation featuring a retrospective of acclaimed animator Atsushi Wada and the UK premiere of 2021 feature-film Junk Head, an expansive stop-motion sci-fi action thriller, meticulously styled and set in a dark and perilous universe that harbours surprises around every corner which took its creator Takahide Hori over 7 years to make.
There will also be an opening night special screening - Figures in Focus 'Up Yours!': At a time in the UK when our right to protest is being challenged, this programme reflects on the power of animation to spread a message with radical, politically charged work. The title is a nod to the seminal work Oh Bondage Up Yours! by British, feminist, punk pioneer Poly Styrene of X-Ray Spex and its message to revolt against the subjugation that women face in society.
In the wondrous realities of Andrew and Eden Kotting, there will be a look back at this beautiful father/daughter artistic relationship. Eden is Andrew's daughter and was born in 1988 with Jouberts Syndrome, a rare genetic disorder. She grew up in London and developed a keen interest in drawing and painting and her visual impairment influences the way she sees the world. She has been working alongside Andrew all her life and the fantastical body of work they have created together voyages us to all kinds of wondrously observed and vividly imagined realities.
Another section is Joseph Wallace - Dark Dreams and Musical Oddities: one of the UK's most extraordinary animation stop-motion directors. Over a 15-year career Joseph has built up an astounding collection of work including his recent stop-motion segments in The Sparks Brothers musical documentary. The music video programme includes the worlds best music clips made by the world's most inventive animators. Animation is an integral element in many of the best music videos and here are some of the hottest bands and creative animators coming together to produce 80 minutes of pure aural and visual pleasures. The Chemical Brothers, John Grant, Elton John and Dua Lipa and even Elvis Presley are all featured alongside several others. 
Late Night Bizarre is a programme of the weirdest, wildest and most demented films submitted to LIAF this year featuring a bunch of anti-classics guaranteed to be as far away from Disney as it's possible to get. Edge of Frame includes 2 programmes of films at the intersection of animation, experimental film and artists' moving image focussing on the work of seminal filmmaker Robert Breer and his relevance to contemporary animation today. In The Best of the Next, there will be the 30 best student films from the world's best film schools made in the last 18 months. The first step on the animation ladder for these talented filmmakers, and the first time their wild and wonderful imaginations have been unleashed.
2 childrens' screenings will take place, one for 0-7 year-olds and one for 8-14 year-olds. The Best of the Fest will include a roundup of LIAF 2021, where the best films as chosen by audience and industry judges are announced, awarded prizes and re-screened one more time. Last but not least, there will be panel discussions with experts from within the industry on subjects such as making music videos in the 2020's, the advance of games engines, teaching kids with animation, how to get more people with disabilities into animation roles, current UK funding opportunities and a deep dive into the technology behind the Netflix series 'Love, Death and Robots'.
Screening programmes and talks will be released daily from 26 November to 5 December, running alongside live and pre-recorded panel discussions with many of the worlds' leading animators and industry players.
SIGN UP: Want to read more free articles like this? Sign up for Our Newsletter