Reviews
Louise by the Shore Review: The Windmills of Her Mind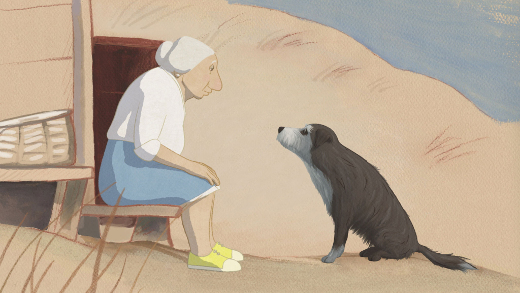 Produced by the Rennes studio JPL Films (Jean-Pierre Lemouland), but with an array of total 26 co-producing/supporting institutions, the latest film by Jean-François Laguionie takes its inspiration, content and full steam (pun intended) from the Bretagne area.
In Louise en hiver (Louise by the shore), touristic resorts are full of tides and noisy people, who are animated like cartoony 1960s TV characters of the 1960s). On the other hand, the main character, the old lady Louise, is carefully designed to look like a little bit abandonded, plainlooking, but certainly interesting character to watch.
Her intentions are plain enough: she only wants to get rid of the tourists, who spoil her holidays, and take the last train back home.
But things turn out otherwise: Louise misses the last train, and she is left wandering with her suitcase in an SNCF station, with a clock whose hands have miraculously disappeared. Time has also stopped at 6:15pm in her home. An immense, three-day flood, reveals the inevitable: Louise is to spend the winter by herself in the seaside shore.
Even though Robinson Crusoe is one of her bedtime readings, Louise en hiver  is not preoccupied so much with survival. In a fashion that easily recalls Alain Resnais (but with a seaside laidback attitude more attributable to Éric Rohmer) the inner workings of memory are Louise's preoccupation.
The film moves on from the skillful, resourceful actions of Louise to build a new home and a hut facing the ever-changing seascape to something different
Graveyards are a source of inspiration, breaking up an abandoned clothing store, reading magazines on youth certainly enlighten her days up to Xmas. But when Xmas arrives and no celebration begins, memory of skills now reveals how Louise has really lost her memory of facts -and her past life.
In a truly Hiroshima, mon Amour fashion, Laguionie brings back WWII memories, friendships and love affairs that went wrong, life decisions that were never lived up to the fullest.
All these are visually implemented in a state of haze, the audience never really knowing whether it's remembrance or living present. The only thing that really (and constantly) changes in the film is the landscape.
Lionel Chauvin, the film's artistic director, has done marvels here, projecting Louise's changing attitudes in the sometimes grand, sometimes warm, but equally immersing and absorbing seascape.
Laguionie's favorite pastels are here made to look like an ever-changing sea canvas. Le Tableu's successive paintings are here substituted with successive sea nuances that nevertheless have the same emotional effect. It is the same environment that claims Louise's own ups and downs, and at one point brings her at a great danger.
 For a film that rests on the meditation of a single character (nothing more than exceptional narration by French actress Dominique Frot), a very welcome companion in the form a dog (voiced by J.F. Laguionie himself) become the catalyst for Louise to unveil her past incidents and seek sometimes new adventures.
This sotto-voce elegy on memory and time is supported by an appropriate soundtrack of violin and piano predominating (Pascal le Pennec, Pierre Kellner are the composers here), and 2D/3D animation flows as effortlessly as the changing of the seasons and sea colours.
Louise en hiver is less fauvist than Laguionie's Le Tableau; it escapes the need for a three-act plot, being modernist in its narrative (but never fails to have one).
The sea is one of the persistent subject-matters of the French auteur (La Demoiselle et le Violoncelliste, Gwen: le livre de sable).  Here its impetus for mind workings becomes a very cerebral (but fascinating) nostalgia. It states this clearly: happy people have no memories.
Louise's punishment for that, in the film's majestic courtroom scene, is to be condemned to solitude. But there's always a dog around, painting -and sometimes even tourists can't be that bad.
Read More About: