Shorts
Naked by Kirill Khachaturov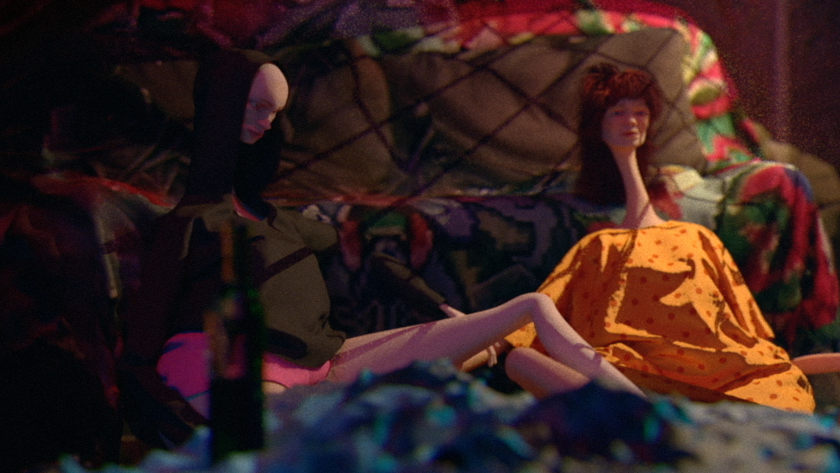 Kirill Khachaturov is not just a new bright name on the horizon – which is to be expected for the Annecy Festival student competition winner – he is also sort of an outsider, a late comer, a figure of not quite usual biography and professional standing. Born and raised in Khabarovsk, in Russia's Far East, he first went to study at rail-road engineering college, though in fact he was most interested in and spending much of his time with student studio theater.
Upon dropping out midway and being drafted to the army service for two years, it was too late afterwards to think seriously of an actor's career; instead, he became a self-taught and rather accomplished graphic designer. Still, at some point he feels a need for proper training in the field, and moves to Moscow. He enters British Higher School of Art and Design (partner of University of Hertfordshire, UK); for three years he immerses in multimedia and digital space to the point where it 'goes into flight' (as he puts it), searching for interaction for real with all things digitized. It is only at this point that he would think of yet another turn.
ZF: Your path to filmmaking, let alone animation, appears to be rather long and curvy…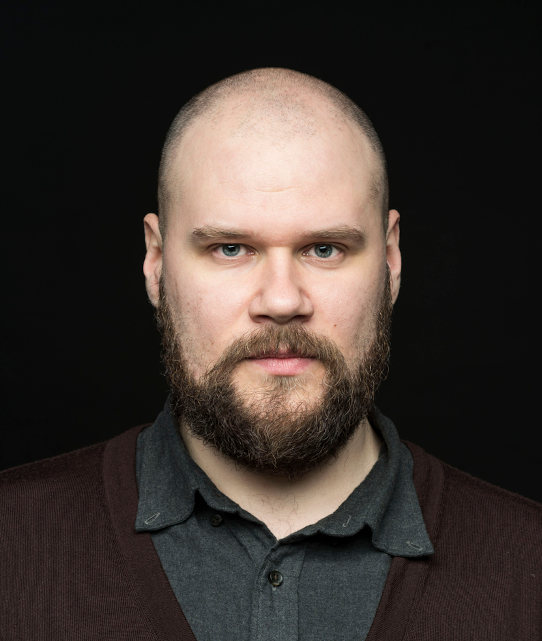 KK: Yes, it took about ten years of my adult life. Though in fact I was drawing from an early age on, and tried animating then, just in an elemental way, playing with Photoshop. Working in exhibition and installation design, I came to animation much later from another angle;  not in a classical sense still, but rather as an extension of abstract imaging in generative art. At a certain turn a feeling of a new form came to me, and things started falling into place - to some degree of self-satisfaction. It was also a moment when I felt I would need more of a regular education as an artist and a filmmaker.
ZF: You ended up, at the solid age of 33, at Moscow School of New Cinema; a new, unconventional and quite progressive institution with international faculty. Why this one?
KK: I've been researching and choosing carefully. Didn't want to go to VGIK at all [All-Russia State Institute of Cinematography, the major long-established film school – ZF]. I generally didn't consider a full-time degree program, but rather preferred evening courses for advanced diploma of sorts, since I still had to work. And MSNC terms and spirit seemed right for me.
ZF: But there is no specialization in animation proper or even a corresponding department over there.
KK: True; at the beginning, I myself was up to regular live-action or, let's say, interested in cinema as such. Yet in the process it started shifting in a particular direction. This school is in general also very flexible in its approach; it strives and encourages blurring traditional lines. In my case, it didn't happen, though, without having some individual struggles with my instructors first.
ZF: So, they accepted your project as a graduation film, and provided you with some budget and/or production base?
KK: Oh, there was no budget at all; the school equipment was generally of no use to me either, since I didn't need, say, a camera for live shoot. I made my very first animation piece, compiled of 'sketches' – basically, coursework – on my personal notebook. It was shown at few festivals (including Message to Man in St. Petersburg), it got some attention, and I received a commission for a music video – so, with these money I could afford a better computer to work on the next project. My school masters (though not exactly animation experts) did provide artistic supervision in terms of editing or atmosphere and such, and helped in organizing the creative process and the general work flow. I managed to complete the film in about six months.
Watch the trailer of Naked:
ZF: What were then your guiding influences or points of reference, if any, within this artform?
KK: Well… quite frankly, before school I geared towards just conventional commercial cinema, having really no clue of art-house; I couldn't imagine why in the world one would watch all this stuff. Generally, I think that I hardly belong to a Russian school of animation as such; didn't have any real mentor figures within it, though I have seen major classical works, of course. Among others, I was perhaps  more directly influenced by Ivan Maximov, Konstantin Bronzit, especially by his early works.  There was a particularly strong, eye-opening experience early on, when at 17 I saw Father and Daughter by Michaël Dudok de Wit, then his other films, like The Aroma of Tea; later I was quite impressed by some of Zagreb School films.
ZF: How would you characterize your technological choices and working principles?
KK: I think that I had found the major method for myself somewhat earlier, and still follow it: to show things as if shot for real, with real camera. I'm doing storyboard by hand on paper and then rely on it; but since I'm working alone, I can change it on the fly, cutting off anything that complicates the work too much. What's important for me is to travel with the camera inside the 3D software shooting montage episodes or dialogues I need. Technology-wise, I use photogrammetry for some objects and localities, and then it's basically 3D computer animation aided for most movements by motion capture.
ZF: Oh, really? And who are the actors-models in this?
KK: Just myself and my wife. Motion capture is an expensive thing, obviously, but I've mastered through my past experience in media-art the equipment and tricks to do it cheaply, with simple sensors and cheaply available software. Of course, you're getting rather 'dirty' material  as a result, with part of the movement missing, so that you still have to add up 20-30% manually.
ZF: Is it also a principal choice, in order perhaps to preserve the 'real shooting' feel and impression?
KK: Not exactly, it just saves me lots and lots of time. I would've preferred to do the movement totally within computer space, but so far I don't possess such a 'stylus', so to speak, and I will probably have to learn much more. At the same time, I'm trying to do something different from what is usually being done with this technique, and CGI in general - often too straightforward and not very clever, to quasi-'realistic' ends. I'd rather preserve or put in as much chaos as possible; this technology should be rather used with free twists and fantasy, as an artistic tool per se.
Watch The Art Inside:
ZF: One gets the impression of an emphasized 'puppet-ness', so to speak, with regard to your characters, or even mannequin-like quality.
KK: Haven't thought of this, but it could be right. My own perception and my overall mental outlook leads me to try somehow to limit their expensiveness in body language, and especially in facial gestures. They don't emanate emotion that much, but they rather live in a certain state of meditation, within existentially filled spaces.
ZF: However, the way your characters talk, at least for Russian speakers, is clearly socio-culturally marked. And the spaces they inhabit – so recognizably shabby inside and out – also bear certain social connotations.
KK: Sure, I was showing life and people I've been growing up with, especially over there in Far East. Common folks, common things, caught in sight around me. Of course, they're sort of lowlife types, not intelligentsia, but still capable of (self)reflection, if you will. And yes, I'm absorbing the reality with every step, but I'm not up to translating forcefully any direct message; that would've made things just plain.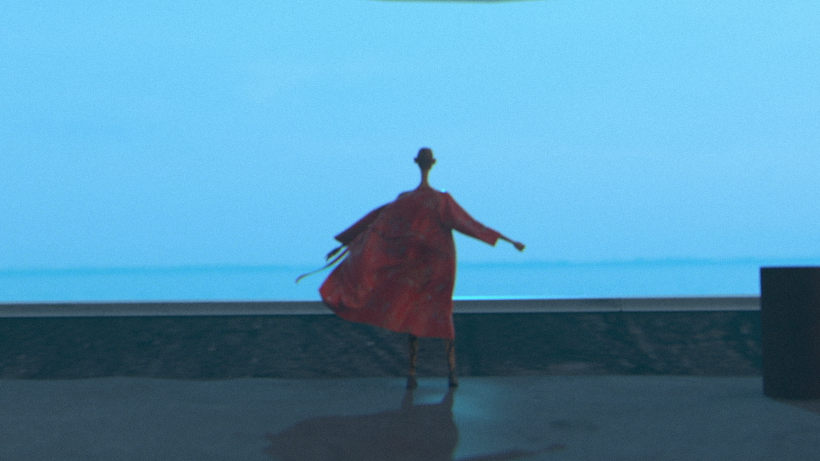 ZF: What's the most important and meaningful in this film in your own eyes or intentions, if we may ask?
KK: Themes like our interaction with the strangeness or the escape from the claustrophobic into the open.
ZF: Have you happened to see any films from the Annecy student competition? If yes, which one(s) stand out for you?
KK: I've seen the entire program, of course, and became just a fan of Lodz school – so many different and great films! I liked especially the one done practically in a single shot: I'm Here.
ZF: Did you have an ambition or hope to present something radically new?
KK: I think I'm an explorer type by nature, and I do like looking for new forms and using them in my own way - but not as a goal in itself. I am not focused on the super-new or modern. Not deliberately, at least, since I'm also an intuitive type.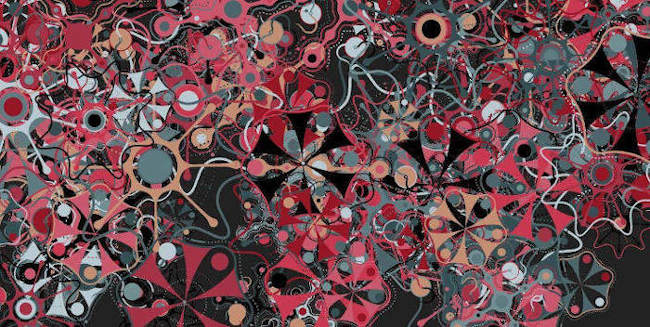 Generative Art, Kirill Khachaturov
Film Review (Mikhail Gurevich):
That's a disturbing film that drags you in, perhaps eerily captivating for some. And unabashedly strange. Computer modeling with pulse and tremor; artificiality with palpable warmth. Echoing emptiness filled with tension. Glimmering narrative with balancing stride. What has really happened to this guy? His weird new quality – is it truly a super-power or a defective abnormality, a blessing or a curse? Nothing is certain, everything hangs in a meditative cloud. Kirill Khachaturov builds basically on a single and simple metaphor, but a thorough one, it appears, at least potentially. The type of metaphoric shifts which, to me, is the inherited strength of artistic animation, old or new: when a technical move overlaps with a stylistic leap, and gains a meaning in that, turning into immediate insight. The hero goes through walls – intact, but changed, leaving behind not merely closing but maybe a shell of the former poor self, along with all the shabby burdens of time and place. And not just alone, the openness for transformation is transferable – as the lightened up coda hints. One would hope that's true.
Contributed by: Mikhail Gurevich
About Kirill Khachaturov

Russian director, animator and designer. Born in 1984 in Khabarovsk in the Russian Far East, he studied directing at the Moscow School of New Cinema. He is a laureate of many international design festivals such as D&AD, EDA, etc. The world premiere of his debut short film Protocorba took place at the ANNECY festival in 2019 and was shown at many international film festivals. The film also received a special mention by the jury at the Message to Man festival.
About Mikhail Gurevich:
Independent scholar and critic, born in Moscow, Russia. Writes on literature, theater, film and culture at large, with concentration in animation, puppetry, and experimental theater and cinema. From late 1970s was actively contributing to major cultural publications in Russia; later edited independent periodicals. Worked as expert-consultant for professional associations and studios in theater and cinema. From 1992 lives in USA. Wrote on animation in particular for professional and academic publications; recently contributed extensively to the history of world animation by G. Bendazzi; to Global Animation Theory (Zagreb) and Propaganda, Ideology, Animation: Twisted Dreams of History (Krakow). Lectured in several universities and institutions internationally. Participated in a number of festivals as programmer, curator, juror and discussant; currently affiliated with Blow-up International Arthouse Film Festival (Chicago). Also involved in broader cultural journalism and documentary film-making; interpreter and translator.
SIGN UP: Want to read more free articles like this? Sign up for Our Newsletter