Festivals
Negative Space, (OO) Get Animasyros 2018 Awards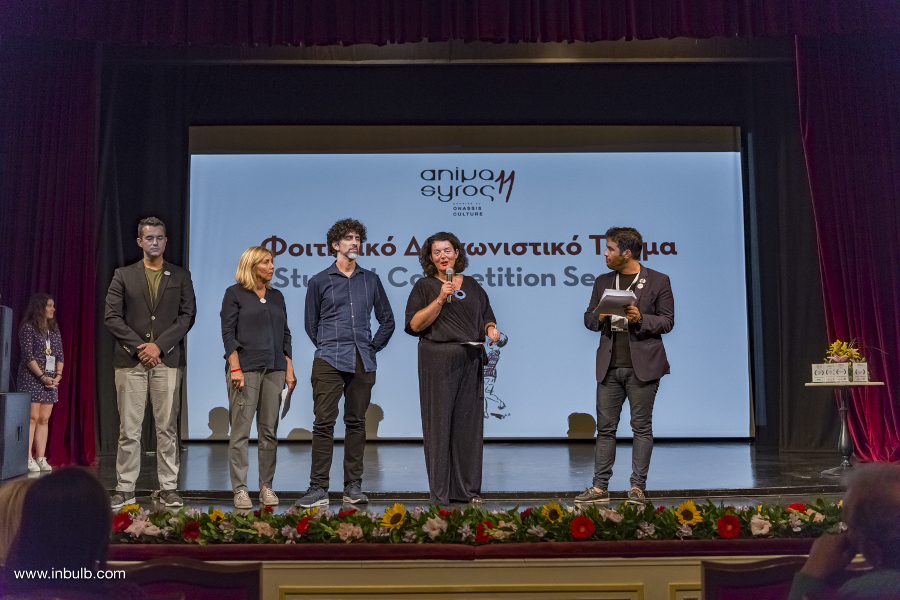 jury: Juan Pablo Zaramella (animator) | Anne Kjersti Bjørn (Director) | Iosif Proimakis (journalist)
International Competition
Best Film Award for a film in the International Competition: Max Porter and Ru Kuwahata's Negative Space.
A wonderfully designed and elegantly paced film that filled our heart's smallest crevices with its bittersweet melancholy, its refreshing narrative and its vibrant emotional core. An honest and original film that plays out like scenes from the future for any frequent traveler.
Special Mention: Oh Seo-ro, OO.
A  film that speaks to us all, by reminding us how the most ecumenical feelings can be found in something as gentle as a breeze or fierce as a sneeze.
JURY: Floor van Spaendonck (Director of CineKids festival) | Osi Wald (animator & professor) | Katerina Anesti (journalist)
STUDENT COMPETITION
Best Student Film: The Νortheast kingdom, Alan Jennings
Funny, cynical, beautifally executed, with layered characters and a great storyline. The film uses a puzzle like structure to encourge us to think about relationships, power, god and much more.
Special Mention: The deep end (Le Grand Bain), Élise  Augarten
We are witnesses, travelling along with the main character as it opens curtain after curtain revealing new worlds while it wonders around the maze of a swimming pool. Surprising, frightening, scarring, revealing... the film never "gives away" the thoughts of the character, yet we feel that we are sharing her emotional journey.
jury: Juan Pablo Zaramella (animator) | Anne Kjersti Bjørn (Director) | Iosif Proimakis (journalist)

TV & Commissioned Film Competition 
Best Film Award for a TV & Commissioned Film:  Lorenzo Latrofa Our Story.
A film that speaks of a pressing subject by cleverly highlighting its never-ending timeliness. A story as old as the lands we inhabit, yet more urgent now than ever. It's a story of immigration, of marginalization, of perseverance and –hopefully – integration. It is a story that, as implied by the film's title, concerns us all.

Special Mention of the Jury for a TV & Commissioned Film:  Diego Haucuja T. and Carlos Lopez Estrada, The Lovely Thing Suite.
The film transcends expectations set by its medium by elevating the qualities of the work it was made to accompany, transforming it into a fully enveloping, multifaceted work of art. A delicately structured, operatic look into the grit and pain involved in the struggle we call the human condition, yet a lovely thing indeed, it is
Best animation for Greece, Cyprus & Diaspora: Irini Vianelli, Icebergs (Greek Film Center Award)

An exceptional film which smartly uses the roughness of the artwork to connect viewers with the story's tense undercurrents of isolation and loneliness. The absurdity combined with the feeling of not being understood versus not understanding is key of the script.
Audience Award (feature film): The Breadwinner, Nora Twomey (Cartoon Saloon)
The 11th AnimaSyros festival took place 26-30 September 2018 in Syros, Greece.
SIGN UP: Want to read more free articles like this? Sign up for Our Newsletter