News
Nina Paley's Seder-Masochism Goes Online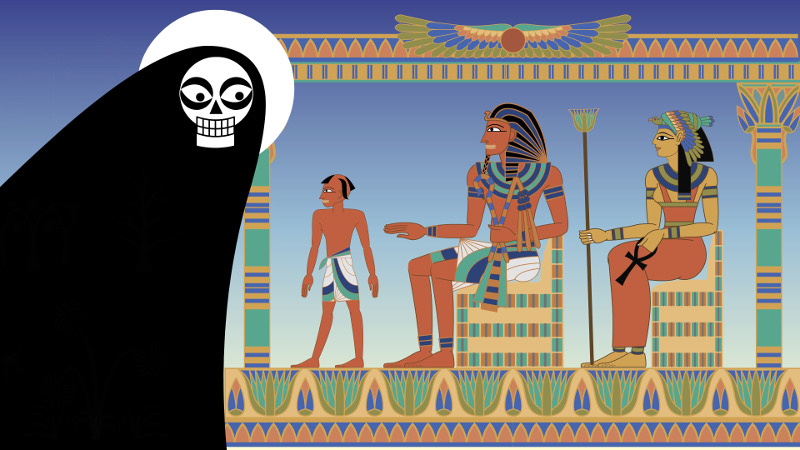 Seder-Masochism by Nina Paley  is  an animated musical; it loosely follows the Passover Seder story, with events from the Book of Exodus retold by Moses, Aharon, the Angel of Death, Jesus and the director's father. The film puts a twist on the traditional Biblical story by including a female deity perspective – the Goddess in a tragic struggle against the forces of patriarchy.
The film had its premiere at the 2018 Annecy film festival, but Seder-Masochism has been in the works since 2012 when Paley first animated a scene called This Land Is Mine, a parody about never-ending conflict in the Levant which has been viewed over 10 million times on various online channels. Consistent with the release of her first acclaimed and much-love feature, Sita Sings the Blues (2009), Paley adheres to Creative Commons Share-Alike license, posting her full version of her films online for all to view.
This was the case with Seder-Masochism, a one-woman project: she wrote, directed, and animated it herself on a total budget of $20,000. Being independent allows her to release and distribute her films in unorthodox ways – such as into the public domain.
Paley has no plans to pursue commercial distribution for Seder-Masochism. "I claim Fair Use for the music, but distributors are loath to do that. Instead they'd want to obtain music licenses, which would be daunting," she says.
Seder-Masochism has screened at nearly 20 festivals thus far, including the Vancouver International Film Festival, and the Jewish International Film Festival of Australia. It is scheduled for more festivals through Spring 2019, including the New York Jewish Film Festival in January. The Digital Cinema Package (DCP) release will be issued later in 2019, so that upcoming film festivals can be assured of regional theatrical premieres. In addition, Paley has written and designed a companion book, The Seder-Masochism: A Haggadah and Anti-Haggadah.
The release of her films into the public domain is just the latest effort Paley has undertaken to advocate for Free Culture. In 2008, while navigating copyright for Sita Sings the Blues, she joined the nonprofit QuestionCopyright.org as artist-in-residence, where she later created a series of shorts about Free Culture called Minute Memes. She has spoken extensively about copy restrictions and art, including her 2015 TEDx talk "Copyright is Brain Damage"
For more information, visit sedermasochism.com
SIGN UP: Want to read more free articles like this? Sign up for Our Newsletter
Read More About: