Shorts
Nosh-up by Mafalda Salgueiro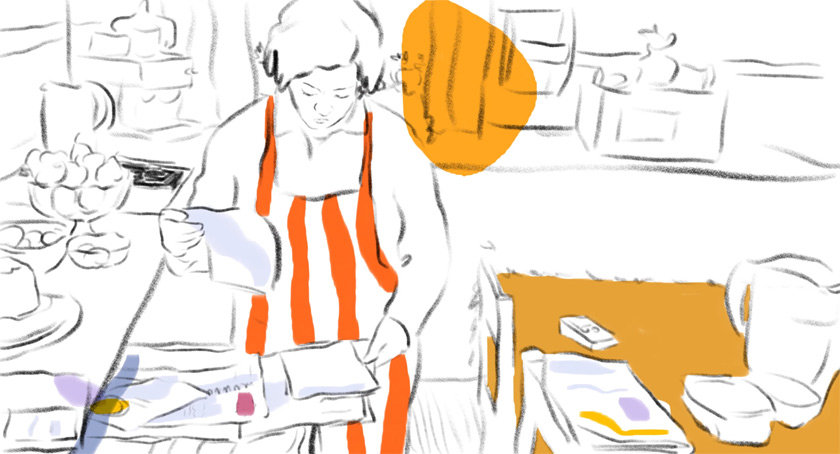 'Comezainas' or 'Nosh-Up' (in English) is a short Portuguese animation that shows us the intimacy of cooking. Mafalda Salgueiro constructed a tribute to cookery throughout the drawing register of her mother shopping, preparing, and talking about Portuguese cuisine. The film has 12 minutes, was financially supported by ICA (Institute of Cinema and Audiovisual), and is a co-production with Filmanimática, and Toonelada.
As Mafalda states:
"'Cooking is caring' says my mother while she enthusiastically juggles pots and pans preparing a family meal. Using food and passed down recipes, personal history is interwoven with gestures of affection and familial unity. A visual ode to the unsung heroes who repeatedly feed and care for us without asking for anything in return."
The short had a premiere at Indie Lisboa as an animated doc since it is actually a documentary. It won't just depict a real event but also provides a thorough overview of how some Portuguese foods are prepared. 
ZF: How did the idea to animate the relationship of your mother with cooking in a documentary-style come about?
MS: 'Nosh-up' (original title is 'Comezainas') is primarily about emotional relationships told through food and not just about my mother's way of cooking. It is merely a propeller in this ode to those who feed us and who, after all, are the ones who give us life! To feed one is to nurture one. This daily act is rarely valued in and of itself, except when performed in entertaining cooking videos or books by so-called great chefs.
Each individual will have their own memories. We are marked by the flavors, aromas, and colors that we associate with memorable moments throughout life. For me, this living memory is my mother - and I emphasize "living" because my mother is full of energy and vitality. Just like what she prepares in the film, she is someone who cherishes and celebrates the process of cooking. An essential aspect of Nosh-up is the music – it was initially composed for the film by the Portuguese pianist Filipe Raposo. The music follows my mother's speed and rhythm of cooking, taking into account the joy my mother puts in everything she does.
Watch the Nosh-up trailer:
So, combining my pleasure in drawing with my mother's pleasure in cooking, I record and share this knowledge of Alentejo cuisine that will pass from generation to generation. I see this film as an act of love for my mother's countless lovely actions dedicated to myself, my family, and every guest invited into our home. I usually say that this film is like welcoming you to my parents' home. And so, I'm able to share this warmth, smells, and flavors with everyone who watches Nosh-up. I want the audience to be able to look at my mother and remember theirs, be grateful and appreciate their loved ones.
ZF: And how was the development of the production? First, you talked to your parents? Even your father took part in this.
MS: I've always needed to record, and I record in many ways: drawing, filming, recording sound, and writing. That comes from my desire to immortalize things and make them visible to be seen and perceived from a perspective that values them.
My parents are used to being filmed and drawn by me all the time. And so, once I had established the idea for the film, I just had to explain to them that this time I would film them to prepare an animation. So, I chose my favorite dishes and asked my mother to cook them, step by step, and explain to me some of the details while filming her. When my mother was cooking, we lost track of time, and my father showed up unannounced for lunch. While filming, I had to adapt to the unexpected and frame it the best I could. In a documentary, an essential step is approaching and establishing a relationship with the characters/actors, and this is where I have a significant advantage: they are my parents! My family is like you see at 'Nosh-up': it's a family from Alentejo, always in a good mood and with a joke up their sleeves.
Outside the house, the characters at the butcher, grocery store, and even Nita are long-time acquaintances of my mother, so they all embraced the idea very well. In my experience, people are always more available than you might think! It's always great to feel that.
ZF: Playing "devil's advocate": the film could have been filmed instead of animated. So, why did you choose to portray reality using animation?
MS: All films can be made with a digital camera. With the available technology, everything is possible and acceptable if aligned with the creator's intention.
For 'Nosh-up', I chose animation as a medium for three reasons: firstly, drawing is my most natural form of expression; secondly, for the privacy that drawing allows; and third, to select what I want to show or not. My mother's kitchen has many objects, and so, when filmed, the key actions would go unnoticed amid all this visual information. Using graphite line animation and punctual color, I can direct the viewer's attention to the gestures, my mother's affectionate gaze, ways, and objects that refer to my roots and traditions from Alentejo.
'Nosh-up' is somehow at the intersection between documentary and animation, with a particularly innovative aspect because: on the one hand, it aligns itself with the filmed documentary; on the other hand, as an animation, 'Nosh-up' allows the viewer to relate to the characters in the intimate. I used closed-up plans so that my mother's presence is felt intensely and closely, creating an emotional and sensory experience.
ZF: What about the choice of technique for animation? Did you use the rotoscope?
MF: A large part of 'Nosh-up' had the documentary I made on video over three days as its starting point, while the other scenes were created from scratch. Then, I put everything together to create a logical narrative sequence and clear character presentation. To record before animating allowed me to respect and emulate my mother's every move, rhythm, and unique quirk – which was my primary intent. Cracking an egg is cracking an egg, but the movements will always be different depending on who performs them.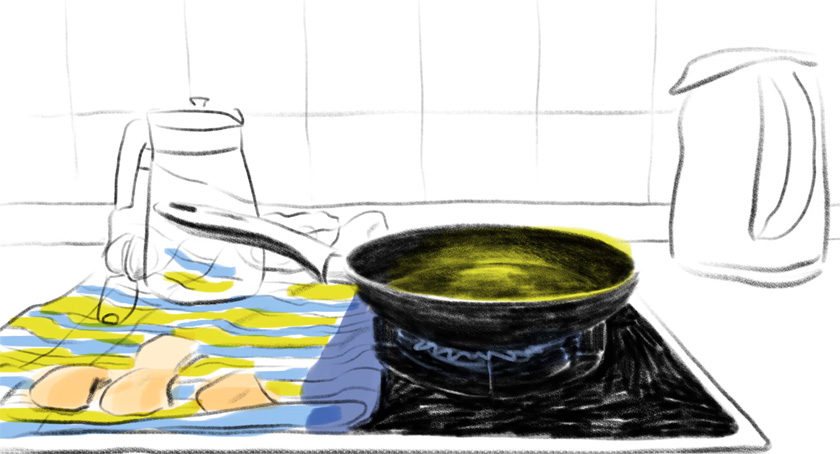 For me, a documentary is fascinating when it shows these particularities and the characteristics of each one, which is only possible when there is a video behind it. I used the video as a template to create the layouts and secure key positions, and then the animation was made by the animators and me, freely between them.
ZF: I found the seldom and punctual use of color exciting. It enhances the graphite line. How did you make your aesthetic choices for this film? It reminds me a little of the work of the UPA. Was it one of your influences?
MF: The visual style of 'Nosh-up' is the result of several years of consuming painting and cinema. My visual references are broad and mostly from painters: I love Toulouse Lautrec and 'Nabis painters' such as Félix Vallotton and Pierre Bonnard. Quite possibly, something about my line and color choices is the fruit of these influences. I have been drawing, painting, and illustrating for a long time, and my visual language regarding lines is the one you see at 'Nosh-up'. Regarding cinema, one of my favorite authors is Agnès Varda. And the short allowed me to combine my visual references from painting and my appreciation for documentaries, especially the close and intimate style like Agnès – resulting in an animated documentary. In the field of animation, I really like the work of Joanna Quinn, Rosa Beiroa, who was one of the animators of my film, and Laura Gonçalves.
About the materials, I chose to use a graphite brush because it is textured and organic, which complements the kitchen environment, and it even reminds me of recipes written by hand on random paper. The use of color is independent of the line precisely because I wanted it not to remove strength from the line but instead enhance it. It also gives a fresh and modern look to a regularly used technique in animation, such as graphite. Color only exists strategically in the main action and in some other details I wanted to draw attention to objects that are transversal to any family kitchen and other Portuguese, specifically from Alentejo, objects.
ZF: And what was your goal in approaching such a personal theme, yet so familiar as we grew up watching our mothers cooking?
MF: In addition to what I commented, much of my work focuses on my family and the family theme. I like to tell stories with greater meaning through small, everyday gestures, and the family is a grand narrative vehicle as they are the ones I know best and are closest to me. I can represent and value others through them, making them feel relevant, appreciated, and seen. As the family is a unit transversal to all, regardless of being biological or chosen, it facilitates the general understanding of the message – this is also very important for me; the horizontal nature of what I create so that it reaches everyone without any elitism in the form of expression. At the film's premiere, I could hear how my work touched different generations as they approached me after the screening; it was very gratifying.
Another topic I want to address with this movie is that most of us grew up watching our mothers and loved ones cooking for us, and I question if this will be the reality in the following years. In my generation, so many people have lost the habit of cooking, replacing it with buying pre-made food due to the fast pace at which we live. And so, 'Nosh-up' immortalizes this moment and the act of care, impacting older, younger, and future generations.
ZF: Good to know about your work, Mafalda. Thank you ;)!
Film Review (Eliane Gordeeff)
The film presents Mafalda's interpretation of the spirit and sensations she has while watching her mother cook in the kitchen, which is evident by the aesthetic choices made by the animator-director. The cooking act is a repetition of many little hand activities that Mafalda shows to us through drawings of her mother cooking, sometimes in close-up, and this way, she constructs the narrative step-by-step. The short rhythm is slow, as the cooking act is. Despite the narrative being about an actual situation, the director's choice was to detach the color from this commonplace and powers it as an emotional and graphic element. That, of course, highlighted and valued the movements and the drawing itself. Another high point of this short is the denuded shape in which Mafalda presents her family. We can feel ourselves in her mother's kitchen. It is not easy to transport what we have in our minds to paper or a screen. And Mafalda found animation the perfect way to make this transition.
CREDITS:
'Nosh-up' Portugal, Documentary, Animation, 2022, 12′.
Direction-Script: Mafalda Salgueiro | Sound: Sérgio Silva | Editing: Mafalda Salgueiro | Production: Rui Cardoso
Premiere: IndieLisboa 2022 (National Competition)
About Mafalda Salgueiro:
Born in Alentejo, Portugal, Mafalda Salgueiro holds a MA in Architecture from the University of Porto. Her work explores social practices in the interdisciplinary space of drawing, animation, and documentary, in a way that is as creative as ethnographic. Alongside her visual practice, she is also the author of anthropological articles and the co-founder of Alento, where she collects and draws stories about food. Nosh-up is her debut short animated documentary which premiered in 2022.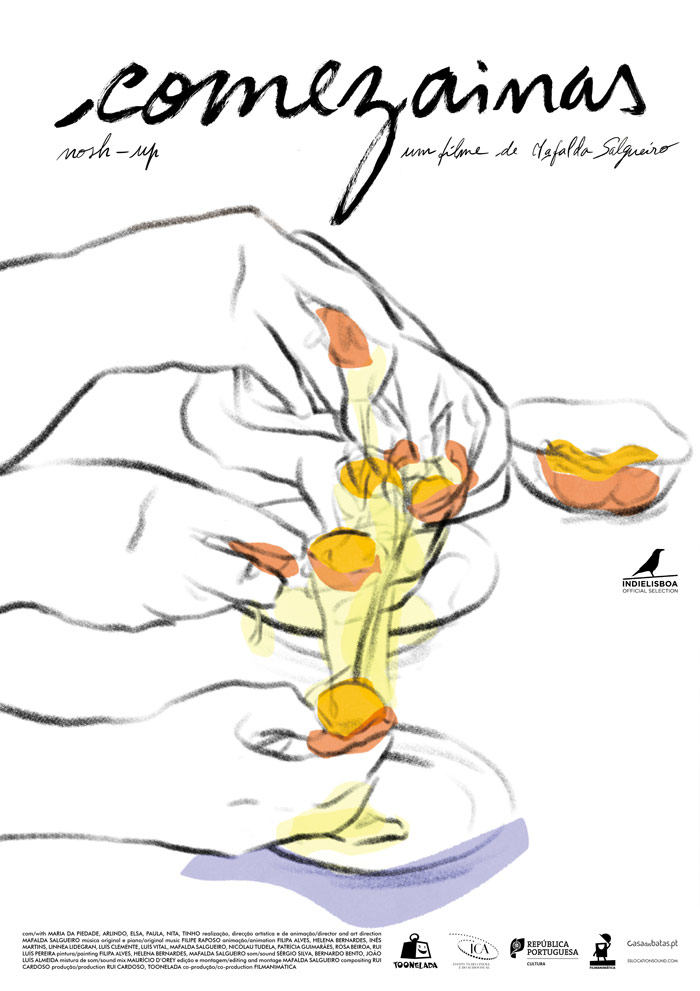 Mafalda Salgueiro on the web and Instagram
contributed by: Eliane Gordeeff
SIGN UP: Want to read more free articles like this? Sign up for Our Newsletter