Shorts
Notes by Gabriela Sibilska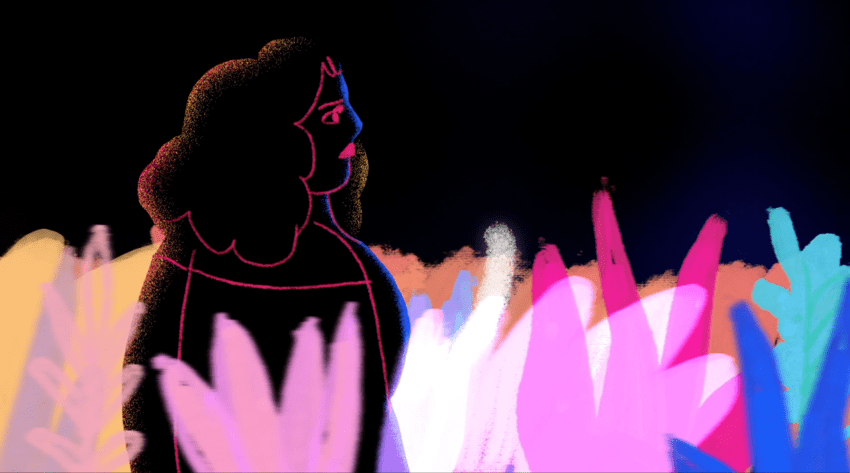 Gabriela Sbililska is a Polish animation director, with a lot of experience in music videos, and combining animation with aural musical environments. Here she hand-drawn animates the 'Notes' music video for London-based singer-songwriter Akweya.
It is a film that finely balances the empathetic reading of the lyrics with the grainy and selectively picturesque color droppings, making the visual background full of meaning.
We talked with Gabriela Sibilska
ZF: How did you meet Akweya and what did she ask you regarding the music video for the song? Was it a concrete set of instructions from the set or did you invent things as you went along?
GS: Akweya found me on Instagram after seeing a previous music video of mine that I worked on for another extremely talented vocalist, M'Lynn. She loved the dreamy vibe, hand-drawn feel, and abstract narrative of that video, and these are all my favorite things so right off the bat we were on to a good start. Other than that, I was given complete artistic freedom, which was great!
ZF: Your main character is silhouetted and grainy, whereas the environment around her is full of color patches. Was that your intention? And how did you approach your animation style in general?
GS: The main character's look is actually based on the real Akweya. She chose her hairstyle and outfit, which was really fun. As for the graininess - I am in general really obsessed with rich textures and I think I have been going through a particularly strong grain phase. I especially enjoyed experimenting with grainy brushes to imitate various light reflections on the character. At the same time, it was important to me to contrast my character against her surroundings as she walks through the magic door and finds herself in this dreamy, jungle-y landscape. That's why the background in that section is mostly created with painterly textures, gouache brushes, etc. A big visual inspiration I kept coming back to was "The Noise of Licking (A nyalintás nesze)" by Nadja Andrasev.
ZF: The only 'technological' thing I noticed was an old telephone set. Why did you use that instead of a smartphone or other gadgets?
GS: The old telephone set was one of the first images that came to my mind when listening to the song. A concept I explored was Akweya wading through the river in this jungle and finding a gigantic phone at the end of it, which she would then climb like a mountain and lay down inside its handset area. You can't really do that with a smartphone! Ultimately, I decided that the final section of the animation worked better when it was less action-driven and instead more directly illustrative of the music - but the phone stayed! It was already too deeply ingrained in my mind.
Watch Notes:
ZF: This is a concept and a song that looks open-ended in its narrative, it doesn't have a narrative 'end' or 'closure'. How did you work with that?
GS: While there is no narrative resolution per se, I would still say this is one of the more narrative-driven music videos I have made! The song itself progresses from the synth intro, through the middle part filled with organic sounds, all the way to the phone conversation at the end. It's kind of a trilogy, and I wanted to depict that with a slightly different drawing style, texture, and color scheme for each section. It is a pretty relaxed and often abstract depiction, but we do follow a character's journey nonetheless. The way I see it, and that is of course just one of many possible interpretations, this is a journey inwards, with the character discovering some truths about herself and sharing them with a friend during the final phone conversation.
ZF: What was the main challenge for you in this video? You've already done other music videos in the past. And how fast did you have to deliver?
GS: I have indeed worked on a bunch of music videos in the past and am hoping to continue growing my career in that direction. I am currently in various stages of development for two projects, both of which are music videos, however, the artists and genres could not be more different. It is always fun finding a way in which the musician's vibe and my style can overlap, and I must say that in the case of Akweya, that mutual sense of aesthetic came quickly and naturally. It was a fairly quick turnaround on this one, I believe it took about three weeks overall. I think the timing itself was probably the main challenge because it did put some limitations on the development of the visuals.
ZF: What did you really like about this song?
GS: From the first time I heard this song, I knew it was perfect for animation. I love that the track creates a soundscape, using many illustrative sound effects like bubbles and water droplets. I also really like that the song is divided into three distinct sections, telling a story. Not to mention Akweya's amazing vocals!
About Gabriela Sibilska:
Gabriela is an animator from Warsaw, Poland, who specializes in graphic and motion design for musical artists. She is best known for her work on music videos and visualizers. In addition to content creation, Gabriela often collaborates with musicians by producing stage projections for live performances. Her visual sets have screened at New York City's leading music venues, such as Elsewhere or The Bowery Electric. Her short films and music videos have been screened at festivals worldwide, including London International Animation Festival, Animateka, BFI Film Festival, and Aesthetica Short Film Festival. Gabriela holds an MA in Media Studies from the Pratt Institute as well as a BA in Media and Communications from Goldsmiths, University of London. She also graduated from Gobelins École de l'image in Paris Intensive Program in Character Animation. Coming from a Media Arts background, Gabriela always seeks to push the boundaries of her visual arts practice by incorporating experimental techniques and mixed media in her animations.
SIGN UP: Want to read more free articles like this? Sign up for Our Newsletter
Read More About: