Festivals
Selection Results: Turku Animated Film Festival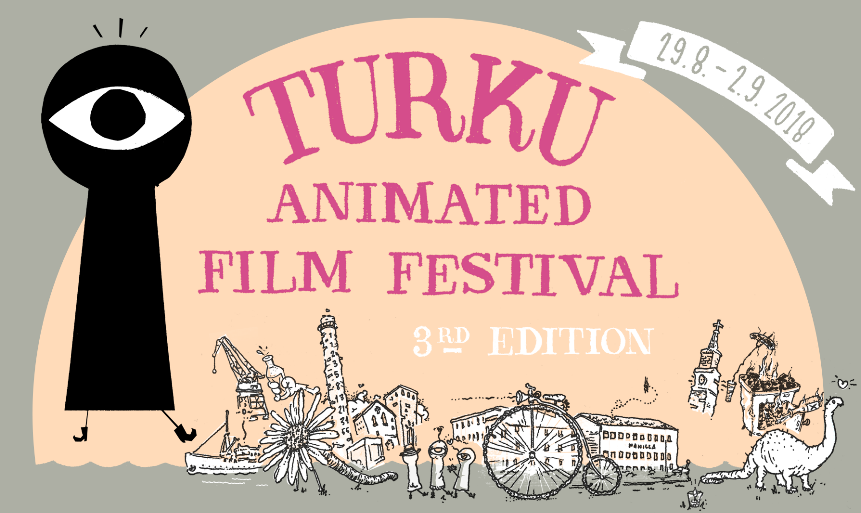 The third edition of Turku Animated Film Festival received 882 submissions for its International Competition. Ultimately 45 animated shorts from 25 countries were selected to compete for the Grand Prix worth €1,000.
We received nearly 900 submissions from all over the world. The independent animated film is definitely flourishing in Europe, and we're delighted to see as many as 20 student films in the competition. Declaring the winners will not be an easy task -Joni Männistö, TAFF Artistic Director
The films chosen for the competition include fresh works from seasoned filmmakers, such as Rosto, Georges Schwizgebel and Paul Bush, Grandpa Walrus by Lucrece Andreaen, The Burden by Niki Lindroth von Bahr and III by Marta Pajek.
The Panorama series consists of 15 fine films from professional filmmakers and 3 student films, whereas the Fresh From Finland screening presents the latest of Finnish animated shorts. In addition, there's a selection of animated music videos, a screening of animated documentaries, and three TAFF Junior screenings aimed at kids and youth.
The International Jury is formed by directors Réka Bucsi, David Buob, and Igor Prassel, festival director of International Animation Film Festival Animateka.
List of films selected for the International Competition (in alphabetical order):

III | Marta Pajek | PL 2018 | 12 min
A Blink Of An Eye* | Kiana Naghshineh | DE 2018 | 4 min
A Love Letter to the One I Made Up* | Rachel Gutgarts | IL 2017 | 6 min
Animateur* | Alexander Gratzer | AT, HU 2017 | 4 min
A Table Game* | Nicolás Petelski Mesón | ES, EE 2017 | 4 min
Barbeque* | Jenny Jokela | UK, FI 2017 | 6 min
The Battle of San Romano | Georges Schwizgebel | CH 2017 | 2 min
Bless you!* | Paulina Ziółkowska | PL 2018 | 5 min
The Box | Dusan Kastelic | SI 2017 | 12 min
The Burden | Niki Lindroth von Bahr | SE 2018 | 14 min
Cops & Robbers* | Florian Maubach | DE 2017 | 8 min
Cuckoo | Aline Höchli | CH 2017 | 3 min
Cupcake | Gina Kamentsky | US 2017 | 2 min
Cyclists | Veljko Popovic | HR 2018 | 7 min
Dacha, Aliens, Cucumbers* | Ekaterina Mikheeva | RU 2018 | 2 min
Demonstration of Brilliance in Four Movements | Morten Tšinakov, Lucija Mrzljak | EE, HR 2018 | 15 min
Egg | Martina Scarpelli | FR, DK, IT 2018 | 12 min
Electrician's Day | Vladimir Leschiov | LV 2018 | 8 min
Elegy | Paul Bush | UK, CH 2017 | 6 min
Embraced | Justine Vuylsteker | FR, CA 2018 | 5 min
Fest | Nikita Diakur | DE 2018 | 3 min
Finity Calling | Jasper Kuipers | NL 2018 | 15 min
Five Steps To The Right* | Äggie Pak Yee Lee | EE 2017 | 7 min
Flood | Malte Stein | DE 2018 | 10 min
Flower Found!* | Jorn Leeuwerink | NL 2017 | 6 min
The Fruits of Clouds* | Kateřina Karhánková | CZ 2017 | 10 min
Fuse* | Shadi Adib | DE 2018 | 7 min
Grandpa Walrus | Lucrèce Andreae | FR 2017 | 15 min
Grands Canons | Alain Biet | FR 2018 | 11 min
Island | Robert Löbel, Max Mörtl | DE 2017 | 3 min
Link | Robert Löbel | DE 2017 | 8 min
Living Like Heta* | Bianca Caderas, Isabella Luu, Kerstin Zemp | CH 2017 | 6 min
Maned & Macho | Shiva Sadegh Asadi | IR 2017 | 11 min
Musical Traumas | Milos Tomic | RS 2018 | 10 min
My Little Goat* | Tomoki Misato | JP 2018 | 10 min
Ooze* | Kilian Vilim | CH 2017 | 5 min
Rabbit's Blood | Sarina Nihei | UK, JP 2017 | 5 min
Red Garage* | Max Litvinov | FR 2017 | 4 min
Reruns | Rosto | NL, FR, BE 2017 | 14 min
Sirens* | Julia Tudisco | HU 2018 | 4 min
Snow White Cologne* | Amanda Eliasson | UK 2017 | 6 min
Strange Fish | Steven Subotnick | US 2017 | 4 min
Tour* | Jasmijn Cedée | BE, NL 2017 | 2 min
Travelogue Tel Aviv* | Samuel Patthey | CH 2017 | 6 min
Untravel | Ana Nedeljkovic, Nikola Majdak Jr | RS, SK 2018 | 9 min
List of films selected for the Panorama (in alphabetical order):

1st Day & Next Minute | Sara Koppel | DK 2017 | 3 min
59 Seconds | Mauro Carraro | CH, FR 2017 | 16 min
The Amazing Adventures of Not So Special People from Outer Space | Katarzyna Miechowicz | PL 2018 | 6 min
The Blissful Accidental Death | Sergiu Negulici | RO 2017 | 15 min
Destined to Be Dead | Francesco Rosso | EE 2018 | 11 min
Hate for Sale | Anna Eijsbouts | NL 2017 | 3 mi
How Steel Was Tempered | Igor Grubic | HR 2018 | 12 min
Lavo | Sasha Svirsky | RU 2017 | 2 min
Love Me, Fear Me | Veronica Solomon | DE 2018 | 6 min
Moulinet* | Sander Joon | EE 2017 | 6 min
My Mum's Bonkers | Naomi van Niekerk | ZA 2017 | 3 min
Night Walks | Lizete Upite | LV 2018 | 6 min
Simbiosis Carnal | Rocío Álvarez | BE 2017 | 10 min
Stockholm | Jean-Baptiste Aziere, Victor Chavanne, Thomas Némery, Morgane Perrin, Camille Roubinowitz | FR 2017 | 6 min
Tendrils* | Helen Woolston | EE 2017 | 11 min
Trespassers, Beyond the Veil | Pernille Kjær | DK 2018 | 8 min
Yellow and Red Make Orange | Jay Hollinsworth | US 2017 | 5 min
Yin | Nicolas Fong | BE 2017 | 11 min
Turku Animated Film Festival is a fresh international film festival celebrating creativity and the art of animation. The third edition of TAFF takes place in Turku, Finland, August 29 – September 2, 2018, presenting dozens of events during five days
SIGN UP: Want to read more free articles like this? Sign up for Our Newsletter
Read More About: