Shorts
Shooom's Odysssey by Julien Bisaro and Claire Paoletti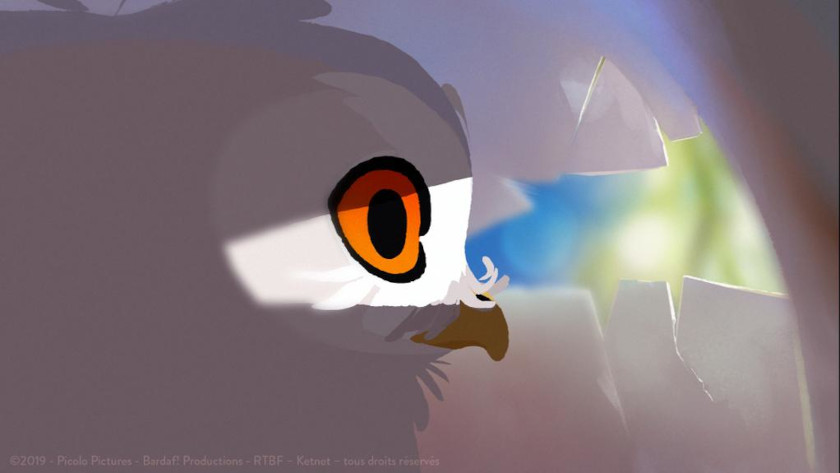 Shooom, a baby owl, hatches just as a storm turns the bayou surrounding her tree upside down. No sooner has she fallen from her nest, then the little fledgling totters off into the mangrove, pushing a second egg from the brood along with her. Come hell or high water, she's determined to find a mother... even if that mom turns out to be an alligator or a raccoon!
This is the premise behind 2021 César nominated animation short, Shooom's Odyssey, which has also garnered 22 international festival prizes.The 26-minute TV special is directed by Julien Bisaro (storyboard artist for  the Oscar-nominated I Lost My Body) and co-written and produced by Claire Paoletti (Picolo Pictures).
The film itself is co-produced by four countries: France (Canal +), Belgium (Bardaf! Productions, RTBF, VRT), Germany (ZDF), and Swiss (RTS), with the support of the CNC and the contribution of  Les Films du Préau (French theatrical distribution) and Dandeloo (International distribution).
But Shooom's Odyssey didn't start as a TV project in the beginning. Julien Bisaro and Claire Paoletti talk to Zippy Frames
Shooom's Odyssey Teaser:
"Shooom's Odyssey was born from a VR film project which I had the idea but which did not materialize". Julien Bisaro tells Zippy Frames. The immersive character of the 26-minute film was already at the heart of the Shooom project; the
previously directed short by Bisaro,
Bang Bang!
(co-written by Claire Paoletti) also had this character. Plus the films's excursion into the wild, from the viewpoint of a newborn owl, necessitated an immersive character.
"The other central stake of the story" Claire Paoletti adds "was to create an emotional narrative on the topic of the family bond. Hence the idea of developing the character of the second egg of the brood and telling the story of their separation".
The character of Shooom as an owl was picked up from the beginning of the development process, which included script collaboration between Bisaro and Paoletti. "I test directly a scene on the storyboard, then we rewrite till we are satisfied with the result" Bisaro reports. This exchange could benefit the film itself. "When writing pantomime comedy with characters who do not speak, the action should become very expressive while remaining realistic without falling into pure cartoonishness",  Paoletti explains.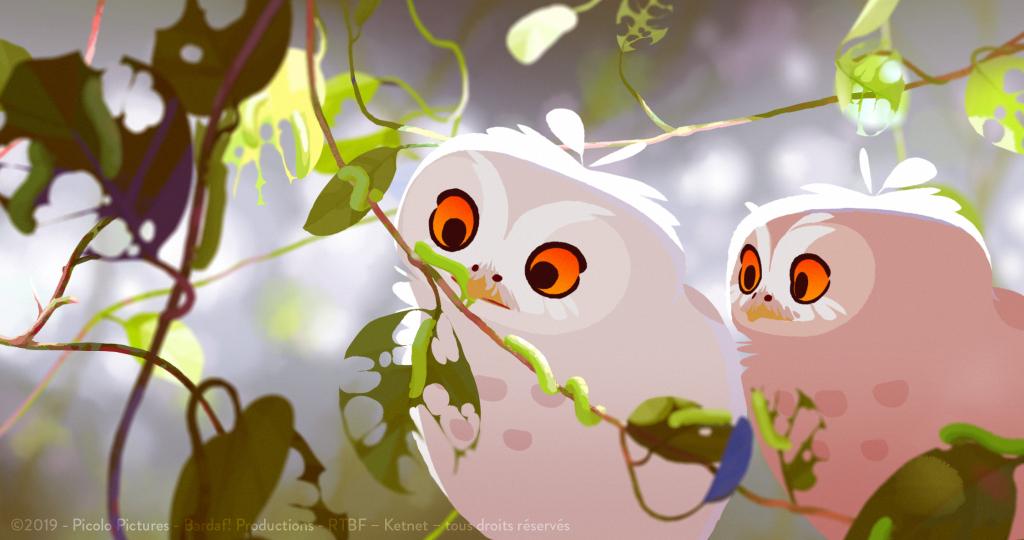 Shooom's Odyssey takes place in a Louisiana-like setting. Bisaro jokingly mentions in passing the HBO Treme series by David Simon and Éric Overmyer (2010), yet he goes beyond that. "We chose this region because of the richness of it's flora and fauna". The road movie concept of the film necessitated variety in both its characters and the backgrounds. " It was the opportunity to introduce young spectators to many animal species that live there: owl, alligator, egret, raccoon, etc. I also drew a lot from documentary references, especially for the backgrounds. Typical vegetation has been represented such as red mangroves trees recognizable by their arched roots. The landscape is very varied with its mangrove, forest, grassy swamp".

It is obvious from the above (and Bisaro confirms) that the 2D animation film strives for realism; video references for animal movements were watched and utilized (e.g. a hamster climbing a stairway inspired the moment in which Shooom is climbing the stairway of the harbormaster's tower). "In the graphic design, I used light and shadow, transparency, without line for a more pictorial rendering".

Yet it is also a hard fact that this kind of animation suits the not always rich budget, especially for a project of this scale. "We had  a certain comfort from a financial point of view" Paoletti tells Zippy Frames, " but the narrative and visual ambition of the film indeed forced us to control the budget as closely as possible. We chose to work on a very developed animatic to make possible the creation of all the elements we need during the production phase".
Check the animatic vs. the completed film here
Children's films in independent animation have a hard time, for their artistic ambitions are always challenged by the most popular US studio offerings and their appeal (and their own approach to childhood). In
Shooom's Odyssey,
some constraints were followed to align the film to its intended audience without making it formulaic. "Right from the writing, the idea was to be able to show children strong events - like the storm that opens the film - without it being too dramatic" Bisaro and Paoletti explain. "We therefore chose situations that were more poetic than worrying". The child who laughs when he is lifted by the wind, the sequence of Shooom's being chased by the alligator (immediately explained as a mother alligator looking for her young one, and not an act of revenge/anger). 
The human family in the film and their reactions differentiates Shooom's Odyssey from other kids' films. For Paoletti, the intention was to send a message about how to behave with a wild animal. "There is a difference between loving something and owning it... We have to bring it back to the world where it belongs because it's not a pet". Humans are also animals close to the other animals, so this is a lesson to be learned.
Music is uniquely memorable in the film (
David Reyes
), and so are the animal's sounds (entirely created by
Gurwal Coic-Gallas
). Both members of the creative duo emphasize this as both a challenge and an opportunity. "Animals don't speak but express themselves with sounds through hoots, squeals and other grunts that have become a real language".  David Reyes's music, on the other hand, can be either epic, cheerful or childish -but always there to support the story.
Shooom's Odyssey
was released in theaters in January 2020, part of  a program for young audiences; it totaled more than 115,000 admissions -despite the closure of movie theaters due to the Covid-19. The film is currently being selected at festivals all over the world.. "We discover that the film is as well received in Europe as in Asia or in the United States", Bisaro and Paoletti state, who are now currently developing a new, longer film targeted for young audiences in the same spirit as the 26-minute film.
There is a universal appeal in both the film's storytelling and visual, so Shooom's Odyssey might be an exciting journey after all.
Film Review (Vassilis Kroustallis):
What registers the most the first time you see the enchanting Shooom's Odyssey is its well-placed shot list and timing; it is as if shot serves its unique function in a film which its episodic structure will definitely benefit from it. The director and writers put together a totally believable narrative arc, from Shooom's hatch and birth to his final destination. Playing successfully with lighting and compositing to create depth (instead of simply filling in unnecessary character details), the film is a 2D immersive experience, which also benefits from the varied sound exchanges and an always recognizable music theme. The humans are here to support Shooom's story and they do make their mark, without overloading the picture. Shooom's Odyssey flows effortlessly as a piece, and finds its time to carve out its various characters in the meantime. There is no place like (the wild) home, and Shooom's Odyssey captures that in an expert way.
CREDITS:

Shooom's Odyssey (France /Belgium/ Switzerland/ Germany)

written by Claire Paoletti and Julien Bisaro | directed by Julien Bisaro | graphic design by Julien Bisaro | original music composed by David Reyes | creation of the animal voices Gurwal Coïc-Gallas | with the human voices of (French version): Prune Bozo, Thierry Desroses, Oscar Pauleau, Effie Rey (English version): Isabella Valentina De Oliveira, Alex Teixeira, Grant Hudson, Sarah Bartels, Betsy Durkin | Storyboard / animatic: Julien Bisaro | Animation supervisors : Michaël Crouzat / Julien Bisaro | Layout posing and animation:Léonard Bismuth, Yannis Boultadakis-Arapinis, Christophe Calissoni, Michaël Crouzat, Lionel Marchand, Sébastien Rouxel, Arthur Sotto, Julien Bisaro | Assistant animators:Alice Blaskevic, Maëva Le Fouillé, Pauline Grassi, Camille Marchand, Myrtille Pautet, Clothilde Pernot | Color script / background supervisor:Julien Bisaro | Layout and color backgrounds:Tévy Dubray, Clément Galtier, Nadya Mira, Guitty Mojabi, Julien  Bisaro | Additional layouts: Pasquale Carlotti | Compositing: Julien Bisaro | Visual effects: Julien Bisaro, Frédéric Macé | Editing: Julien Bisaro / Claire Paoletti | Voices recording: The Kitchen, LLC | Artistic director Cedric F. Boyer | Sound editing: Gurwal Coïc-Gallas


Belgium post-production: Dame Blanche | Production manager Céline Grudniewski assisted by Young-Kyun Gans | Technical assistant Antoine Hurdebise | Conformation / mastering  Mathieu Cauville  | Foley artist: Pierre Greco | Foley recordist: Alexis Oscari | Re-recording mixer: Luc Thomas | Color grading: Blaise Jadoul | Line producer: New Trails | Production manager: Claire Paoletti | Consultant Marie-Pierre Journet (KLD) | Original music composed by David Reyes | Recorded at Flagey auditorium   | With the participation of Musiq3 | Line producer  Guillaume Clément / Coriolan | Orchestra Deep Bridge Conductor: David Reyes | Piano Éliane Reyes | Sound engineer: Benjamin Vandenbroucke assisted by Leslie Gutierrez  | Studio: Rec'n Roll | Music editing: Elsa Grelot  | Music publishing: Picolo Pictures

Production: Picolo Pictures  (Claire Paoletti / Julien Bisaro), Bardaf! Productions (Olivier Nomen), Piwi+ and Canal+ Family Audrey Brugère - Nathalie Leffray - Sophie Boé, ZDF (Nicole Keeb), RTBF (Marc Janssen), VRT-Ketnet (Telidja Klaï), RTS (Saskia Krijnen)

With the participation of CNC – Fonds de Soutien Audiovisuel, Fonds d'Aide à l'Innovation Audiovisuelle,  Visuelle et Sonore | With the support of  Procirep Angoa , Ciclic – Région Centre Val de Loire with the support of CNC, Association Beaumarchais , Nef Animation | With the participation of Eactis, K&P Partners, Putman Frères and the support of Belgian Tax Shelter  | Theatrical distribution: Les Films du Préau | International distribution Dandelooo
About Julien Bisaro
French director Julien Bisaro studied at the Beaux-Arts Academy of Epinal where he discovered animation techniques. He went on to train at the Poudrière Animation School (Valence, France). Julien then worked on feature films in a variety of capacities: background artist and layout-man on Brendan and the Secret of Kells ; animator and chief lay-out designer on Ernest and Célestine, story-boarder and graphics co-author on Le tableau and more recently story-boarder on I Lost My Body. For this film, Julien has been nominated at the 2020 Annie Awards in the Best Storyboarding - Feature category. Julien first short Bang Bang!, co-written with Paoletti, was nominated for the 2015 César for Best Animated Short. It has since been selected for ninety festivals and was awarded 17 International prizes. His last film Shooom's Odyssey, co-written with Paoletti, is a 26' short film for children produced in their own production company, Picolo Pictures. It was released in french theaters in January 2020 and is 2021 César nominee for Best Animated Short.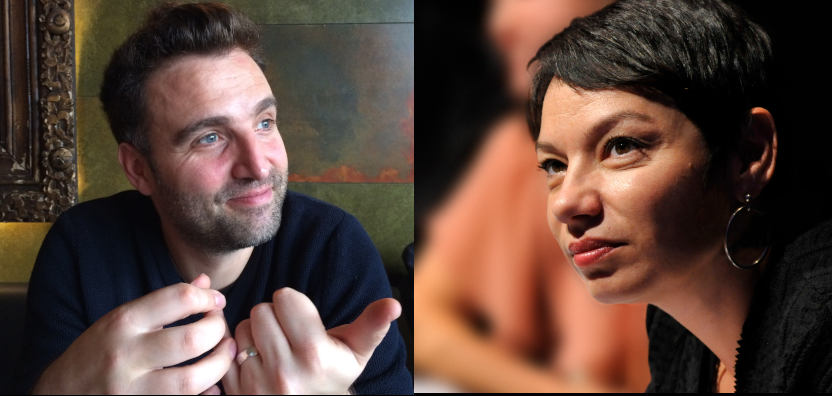 About Claire Paoletti

After earning a degree in cinema and art history, Claire discovered animation while supervising co-productions of children's programming for France 2 and France 3. She specialized as an animation writer in series, short films as Bisaro's Bang Bang! (2015 César nominee for Best Animated Short), and long features as Longway North which she created and wrote the original screenplay. She also writes children books and runs regular workshops at the animation school La Poudrière and Les Gobelins. She has recently created a production company with Julien Bisaro, Picolo Pictures, in which she produced and co- wrote Shooom's Odyssey – Cristal of the best TV production in Annecy Festival 2020 and 2021 César nominee.
Read More About: