Interviews
Symphony no. 42: Interview with Réka Bucsi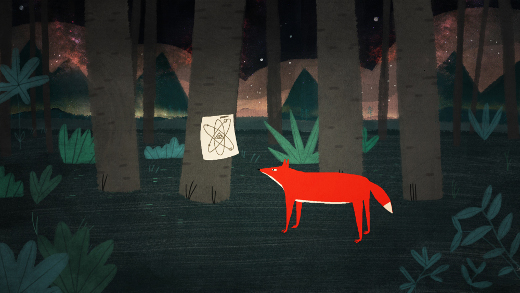 One of the few non-narrative shorts in the 10 animated films Oscar-shortlisted in 2015, Symphony no. 42 by Réka Bucsi has made an impression. The 2D animated short, which premiered in 2014 Berlinale, and has gathered a number of awards since, presents a subjective world through 47 scenes.
 The interplay between humans and nature occurs via small events, interlaced by free mental (and visual) associations. Réka Bucsi talks to Zippy Frames about her work.
ZF: Why Symphony no. 42, and how you started making this kind of film, which has no definite plot, but there is still a thread that unites those 47 images?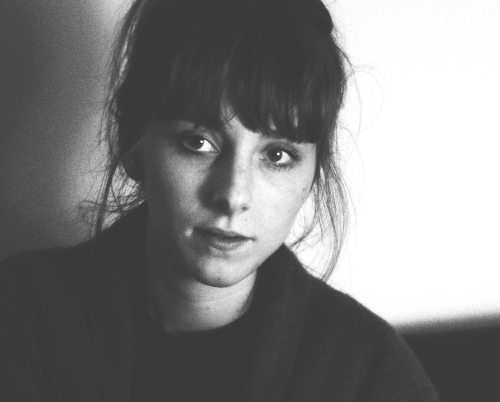 RB: I paired up with a sound designer - Peter Benjamin Lukacs - in the very beginning . I wanted to make a film which is guided by sound. I tried to build a system where sound is not just an illustration of the picture, but adds a whole new layer to the film. While developing it, sorting and editing the scenes into a coherent system, the picture became very dominant as well.
I tried to work with the characters as living creatures. I treated them like actors, I got to know them, and tried to see how they could interact naturally. I figured out associations in rhythm, colour, sound and movement.
Although the first phase of the creative process was completely intuitive, in the course of the development a more concrete theme was unfolding and the scenes started to get arranged around it. These 47 observations are focusing on the interactions between humans and nature.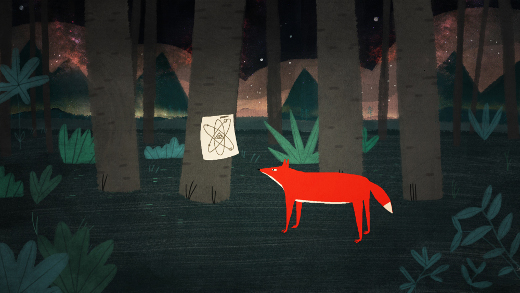 While I was making the film I sometimes felt it is more composing than directing. All those small scenes came together slowly, and formed a coherent bigger picture. 42 is a magical number. It is a very central number in mathematics, or I also heard it is the angel of rainbows. It stands for so many things, that you may think it has some kind of special supernatural meaning. But I believe it is just a number like all the others. It means everything and nothing in the same time. That is why I like it a lot. It is hard to be like the number 42.
ZF: Symphony no.42 is anything but sentimental but it still makes you feel affected by our troubled relationships with nature. Did you have any consideration beforehand about potential audience reactions, who might have wanted a more traditional story or you just pursued your own vision?
RB: Symphony no. 42 is my graduation film. At my study years my main goal was to love what I do and have fun with my work. I just wanted to see the characters move, and do their thing. I felt like a parent, and found it very exciting to experiment with the narrative.
I believe it is very important to take a chance in school to experiment with what you have learned, and in some cases reconsider rules from books. I am a person who can get bored easily, so I need to challenge myself in my work. I was hoping to have an audience, but you can never predict these things. I couldn't be more satisfied with all the positive feedbacks the film got. It is extremely rewarding that other people get influenced by what I find important, funny or sad. This way you get to communicate in a very special way.
ZF: You stated that is "soothing that the world around us is often irrational". Do you think that animation is better equipped to represent this state of affairs than live-action films?
RB: I think animation is a complete different medium, which is built from film, but can be used for many other things. If I get asked if I would make live action, I feel it is like asking a pianist if he is considering to be a drummer one day. I think both animation and live action can show the same affairs. I personally find it easier to present my interests through animation, as it offers much more possibilities in abstraction. In the same time I get more and more interested in live action as well. Probably because it seems like a huge challenge.
ZF: This was your graduation film. What kind of difficulties did you encounter, and what support you received in the process?
RB: I remember a few intense discussion with some of my tutors, who believed that this narrative won't work for an audience, but the mayor feedback was very positive. It was very important to hear feedback from students as well, I learned a lot about handling criticism and building it to my work flow. Every year we get some support for graduation films from the Hungarian National Film Fund, and we are allowed to spend most of it on anything. I spent the mayor part on sound and studio.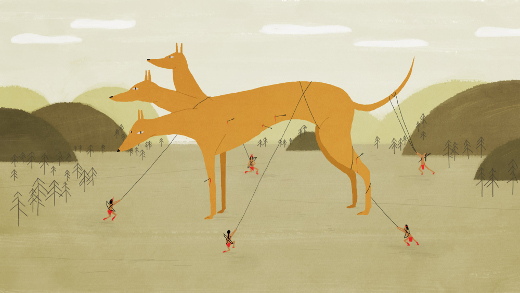 The idea is to make the creative part on our own, animate as much as possible and than learn how to guide and direct a team of helping hands. I had quite a big team, who were mostly students, working for school credits, as they are supposed to have experience in being interns in another project. They often do small parts of the films, learn a software and study some animation through the projects. Also I had some help from professional animators. It was a very nice experience.
ZF: Do you think that 2D computer animation is the best means to convey what you feel in these kinds of animated shorts? How long did it take you? Would you do a 3D computer animated short or a mixed-technique film?
RB: I always thought classical 2D is the technique that is as nice as it gets. For me it is the most beautiful and free form of animation. In the same time I am very much excited to try new techniques, I am not sticking to anything, as that could lead to narrowing down your ideas about narrative and picture as well. I tasted 3D for about 2 weeks in my school years, and I would very much like to learn more about it, as it seems like a nice playground.
ZF: You are a Hungarian animator, yet born in Germany and now working in Denmark at Animation Workshop. Do you think that animation artists (especially those that make animated shorts) need to have multi-national ties to succeed in their work, or this just happened in your case?
I think it is a very helpful way of working. I got to know many different people from different countries. Staying at one spot for years feels not right for me at this point, as I gathered a lot of inspiration from other peoples ways of thinking. Also I find it an easy way to loose the necessity for following strict rules for filmmaking. It is easier to sort out opinions from school and build your own wor kflow, as you get constantly confronted by the fact, that there is more than one way of expressing something.
ZF: Your film premiered at the 2014 Berlinale festival. Do you think that animated films are fairly represented in big festivals? Do you like the atmosphere there or you prefer to screen your film in exclusively animation festivals?
RB: I have no preference in having the film in an entirely animated festival or a live action-animation one. I loved to be part of the Berlinale competition. I could very much feel the peoples love for films. It was definitely one of the best audiences the film ever had. The films are shown under very good conditions, as they should be seen, and the audience is very lively. This year there were 4 animated films out of 25 shorts.
I don't think a jury should select films considering if it is animation or not. If there is animation which they think fits the program they should select it, if there is none they shouldn't. There are less animated movies than live-action ones, so I don't think it is a problem if a festival like Berlinale doesn't consider more animated movies than it usually does. I know more people in the animation industry than in the live-action one, so it is always very nice to go, and meet those people on animation festivals.
 ZF: Symphony no.42 has been shortlisted for an Academy Award for Best Animated short among 9 other contenders. Did you expect this, and what do you think of the whole awards institutions?
 RB: I didn't expected any of this. I think you can't say you expect to be shortlisted for the Academy Awards. It is an honor, it sound just surreal. I a.m not sure what to think about it, as it still seems as such a far out thing. I am hoping for the best to happen, and I think the list of contenders is very strong this year
ZF: Tell us about your future plans.
RB: Currently I am developing my new short film titled LOVE at the Artist Residency of Open Workshop in Denmark. It is planned to be a Hungarian - French co-production. I got my focus back on Symphony no. 42 for a little bit now, but the plan is to finish LOVE until October 2015.
Also I will be working with some danish guys on their web series. I am always open for collaborations, and interesting projects. The plan is to stay fortunate and be able to do what I like to do.
REVIEW:
What impresses in this seemingly incoherent short is the constant role exchange between human and animal, nature and culture, victim and perpetrator. Symphony no. 42 has the same fragmentary feel that The External World by David O'Reilly shares, but without the cynicism and a more benevolent attitude toward both humans and animals.
 The inventive and unexpected scenes (such as the UFO sequence), and the association of previously unrelated scenes makes this open-ended 2D film a rather warm exercise in a world that desperately seeks meaning, but cannot swallow pre-programmed solutions.
CREDITS:
director, writer, designer: Réka Bucsi,
editing: Réka Bucsi, Judit Czakó,
original music: Flóra Matisz,
sound design: Péter Benjámin Lukács,
animation: Nándor Bera , Réka Bucsi, Krisztián Király, Maja Szakadát , László Tóth, Csaba Zabos, Sándor Vágó,
compositing: Bálint Farkas Gelley ,
producer: József Fülöp ,
production manager: Krisztina Holló Leleszi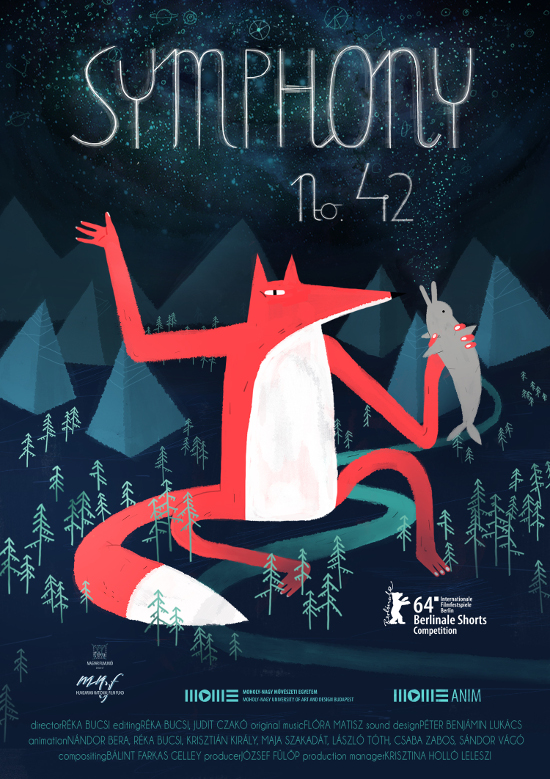 Learn more about Symphony no. 42 in the official Facebook film page.
Read More About: