News
Tale of the Princess Kaguya Sets 17 Oct 2014 US Release Date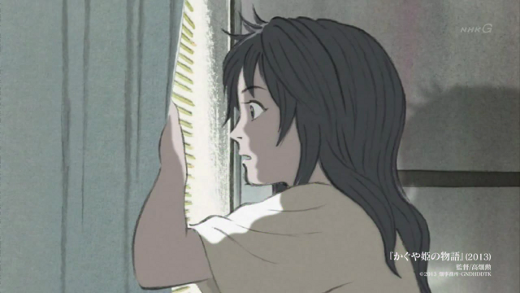 Tale of the Princess Kaguya (Kaguya-Hime No Monogatari) has now set an October 17, 2014 date for its US release by independent distributor GKids. The film makes its North American premiere at the Toronto Film Festival (TIFF Masters section) on Friday, September 5, with repeat screenings on September 6 and 14.
 The new Takahata film is is the first film in fourteen years, and tells the untold story of The Princess Kaguya, the heroine of the ancient Japanese folktale The Tale of the Bamboo Cutter.  Found inside a shining stalk of bamboo, a tiny girl grows into an exquisite young lady, raised by an old bamboo cutter and his wife. From the countryside to the grand capital city, even unseen she enthralls all who encounter her, including five noble suitors. Ultimately she must face her fate, punishment for her crime.
The 77-year-old Isao Takahata, who previously directed Grave of the Fireflies (1988) and My Neighbors the Yamadas (1999), returns to feature animation after his 2003 Winter Days. The film was eight years in the making, and features a score of the Miyazaki regular Joe Hisaishi. Variety critic Maggie Lee praises the new Takahata film as "a visionary tour de force".
 Watch the extended trailer:
 The English-language version is being produced by Studio Ghibli and Geoffrey Wexler, with Frank Marshall of Kennedy/Marshall Executive Producing. This is the same team that handled English versions for the two previous Studio Ghibli films, The Wind Rises and From Up on Poppy Hill. In addition to Chloë Grace Moretz as The Princess Kaguya, the film features the voices of James Caan, Mary Steenburgen, Darren Criss, Lucy Liu, Beau Bridges, James Marsden, Oliver Platt and Dean Cain. (Full cast list below.)
GKIDS, which has the  North American distribution rights for the film and is planning a theatrical release starting October 17 in New York, Los Angeles and Toronto, with national expansion to follow.
Theaters:
IFC CENTER, 323 Avenue of the Americas, New York, NY 10014
ARCLIGHT HOLLYWOOD, 6360 W Sunset Blvd, Los Angeles, CA 90028
TIFF BELL LIGHTBOX, 350 King St W, Toronto, ON M5V 3X5, Canada
The film will qualify for the Academy Awards® and other awards season contests.
Tale of the Princess Kaguya premiered at Cannes Directors' Fortnight, the avant-garde, parallel section of the celebrated Cannes festival, and opened the celebrated 2014 Annecy film festival.
{tab=English Voice Cast}
The Princess Kaguya – Chloë Grace Moretz
The Bamboo Cutter – James Caan
The Bamboo Cutter's Wife – Mary Steenburgen
Sutemaru – Darren Criss
Lady Sagami – Lucy Liu
Me no Warawa – Hynden Walch
Inbe no Akita – George Segal
Prince Ishitsukuri – James Marsden
Prince Kuramochi – Beau Bridges
Lord Minister of the Right Abe – Oliver Platt
Great Counselor Otomo – Daniel Dae Kim
Middle Counselor Isonokami – John Cho
The Mikado – Dean Cain
Kita no Kata – Emily Bridges
{/tabs}
Read More About: