Shorts
The Grand and The Small: The Case for Marta Pajek's Impossible Figures and Other Stories I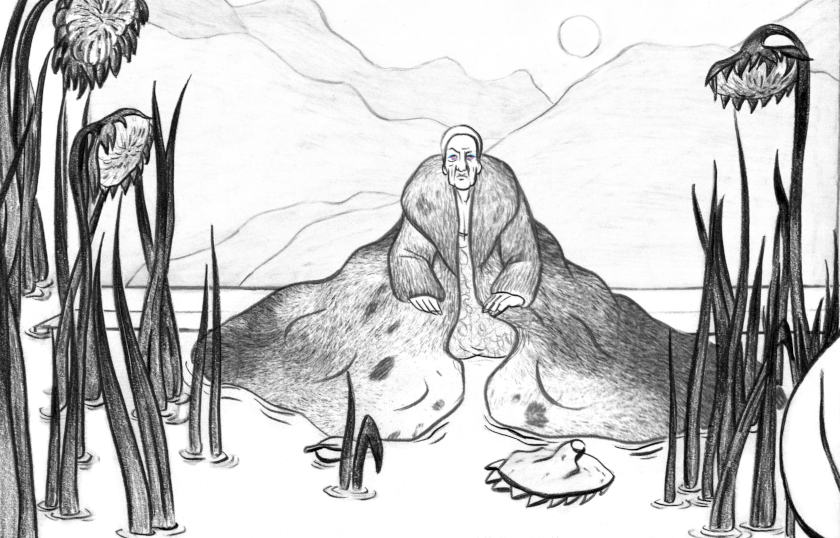 It world premiered at Ottawa International Animation Festival, without much fuss, to be honest. The latest (and last) installment in the trilogy of "Impossible Figures and Other Stories" by Polish animation director Marta Pajek, the no. I part, succeeded the 'Impossible Figures and Other Stories II' ('the space within a house'); this in turn was followed by the Cannes-premiered 'III' part ('the space between two people'). The 'Impossible Figures and Other Stories I; film ('the space within a city') followed this year (2021, produced by Animoon and National Film Board of Canada). All of which deal with impossible perspectives yet carefully addressed in all of those films.
It is inevitable that when a filmmaker embarks on a slate and a thematic project series (instead of a single project), some of their works will be compared unfavorably or more favorably to the others. Yet here we'd like to try a different perspective, which, by the way, is not a complete review of the film itself.

We were motivated to write this piece because we think that, in its own way, 'Impossible Figures and Stories I' is indeed a brave film. It tends to document the end of civilization as we know it (in less than 15 minutes), and has Pajek's usual affinity for capturing essential details and relationships in the midst of an almost chaotic realm which lacks any sense of ordinary perspective..
Watch the trailer for 'Impossible Figures and Other Stories I':

Scale, directness and the Zeitgeist itself set apart the I film from the two others (and sometimes these cause much confusion in the film's evaluation). The scale of 'Impossible Figures and Other Stories I' is a monumental one; a massive explosion is followed by a scary aftermath with frightened people running for their lives; an elderly woman is now serving as our guide to deserted city streets.
Marta Pajek herself states that she chose to film this part of the trilogy last, " I needed more experience and time to do this film. I figured the older I am, the more I'll know, and this will eventually benefit the film". Yet it is exactly this scale that might alienate the viewers; where are the intricacies of interpersonal relationships that short animated films (and Pajek herself in her earlier films) are unique in handling? Isn't it too grand to depict the end of the world in a film, and haven't we seen this before -and so many times in live-action films? 
These are questions that they themselves lead to a wider issue. What do we want of short animation? The big events or the slice of life? Are we happy with the micro-details of psychology in a single event, whereas a big scale leaves too many things to be addressed? These are issues that 'Impossible Figures and Other Stories I' puts on the table.
Another factor that goes along with the big scale is directness; unlike her previous films in the trilogy, 'Impossible Figures and Other Stories I' is surprisingly direct; the subtleties of the two other films and the detailed nature of the relationships is here substituted by an almost brash account of places and characters; it fits the film's subject-matter, but again puts the question of what we are get to see in short independent animation, and how we are willing to leave room for a healthy dose of directness -instead of seeking 'subtlety' where it won't fit.
Again, this is not a question for Pajek's film, but it does bring its own questions and tests the (usually festival) audiences, which are used to prefer the intricate over the direct, the small-scale over the grand opus; as if it were easier to make the latter (it is not).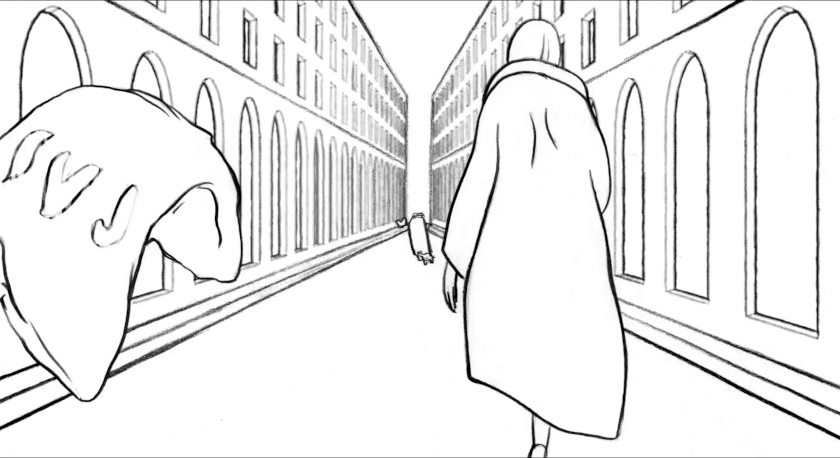 The third factor that this film in particular necessarily addresses is certainly the Zeitgeist into which is released; in a pandemic environment, post-apocalyptic films suddenly sound both relevant yet easy to dismiss as another child of their specific time. Obviously, we need to take into account that Pajek's film was already conceived before the pandemic started; yet it is also pertinent that one of the film's major awards (apart from a Balkanima Special Mention), comes not from an animation festival, but from DOK Leipzig (Golden Dove for Short Animated Film); a festival which celebrates documented realism, a subject-matter the film overwhelmingly presents, in its own unique way.
'Impossible Figures and Other Stories I' has now become Oscar-qualified (via its DOK Leipzig win) to run for the 2023 Academy Awards. It will be interesting to attend its festival life, and how these questions of the grand and the small, the direct and the intricate resonate with the viewers. For our part, we need both the big and the small, the intimate and the grand in our cherished indie animation field.
SIGN UP: Want to read more free articles like this? Sign up for Our Newsletter