Shorts
Tin Man by Ben Dalby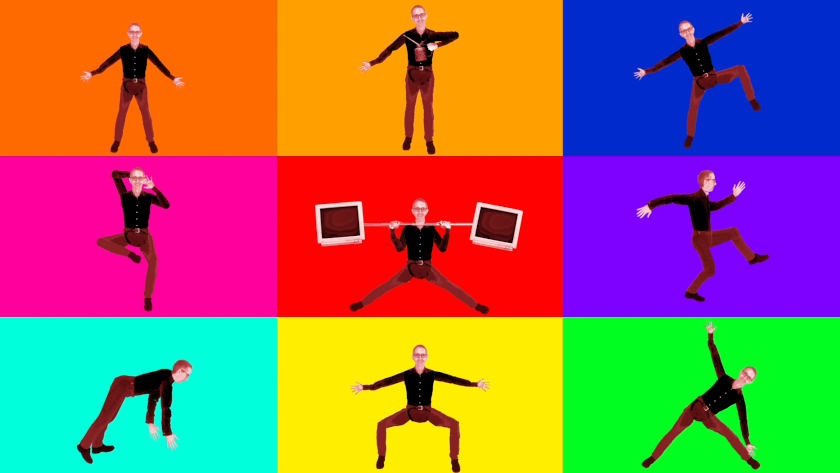 Tin Man, hiding in your room  / Careful with those tears / I hear they can corrode
UK music artist  (and computer programmer) Ben Dalby collaborates with writer Mojo Billington and animation director and illustrator Liam Callebout to present the music video Tin Man.
ZF: How did the collaboration take place? Did you know each other from the beginning? 
[Ben] I've been friends with Liam for about 10 years, and he's done illustration work for several of my other projects, as well as regularly beating me at various tabletop games, a relaxation pursuit we share. I had been looking at a more conventional music video, but the timescales and costs were becoming difficult, so my co-writer Mojo suggested we contact Liam and see if he was interested.
ZF: Did you hear the song, and just started creating visual ideas? How was the creative process?
[Mojo] I co-wrote the song, and knew it inside out before coming up with the visual concept. I just loved the idea of animated photographs and their jerky movements. I've always been a big fan of the Monty Python animations and the ridiculousness of them and I also enjoyed the 'Arnold J Rimmer' song from Red Dwarf, and I thought something that brought these two together would be perfect for this song.
Watch Tin Man:
ZF :There is photography in the film. Was it essential for you to have the main characters as realistic as possible (and not completely designed)? 
[Liam] The use of photography was two-fold. Firstly, I've always loved collage-style animation, I really like the look of grainy photos and the roughness they have and I think next to clean shapes and bright colours they really stand out. For the characters especially I think photos have a certain soul to them and the main character actually being Ben rather than an impression of him grounds the whole thing I think.
Secondly, that blasted enemy of any creative, time. The turnaround for this project was only a few weeks, from hearing the song, talking concept, to storyboard, to full animation. That meant we needed a technique where we could do things quickly and efficiently. For example the dancing scene, which was added quite late on, and using photography meant we could cut down what might have been a day or two of animating down to a few hours work my end.
ZF:Did you use digital cutouts for animation? 
[Liam] For the cut outs I used Photoshop and I created a 'master document' where I created a series of layer adjustments stacked on top of one another which I just copied onto any image we decided to use; so it was all cohesive regardless of the photo -and then I chopped out the elements I wanted.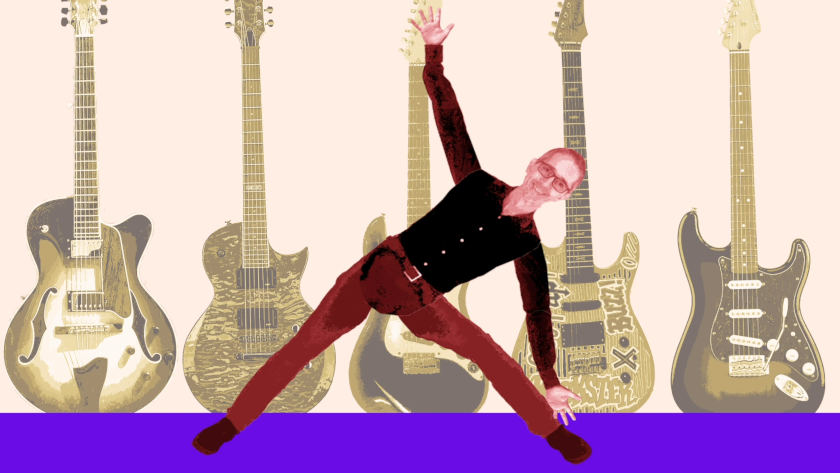 ZF: Indie productions usually have both budget and time challenges. Which one did trouble you the most (if it did at all)?
[Ben] Time was the biggest challenge for me – the single release date was locked in on 16th July and we had to be ready for that deadline.
ZF: I liked the Milky Way scene, but how did this come about?
[Mojo] I loved Liam's visual of the planets on strings, and then I had the idea of the characters blasting off into space into a new realm of possibility in their rocket!
[Liam] The Milky Way scene was another that came about quite late in the day as we were going through one of the rough cuts. Originally the dancing went on longer but then I was sent a masterpiece in Biro on a scrap of notebook paper of two people in a rocket from Mojo; we just jumped off from there. I just wanted to have these characters zooming off together, seeing the universe and flying past all the things that up until that point had defined the life of the tin man, coffee, phones and typing.
ZF: Tin Man refers directly to The Wizard of Oz, but was that a conscious reference? 
[Ben] The reference is conscious, yes – the Tin Man in Oz is trying to find his heart, and the song is about being cut off from your feelings, and trying to toil away when you've lost that connection to your heart. The song has another side (in the chorus) which is the joy of escaping from such a restricted life - that bit was inspired by finally quitting a job that took me many months to get away from. 
Film Review (Vassilis Kroustallis):
Tin Man gets us from the grey, square room to a kaleidoscope of forms, plants and water, and even the space itself. It is grounded on reality and its photographed face profiles, but it plays cunningly with the possibilities of the cut-out elements. With a song beat that almost leads you to get up and move, and lyrics that remind of familiar insecurities, Tin Man is a small anthem to let yourself and enjoy what comes along in the process -in a vibrant form.
CREDITS:
'Tin Man' by Ben Dalby 
Video produced and directed by Liam Callebout
Photography and concept by Mojo Billington
Additional Photography by Augustus Dalby
About  Liam Callebout:
Liam is an illustrator whose speciality lies in ideation, stories and bright bold designs. Alongside his freelance career Liam works as an educator, running art workshops in schools and universities in his specialities of storytelling and digital painting. Liam graduated with first class honours in BA(Hons) Illustration from UWE Bristol. He currently resides in Bristol, UK.
 About Ben Dalby:
 Funny, quirky and thought-provoking are the words most often used to describe Ben Dalby. An eclectic artist, he can release anything from the synth-pop sweetness of 'Champagne' to the biting YouTube satire 'The Credit Crunch Song.' His YouTube channel has resulted in over 1/4 million views, and radio plays for "Chinese Friends" and "The Credit Crunch Song." His recent track "The Stars" was played over 200,000 times on Facebook.
About Mojo Billington:
Mojo is a writer, style guru and life coach, working towards a world of women at peace with themselves, having wonderful relationships in beautiful bodies. She studied Physics and Philosophy at Oxford University, and lives in the New Forest, UK.
SIGN UP: Want to read more free articles like this? Sign up for Our Newsletter
Read More About: