Shorts
Writer's Block by Tom Gran and Martin Wooley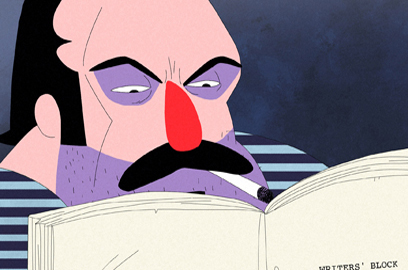 Tom Gran and Martin Woolley, along with the Bristol-based WÖNKY Films studio as a producer, present a prison comedy. Set in a prison for criminally poor writers, it follows a gang of cons who get ahold of the script to their own lives and attempt to re-write it in order to make their escape.
The prison genre is under-represented in animation, but well respected in live-action films. The directors based their story and characters on Gary Oldman (the main character Gil), Ian McShane, and even Jack Nicholson and Mel Gibson.
The film is animated in Flash (and then comped together using After Effects), and retains the feeling of a semi-serious adventure that constantly reminds of its artificial character. The story equivalent is the narrative device of a script (a work of art) that constantly needs to reference reality -and an escape exit.
The intro scene, when a writer's block is filmed as a prisoners' block, and then finally turns into an apostrophe in the typed script, inventively presents the fate that may befall poor writers. A lot of gags accompany this energetic short, in which the script is to be completed, crossed off, rewritten by various writers, and even causes the floor to crack (in one of the most difficult scenes to animate, as its director acknowledge). Humourous tension (enhanced by the luminous prison uniforms the inmates wear) never abandons Writer's Block.
Tom Gran and Martin Woolley (aka Sprinkick Bros)  began writing together while in University at UWE Bristol, England. Since graduating in 2010 they have collaborated on several projects including ads and prospective animated series. Writers' Block is their first independent short film together.
For more on Writer's Block, visit the free Apple store companion app (available for  iPad, iPhone and iPod), which contains the full film, a look behind the scenes with additional content including storyboards, animatics and original concept and development work for the short.
WÖNKY Films:
WÖNKY are an award winning studio specialising in illustration and animation for broadcast, advertising and digital. WÖNKY work as a collective of creatives including illustrators, animators, musicians and writers to create content across a variety of media. Their passion is character animation and everyone at WÖNKY shares the same sense of humour that brings their characters to life.
CREDITS
Directed by: Tom Gran & Martin Woolley
Produced by: WÖNKY Films
Supported by: Ideas Tap
Animation by: Todd Setter, Tom Gran & Iwan Vaughan
Backgrounds by: Adam Davis
Music by: Paul Burke & Dan Pugsley
Voices by: George Watson, Tom Gran, Hannah Welch & Adam Davis
Voice Recording by Jamie Ward
Sound Design & Foley by: Iwan Vaughn
Visual Research by: Madeleine Grossi
Clean Up & Color by: Robyn Leibschner, Madeleine Grossi, Jack Dubben & Rob Turner
Read More About: