Animateka PRO Pitch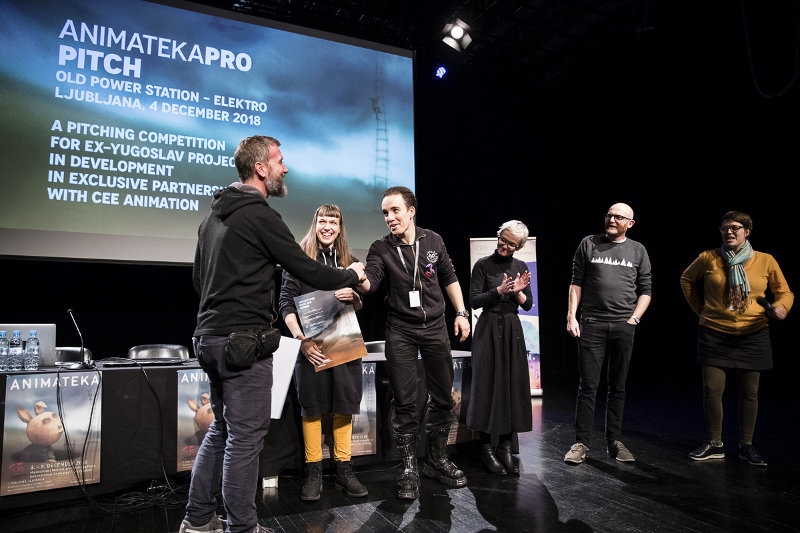 Category
PITCHING & INDUSTRY
Deadline | Event Dates (period)
Email
This email address is being protected from spambots. You need JavaScript enabled to view it.
Final submission deadline
2019-10-06
Submission/Registration Fee
No
Event Description
AnimatekaPRO is a festival platform where you can learn about the latest in the world of auteur animated cinema through a series of talks, debates, presentations and Q&As. The event includes the AnimatekaPRO Pitch, where producers and animators from ex-Yugoslav countries pitch their projects in development.
2022 Event Coverage
2020 Event Coverage
6 projects in development have been chosen to take part in this year's AnimatekaPRO Pitch training and competition for short animated films from the ex-Yugoslavian region.
Child In Me, Andjela Joković, Andrijana Sofranić Šućur (NANA 143), Serbia
Diogenes, Krste Gospodinovski, Zharko Ivanov (Flip Book Productions), North Macedonia
Leptir, Sunčana Brkulj, Draško Ivezić (Adriatic Animation), Croatia
Leopold, Igor Ćorić (Artrake), Serbia/Australia
Luknje, Sofiya Kruglikova, Andrej Kamnik (ALUO, University of Ljubljana), Slovenia
Switch, Dalibor Rajninger, Vessela Dantcheva (Compote Collective), Serbia/Bulgaria
The pitching will take place on December 1st, in the beginning of the 17th edition of the Animateka International Animated Film Festival (30 November-9 December 2020). Due to special circumstances, the pitching competition will be executed online.
The online training and preparation will be led by Matthieu Darras (CEE Animation, First Cut Lab), expert tutor to discuss and/or fine-tune the strengths and weaknesses of the projects as well as best pitching strategies.
Members of the jury will assess the projects and give them feedback for their further development. The members of AnimatekaPRO Pitch 2020 jury are Anna Vašová (13ka), Luce Grosjean (MIYU Distribution) and Maja Zupanc (Invida).
Two members of the winning project will receive an invitation to attend the CEE Animation Forum 2021. The organizer of the AnimatekaPRO Pitch 2020 is Animateka in partnership with CEE Animation Forum and in collaboration with the Slovene Animated Film Association.
2019 Animateka Pro Coverage:  
5 projects in development that will take part in this year's AnimatekaPRO Pitch training and competition for short animated film projects in development from the Ex-Yugoslavian region. From the 9 submissions received, these are the ones who made it through the selection process:
Cleaning Service, Iva Ćirić, Milan Milosavljević (Academic Film Center), Serbia
Fachuk, Maida Srabović, Janja Pilić (Tetrabot), Croatia
Family Portrait, Lea Vidaković, Draško Ivezić (Adriatic Animation), Croatia
TIAMAT, Darko Dacović, Milan Milosavljević (Vorky Team), Serbia
Wheel of Life, Tamara Maksimović, Mladen Đukić (Aeon), Bosnia and Herzegovina
2018 Animateka Pro Coverage 
The contestants of the AnimatekaPRO Pitch 2018 are:
Raft, Marko Meštrović, Mia Bučević (Kreativni sindikat), Croatia
From the Ghetto, Lucija Bužančić, Andrijana Vidaček (Zagreb film), Croatia
Aqualia, Vladisav Knežević, Andrijana Vidaček (Zagreb film), Croatia
Mišja hiša / Mouse House, Timon Leder, Jure Vizjak (Invida), Slovenia
Legenda o Zlatorogu / The Legend of the Goldhorn, Lea Vučko, Damir Grbanović (Octopics), Slovenia
NB: 2023 Event Dates are tentative