CINEKID Festival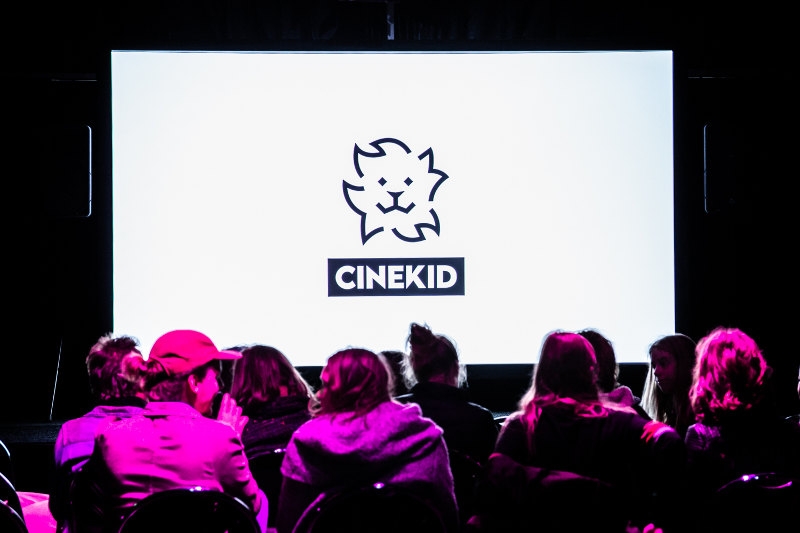 Category
ANIMATION & FILM FESTIVALS
Deadline | Event Dates (period)
City
Amsterdam, The Netherlands
Email
This email address is being protected from spambots. You need JavaScript enabled to view it.
Final submission deadline
2020-07-01
Submission/Registration Fee
No
2020 Festival Coverage (Archive)
Cinekid opens with animation feature Calamity
 
Cinekid is accessible to more children than ever: both online and live throughout the NetherlandsCinekid, world's largest children's film festival, opens on the 7th of October with the adventurous family film Calamity by French director Rémi Chayé. This hand-drawn animation feature tells the story of the legendary, headstrong young woman Martha 'Calamity' Jane, who stands her ground in the Wild West. This autumn, Cinekid is more accessible than ever to children and professionals, with an online festival and live festival events spread across the Netherlands from the 7th  until the 23rd of October. The latest films, television productions, media installations, workshops and tutorials taking place in 14 days and 10 festival locations throughout the country at the new Cinekid online platform.
The regular Cinekid on Tour programme also brings youth films to more than 20 arthouse cinemas. Cinekid for Professionals presents the programme online, including the Junior Co-Production Market and the Industry Forum. More international professionals will now also be able to visit Cinekid digitally, without the limitations of travelling.
 
"Calamity stands out because of Martha's strong personality; it makes her unafraid to overthrow the traditional hierarchy. The powerful and unique character of this woman in this amazing animation is very inspiring and socially relevant. We are very happy with Calamity as the opening film for Cinekid 2020," Heleen Rouw, director of the festival, explains. Cinekid wants to explore borders and remain distinctive in selecting the movies, television series and media installations we present to children and their caretakers.
 
Cinekid has been involved with Calamity since the very start of the film project. The producers, Maybe Movies and Nørlum, came together during the Junior Co-Production Market in 2017. Award-winning director Rémi Chayé, who wrote the script with Fabrice de Costil and Sandra Tosello, presented his debut film Long Way North in the Best Children's Film Competition in 2015. Calamity is part of the Best Children's Film Competition 2020, featuring 14 other international titles. The animated film Calamity will be distributed in the Netherlands by Cinéart and released in cinemas and arthouses in December.
 
In addition to the opening film Calamity, Dutch documentaries Getekend door het leven (Quinty Misiedjan) and De Schooltuin (Mark Verkerk) will premiere during the autumn holidays at Cinekid.
During the first week of the school holidays in October, Cinekid will bring the festival to Amsterdam (Het Ketelhuis, EYE, Studio K and Meervaart) as well as Filmschuur Haarlem, Forum Groningen and Concordia Enschede; and during the second week to Lux Nijmegen, Chassé Breda and Lantaren Venster Rotterdam. With more than 50 feature films, 150 short films and 25 series, Cinekid 2020 offers its largest festival programme ever, including more than a 100 premieres from 40 countries.
 
Schools programme
Cinekid has also organized an educational programme for schools in Amsterdam during the week prior to the school holidays in fall in Amsterdam cinemas Eye, Het Ketelhuis, Meervaart and Rialto. This will include various activities with interactive game elements in the room to introduce pupils to various quality film and media forms. Teachers will receive preparatory interactive teaching materials specially developed for this purpose. Cinekid reaches children and teachers with workshops and media art not only during the festival, but throughout the year.
 
Professionals
From the 19th until the 23rd of October, the children's film festival will be the place where international children's media experts meet online. Cinekid for Professionals' mission is to stimulate production of youth films by offering talent development programmes. As well as a co-production market where the hottest movies and series in development are presented and introduced to buyers, an extensive conference programme evolving around socially relevant subjects, and a large sales library with the newest productions to promote international distribution. This year more professionals than ever have the opportunity to participate in these online events.



2020 Call for entries (Archive)
2019 Festival Coverage
Cinekid Festival has selected 26 animated short films from 19 different countries for the 2019 Best International Animated Short Film Competition. Also, for the first time, the leading children's media festival is expanding the international shorts programme with the Best International Short Live-Action Film Competition. This competition contains 9 highly promising new short films, from various countries around the world.
Cinekid believes that there is a lack of international competitions for live-action shorts made for children. Since shorts are often a stepping stone for young talents, Cinekid wants to further support these filmmakers and celebrate the diversity and creativity of the live-action shorts that are made worldwide.
All the international selected titles will have their Dutch premiere at Cinekid Festival, running from 19 to 25 October, and will be presented in combined programmes for different ages, or as preludes to the feature film screenings. Cinekid will also showcase the entire line-up of the animated shorts as a sneak preview at the Berwick Film & Media Arts Festival in the UK, which takes place Thursday 19 to Sunday 22 September 2019.
Jury
A jury of three film professionals will award the filmmakers of the best films from both competitions with a Cinekid Lion Statue and a cash prize of €2,500 each. This year's jury members are Kirsten Ruber, director of Go Short International Short Film Festival, Thomas Meyer-Hermann, founder of Film Bilder animation studio and screenwriter and director Julia Thelin (Push It and Tweener).

Full selection of Best International Animated Short Competition:

A Tiger With No Stripes | Raul 'Robin' Morales Reyes | Switzerland, France
Big Wolf & Little Wolf | Rémi Durin | Belgium, France
Chess | Alexey Pochivalov| Russia
Cloudy | Filip Diviak, Zuzana Čupová | Czech Republic
Dad | Atle S Blakseth, Einar Dunsæd | Norway
Echo | Borisa Simovic, Kosta Rakicevic | Serbia
Elsa and the Night | Jöns Mellgren | Sweden
Good Heart | Evgeniya Jirkova | Russia
Heatwave | Fokion Xenos | Greece, United Kingdom
Hedgehog | Morgane Mattard, Kaisa Pirttinen, Vaibhav Keswani, Jeanne Laureau, Colombine Majou, Jong-ha Yoon | France
In the Woods | Salomé Bertolone Lopez, Maxime Dartois, Marjorie Grinda, Zoé Guillet, Alissa Mazouz, Rebecca Wahler | France
Nest | Sonja Rohleder | Germany
Overboard! | Filip Pošivač, Barbora Valecka | Czech Republic, Slovakia
Partridge in a Bear Tree | Adam Bailey | United Kingdom
Raccoon and the Light | Hanna Kim | United States
Sam's Dream | Nolwenn Roberts | France
Saturday's Apartment | Jeon Seungbae | South Korea
Snail the Painter | Manuela Vladić-Maštruko, Manuela Vladić Maštruko | Croatia
The Elephant's Song | Lynn Tomlinson | United States
The Fox and the Bird | Sam Guillaume, Fred Guillaume | Switzerland
The Kite | Martin Smatana | Poland, Slovakia, Czech Republic
The Last Day of Autumn | Marjolaine Perreten | France, Belgium, Switzerland
The Wheat Keeper | Haitao Bai | China
The Wiremen | Jessica Patterson | Ireland
this side, other side | Lida Fazli | Iran
Tree High | Martina Svojikova | Belgium
NB: 2023 Festival Dates are tentative
Event Dates
From

07/10/2023

to

16/10/2023