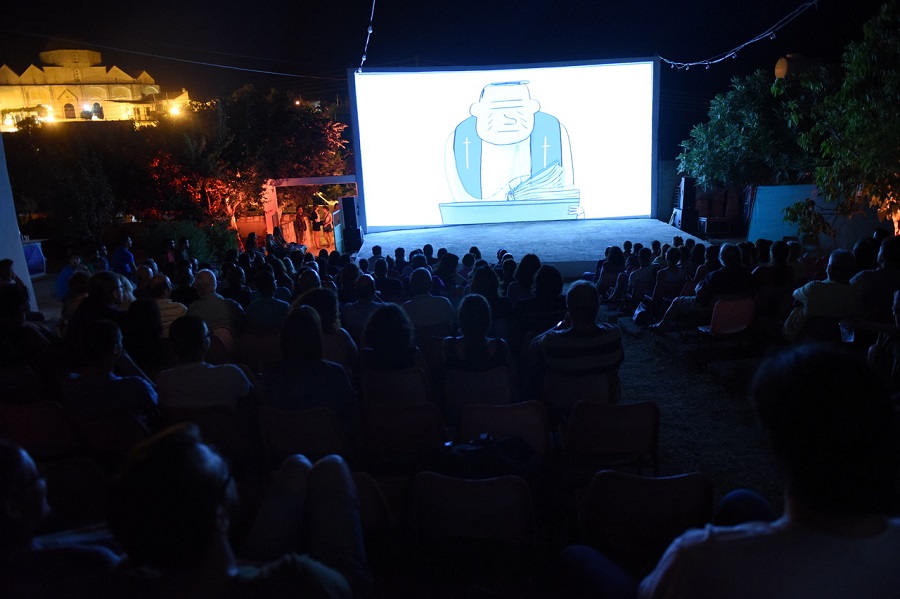 Yiorgos Tsangaris, Artistic Director of Animafest Cyprus, portraits Cyprus, a country with a rich cultural legacy and turbulent contemporary history.
Early Years
A country with a rich cultural legacy stretching back to ancient times, Cyprus became an independent state in 1960. Its turbulent contemporary history has been, on the one hand, an inspiration and driving force for individual artists from various fields, but it also delayed the establishment of a state policy for the arts. As a result, Cyprus cinema was one of the areas that developed late, as it demands more funds, infrastructure and manpower than other art forms. The relatively short history of Cypriot cinema begins three years before the foundation of the Republic of Cyprus, with the creation of Cypriot public television (CYBC) in1957. This turning point marks the beginning of the production of the first short length films, which were mainly documentaries. Animation cinema first appeared during the fruitful period from the late sixties to early seventies. Three were the pioneers of Cypriot Animation cinema during that period: Painter, graphic artist and Animation Artists Andis Ioannides (born 1939), writer, painter, TV and theatre producer and director Kyros Rοssides (born 1944) and Animation Artist and painter Spyros Demitriadis (born 1950).
The first coordinated steps
In 1994 the first coordinated steps were taken to boost cinematographic production and to create a distinct Cypriot cinematography, with the establishment of the Cyprus Cinema Advisory Committee. This body provides government grants for Cypriot film productions. In 1997 video artist, Yiannos Economou (born 1959) produces the stop motion animation film 2000 miles and thirteen years. This was the first animation film commissioned by the Cyprus Film Advisory Committee of the Ministry of Education and Culture. In 1999 animator Nicos Synnos (born 1971) forms toonachunks animation films. He produced a number of animated short films, including Animal Behaviour (2005), the second animation film to be commissioned by the Cyprus Film Advisory Committee and the first to win awards at international festivals. His latest animation film, La Soupe (2016), was also commissioned by the Cyprus Film Advisory Committe. In the mid 2000 a new generation of mainly CGI animators emerge in the commercial animation production and work at production houses, on a freelance base and in small teams.
Animafest Cyprus, ASIFA and Education
2007 marks another defining turning point in the development of animation cinema in Cyprus with the inauguration of Countryside Animafest Cyprus – Views of the world (the Festival began in 2002 as the first documentary festival in Cyprus. Later in 2007 it was renamed Countryside Animafest Cyprus – Views of the World and began to focus only on Animation). Since its first edition the festival has been included in the Cypriot state's official film festivals and is supported by the Republic of Cyprus. The Festival was founded by Yiorgos Tsangaris (born 1976), graphic and animation artist, who is the artistic director. Animafest Cyprus is undoubtedly a major contributor in the creation of a new culture for animation in this country. The Festival screens independent author films and includes an international and national competition section. Among its founding principles is the cultivation and education of a wide audience on the art of independent author animation films. It also seeks to promote and support the new generation of Cypriot animation filmmakers, by showcasing their work at home and abroad and by creating opportunities for training and the development of new productions.
In 2013 a national ASIFA chapter was established in Cyprus. ASIFA Cyprus is a result of the successful growth and international standing of the festival, which is renowned for the high quality of its programming and its wide and diverse audience. Recently (2014) the Ministry of Education and Culture in collaboration with Animafest Cyprus and ASIFA Cyprus initiated a series of animation training programs for teachers and students at the public education ranging from Primary to elementary schools all over Cyprus. There are is no a film or Animation School in Cyprus. However, since 2007 the newly founded Cyprus University of Technology educates students in animation by offering six animation classes through the Multimedia and Graphic Arts courses. The University of Nicosia offers animation classes through the Multimedia and Graphic Arts courses since 2013. As a result, a number of student animation projects are created every year.
New generation of Cypriot animation artists and studios
In recent years (2012-18), a new generation of Cypriot animation artists and studios is active at home. These artists work either as freelancers or at local production studios, in marketing and in small gaming companies, creating commercial and independent work. Some of these artists are: Alexandros Yennaris, Andreas Rossides, Eleni Chadriotou, Andria Pourouti, Anna Stylianidou, Constantinos Syrimis, George Vasiliou, George Alexandrou, Katerina Pantela, Krystal Georgiou, Paschalis Paschali, Magnus Kravik, Maria Savva, Michael Papanicolaou, Mike Konstantinou, Nick Louca, Marinos Savva, Alexis Haviaras, Haralambos Margaritis, Pavlos Papadopoulos, Ana Mougis, Stef Chrysanthou, Yiannis Philiastides. Worth to mention the independent author films created by Michalel Papanicolaou (Fury Tale, 2014), Eleni Chadriotou (I the Eye, 2016 and Immensity, 2017), Marinos Savva (Mind War, 2012 and Dance of Mass, 2015), Ana Mougis (Dalia, 2017) and Paschalis Paschali (Duma, 2017) which they stand out at the recent National Competition programs of Animafest Cyprus.
In the commercial field Pixel Giants and Zedem Media are the studios which stand out, with animation as their primary activity. Pixel Giants is a boutique animation studio based in Cyprus, founded by animation professionals Maria Pavlou and Neofytos Neofytou, in collaboration with a Cypriot and international crew. One of the studio's first and most significant projects is the upcoming upper-preschool, animated TV series Magic Molly (52 x 11min) by Maria Pavlou, about an energetic and intelligent witch apprentice and her best friend, a dragon. The creative team expanded early on with Katerina Pantela and Magnus Kravik as well as Andreas Rossides, Krystal Georgiou and producer Apostolos Kondeatis, professionals that specialize primarily in animated TV productions (2D and 3D) at renowned studios of Ireland and the UK. Pixel Giants have secured Creative Europe funding, a first for Cypriot Animation, for the development of Magic Molly. Equally significant is the presentation/pitching of the series at Cartoon Forum in September 2018, for which they have produced their latest teaser trailer in collaboration with London based, BAFTA awarded studio Blue-Zoo Animation.
Zedem Media, founded by Michael Kalopedis, has been creating animations for marketing, advertising and educational purposes for the past 10 years, and consists of a team of 10-12 talented individuals. They are often commissioned by TED, School of Life and many government and non-profit organisations. There are also a few film production and marketing companies, offering animation, motion graphics and VFX as a secondary or complementary service, which employ in-house or freelance professionals to support these services. The Coffee Films and Summercliff are noteworthy examples.
Private initiatives for training opportunities and small scale animation events
Recently private initiatives are also offering training opportunities and small scale animation events in Cyprus. Some examples are: Kyriakos Taliotis and Fedias Hadjiksenofonos are offering VFX & CGI lessons since 2014 at their private institutes in the city of Limassol. Haralambos Margaritis, initiated in 2017 an animation event in the City of Paphos entitled Animattikon Project, which includes screenings, workshops and presentations and it's organized by his Animation Studio Kimonos. Electra Chrysantou in collaboration with the Bank of Cyprus Cultural Foundation introduces since 2017 animation workshops to children and Panayiota Michael also organizes animation workshops for children.
Yiorgos Tsangaris is Artistic Director of Animafest Cyprus.