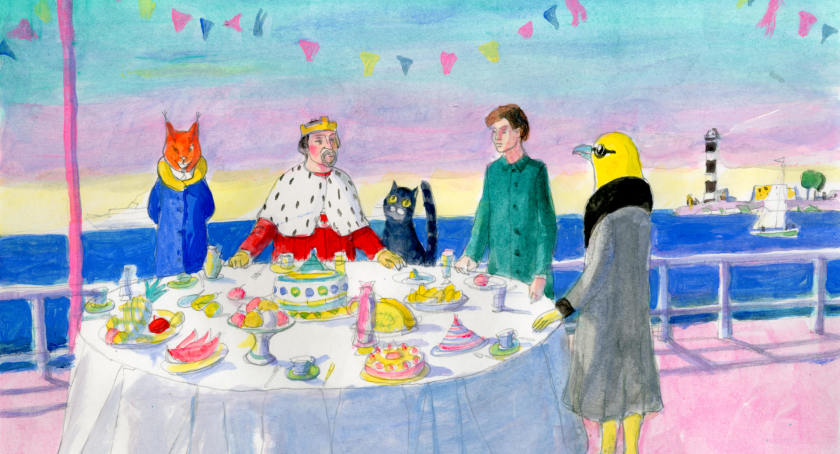 Anna Zača portrays the contemporary Latvian animation scene. 
The roots of Latvian animation can be traced back to the beginning of the 20th century, but the tradition of Latvian animation lies in the Soviet times of the 1960s; this was the time when Latvian animation started its development as part of Telefilma and Rīgas Kinostudija film facilities. If you have been in the animation industry for a while, you probably know names like Signe Baumane, Edmunds Jansons, Vladimirs Leščovs, Jurģis Krāsons, Nils Skapāns, Anete Melece and studios like Animācijas Brigāde and Rija Films. If you have fallen for animation recently, you probably have seen the acclaimed one-man made feature film Away by Gints Zilbalodis, the tragicomical short Riga's Lilac by Lizete Upīte or the feature documentary My Favorite War by Ilze Burkovska Jakobsen.
The last 5 years have been brilliant indeed when it comes to animation and Latvia, and it does seem that -if the acceleration continues- Latvia just might become one of the authorial animation heavyweights of Europe. A decade ago one would not even imagine this number, yet in the last 5 years Latvia has funded almost 80 animated films; among those, altogether 17 features are now in production or development at the moment or already been released.
This is a huge advancement for a country that had only few features in its portfolio for decades. Surely this growth is fueled by the constantly developing digital tools as well as the affordability and availability of filmmaking tools in general, but one can not deny that institutional support has been a crucial part of this growth. Both national and international funding have brought almost 5 million Euros to our animation budget in recent years. And these are big numbers for a nation of 1,9 million inhabitants!
Still, there are things that do not change – Latvian animation stands out with its design and visual storytelling masters.
What to Expect in the Near Future?
2021 has been a very quiet year when it comes to premieres, and yet shorts like Comeback by Vladimir Leschiov, Guard of Honour by Edmunds Jansons and Panic by Helen Ora are bound to premiere this year. There is an overall uncertainty when it comes to other films that are planned to be released in 2021. Some of the films have already postponed their release dates due to the closed cinemas all over the world. Therefore you might have to wait to see the adorable characters of Signe Baumane and her autobiographical musical My Love Affair With Marriage / Mans Laulību Projekts. As well as the new studio Rija Films, Apple Pie's Lullaby / Ābolrauša šūpuļdziesma directed by Reinis Kanellis, both features were set to be released in 2021, but the premieres have not been announced yet.
After a successful return to directing with the animation feature Before The Dawn Breaks, veteran director Roze Stiebra, one of the founders of Latvian Animation, is working on her second feature film at studio Locomotive Films. Like many of Roze's films, The Rule of Heart / Sirds likums is a collaboration project; this time she teams up with scriptwriter Matīs Gricmanis and painter Aleksejs Naumovs. This family film is planning to be released in 2022.
Three more shorts for children made in puppet animation techniques will travel and meet audiences by the end of 2021 or the beginning of 2022. The Nap / Diendusa (VFS Films) by Nils Skapāns is an intense journey into the world where robots steal children's dreams, but Dace's Rīdūze's Angry Bag / Dusmukule (Animācijas Brigāde) will dive into ecology themed story of a friendship between a boy and a plastic bag, and the need to find a new purpose in his own life. Latvian folk song-inspired short film Hush Hush Little Bear / Čuči, čuči is the second time for studio Atom Art to use stop motion animation in their production, the fluffy bears will be brought to life by the experienced animator Māra Liniņa.
Last but not least, 2022 is the year when we will see the next sand animation by Zane Oborenko; the short Kafka in Love / Iemīlējies Kafka has been part of CEE Animation Forum SHORT FILM PITCH 2019 and won the hearts of jury with its elaborate and impressive visuals.
Works in Progress
Not counting the films to be released in 2022, there are several feature films in production; one of those is the first full length puppet film made in Latvia. Animācijas Brigāde is one of the oldest animation studios in Latvia; founded in 1966, it has more than 140 films in their portfolio. Their upcoming feature Henry the Great / Lielais Indriķis is based on a novel by the studios leading producer and artist Māris Putniņš. The main character of this film is a bacon pie, who returns to restore order in his motherland. The 65-minute film is to be released in 2023.
Two feature films have started their production this year. Instead of working alone this time, Gints Zilbalodis (Dream Well Studio) teams up with producer Matīs Kaža and co-producer Ron Dyens (Sacrebleu Productions) for his new feature Flow / Straume. The film tells the story of a stubbornly independent Cat who is forced to share a small boat with a group of other animals. This project is part of the MIFA Pitches 2021 line-up.
After screening in more than 80 festivals in the world with Jakob, Mimmi and the Talking Dogs / Jēkabs, Mimmi un Runājošie Suņi, studio Atom Art reunites director Edmunds Jansons and artist Elīna Brasliņa for their second feature The Lucky Ones / Laimīgie a story of two siblings bounding over adventures in jungle.
TV
There are several short film cycles and TV series for young audiences, both in production and development at the moment. This is not a new tendency in Latvian animation production; one could say that we are coming back to our roots and producing TV films again. Atom Art studio has two projects in development and production. Those are the new series of Shammies and the new project Oscar and things - both directed by Edmunds Jansons. Animācijas Brigāde studio continues their long-running series (30 episodes since 1990) Rescue Team / Avārijas brigāde with their next episode, Greece's treasures / Grieķijas dārgumi. Studio VFS films has joined forces with Krista Burāne as the director and artists like Edmunds Jansons, Anete Melece, Toms Burāns and Anna Zača for their educational children film cycle Wardrobe of wonder / Brīnumskapis.
The animation film industry in Latvia is thriving at the moment, and, along with the new possibilities for academic education, now also student animated films will join the growing community of Latvian animation authors.
Contributed by: Anna Zača