Sommets du cinéma d'animation 2023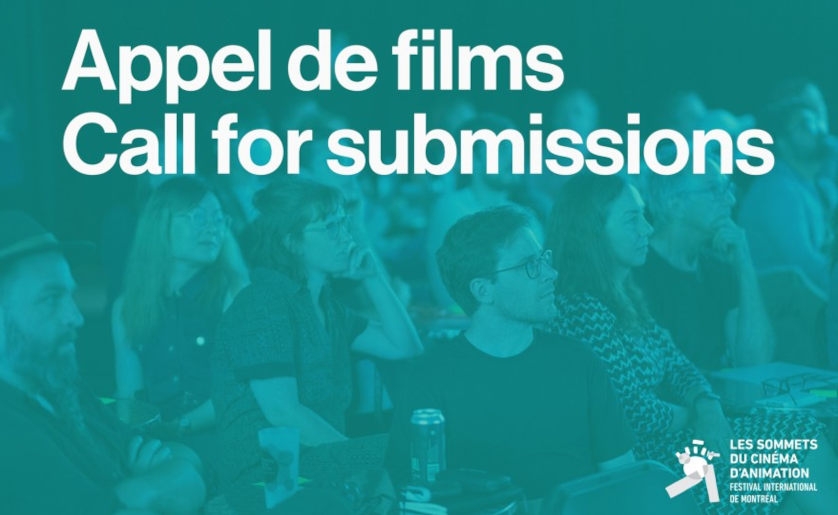 Category
ANIMATION & FILM FESTIVALS
Deadline | Event Dates (period)
Email
This email address is being protected from spambots. You need JavaScript enabled to view it.
Final submission deadline
2023-02-20
Submission/Registration Fee
No
Festival Description
The Sommets du cinéma d'animation are an international festival dedicated to animation in all its forms, from heritage films to new media by way of current production. Over five days, Montreal moves to the rhythms of animation! A unique event in Quebec, the festival celebrates an art form that has long brought international recognition to Quebec and to Canada.
2022 Call for Entries 

Canadian filmmakers and producers are invited to submit all forms of animation, from short films to music videos, educational shorts, and advertising. Unique in Quebec, the Sommets celebrate an art form that has historically made Quebec and Canada known throughout the world. Please note that the Official Selection is dedicated to Canadian productions and coproductions.
• To be eligible, films must have been completed after January 1st, 2022, and be under 30 minutes
2019 Festival Coverage
The 18th Edition of the Sommets du cinéma d'animation ended beautifully! The award winners for this 18th edition were announced during the award ceremony.
MINI-SOMMETS AWARD: The Kite by Martin Smatana (Czech Republic-Slovakia)
BEST PITCH AWARD: Presented by Prim, Cartoon Brew, H264 et Vidéographe, Max Vannienschoot for the project O
BEST PITCH JURY'S SPECIAL MENTION: Maud Christiane for the project Les fines disparitions
The jury was composed by Alex Dudok de Wit (journlaist at cartoonbrew.com), Jean-Christophe Lamontagne (President-Founder of H264) and Janice Nadeau (filmmaker and professor at UQAM)
ÉCOLE NAD-UQAC AWARD FOR BEST CANADIAN STUDENT FILM: Award given by École NAD amongst the International Student Competition and the Quebec-Canada Student Panorama programs, I Want a Sun in My Pocket by Laui Laessa (Vancouver Film School)
The jury was composed by Dana Darie (École NAD-UQAC), Celia Sawadogo (Concordia University) and Philippe Vaucher (UQAT)
INTERNATIONAL STUDENT COMPETITION AWARD: Bacchus by Rikke Alma Krogshave Planeta (The Animation Workshop, Danemark)
JURY'S SPECIAL MENTION: La Ballade de l'autre elle by Ambre Gaultier (EMCA, France)
The jury was composed by Anne Xiulan Côté (Université de Montréal), Étienne Deniger (Université du Québec à Montréal), Mélissa Rousseau (Concordia University - Mel Hoppenheim School of Cinema)
UQAT AWARD FOR BEST VERY SHORT FILM: Wind by Dana Sink (USA)
The jury was formed of 5 spectators randomly selected during the November 21 screening, having no personal nor professional ties with the filmmakers. These spectators were: Alex de Bavelaere, Arnaud Lescure, Denys Caron, Max Vannienschoot, Élise Sacard.
PEOPLE'S CHOICE AWARD: Le mal du siècle by Catherine Lepage (Québec)
CANADIAN COMPETITION
JURY'S SPECIAL MENTION: Le mal du siècle by Catherine Lepage (Québec)
GUY-L. COTÉ AWARD FOR BEST CANADIAN FILM: Physique de la tristesse by Theodore Ushev (Québec)
INTERNATIONAL COMPETITION
SPECIAL JURY AWARD:Nuit chérie by Lia Bertels (Belgium)
SOMMETS-ÉCOLE NAD/UQAC GRAND PRIZE: L'heure de l'ours by Agnès Patron (France)
The jury was formed by the artiste, writer and curator Rupert Bottenberg, the filmmakers Eva Cvijanovic and Dahee Jeong, the historian, critic and founder of the Fontevraud Residencies Xavier Kawa Topor and of musician Charles-André Vincelette alias 20some of the Dead obies.
 2019 Festival Poster
The  poster of the  2019 edition is  designed by Martine Frossard. The artists explains her concept:
"For the 2019 edition of the Sommets du cinéma d'animation, I brought to life a Woman-Mountain. The furrowing nature covering her with a thick coat, the Woman fades and becomes one with nature. A tribute to the power of 'Mother Nature' and the resilience of our ecosystems."
Martine Frossard is a French Canadian artist (born in Strasbourg, France and living in Montreal, Canada) whose work is centered on illustration, animation, and installation. Presented in several festivals and galleries in Canada, United States, and Europe, her work explores the quest for identity and the way in which individuality gets fragmented and reinvented across time and experience. Going beyond illustration, she uses video animation as a medium to animate the metamorphoses of her characters' identities.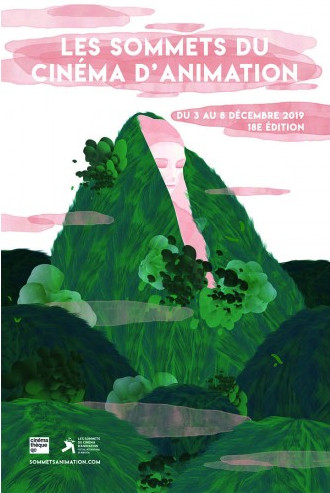 2018 Festival Poster ( 21-25/11/18)

The Sommets 2018 poster was created by the young Montreal-based animation artist Raymond Caplin. Raymond is a very talented illustrator and an animator who loves creating animated films. He enjoys exploring various artistic media and wants to pursue a career as an animator. He made five films under Wapikoni mobile's framework. His first film, In Your Heart, was awarded Best Experimental Film at the Winnipeg Aboriginal Film Festival as well as the Best Animated Film at the Arlington International Film Festival. In 2017, Raymond, a member of the Mi'kmaq nation, participated in the Cinémathèque québécoise animation residency. The Sommets 2018 trailer will be made by Raymond.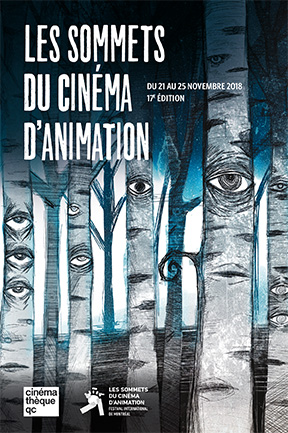 Event Dates
From

09/05/2023

to

14/05/2023