2020 Call for entries:
Bergen's first International Animation Festival aims to find and bring together the best of Scandinavian and international animation in one place. The festival accepts works of the following techniques: 2D and 3D animation, experimental animation and animated video clips.  Films must not exceed 20 minutes, and must have been completed after 1/1/2018.
2020 Festival Coverage
The new design poster and identity for ReAnima 2020 was created by  designer Mariia Snisarenko. She is a Ukrainian designer based in Poland. Mariia is behind of many visual identities for international festivals around the world, posters, books, and more. You can find more of her art in www.mariiasnis.com and in her Instagram @mariiasnis.
2019 ReAnima Coverage:
Video Report


PROGRAM REANIMA 2019
All events will take place at our beautiful and historical public library, with the exception of the master class with Norwegian animator Christina S. Nerland. The master class will take place at the Faculty of Fine Art, Music and Design at the University of Bergen.
14.11.19 / THURSDAY DAY 1.
12:00 COMPETITION 1
14:00 COMPETITION 2
16:00 HOMAGE ANITA KILLI + FESTIVAL OPENING
The producer Marita Mayer will explain the working progress of the new film by Anita Killi: Mom didn't know.
18:00 SPECIAL SCREENING FROM PRIMANIMA FESTIVAL – HUNGARY
Special program curated by the director of Primanima Festival, Anna Ida Oroz, who will show us the finest contemporary Hungarian animation.
20:00 FEATURE FILM: ZERO IMPUNITY
15.11.19 / FRIDAY DAY 2.
12:00 COMPETITION 3
14:00 COMPETITION 4
16:00 SPECIAL SCREENING FROM VOID FESTIVAL – DENMARK. Introduced by Claudia Cazzato.
Special program curated by the director of the Danish Festival VOID, Anne Winberg, who will show us some of the best animated films made in Denmark in the last few years.
18:00 MUSIC ANIMATED FILMS COMPETITION
20:00 FEATURE FILM: ANOTHER DAY OF LIFE
16.11.19 / SATURDAY DAY 3.
11:00 WORKSHOP REANIMA KIDS BY LIV LAGA
12:00 REANIMA KIDS COMPETITION
16:00 EXPERIMENTAL ANIMATED FILMS COMPETITION
18:00 SUPINCOFOM AND 3D POLE SPECIAL PROGRAM – FRANCE
Special program from two of the most successful schools of animation in the world. The program focuses on the short films made by the students as part of their studies.
20:00 MODEST HEROES – PONOC SHORT FILMS THEATRE VOLUME 1
17.11.19 / SUNDAY DAY 4.
12:00 MASTER CLASS: HOW TO SURVIVE IN THE ANIMATED WORLD?
Christina S. Nerland will talk about her experiences as a young animator working abroad, after finishing her studies at Volda University College. She will share her views on the professional work of an animator, on her films, and on how to start working in the beautiful world of animation. – Knut Knaus (screening room, Faculty of Fine Art, Music and Design)
11:00 REAKIDS SPECIAL PROGRAM + WINNERS REA KIDS
13:00 SPECIAL SCREENING FROM PRIME THE ANIMATION FESTIVAL – SPAIN
Special program curated by Sara Álvarez Serrat, coordinator of the master in UPV animation and the international students festival Prime the Animation. This program focuses on the last works from the master students, and on some of the winners from last edition of PTA 2018.
15:00 HISTORY OF ANIMATION, LECTURE BY INGVILD ABILDGAARD JANSEN
Would you like to know more about Norwegian animation? Then come see our lecture on Norwegian animation history from 1913 to 2019! Ingvild Abildgaard Jansen will provide some background information on what animation production in Norway was like before the 1990s. Then she will focus on the later professionalization of Norwegian animation production, from the 1990s to the present day. Jansen will introduce significant people that have contributed to the field of Norwegian animation, and give examples of important Norwegian animated works, using images and video clips.
17:00 VR EXPERIENCE – NIKOLAI ASTRUP PAINTINGS
Would you like to enter an animated world? Using computer animation, students from the University of Bergen have made a Virtual Reality student project in collaboration with the KODE art museums in Bergen. The project makes it possible to visit one of the KODE art museums and enter the universe of a painting made by the famous Norwegian artist Nikolai Astrup (1880 – 1928). You can try on VR glasses and have a fun VR experience!
19:00 CLOSING CEREMONY
Special Programmes:
This year, ReAnima festival partners with three animation festivals three great festivals from around the world: Primanima (Hungary),  VOID (Denmark) and Prime the Animation (Spain), with whom it "shares values and visions about the animated art and its future"
There is also a  very special program from the Supinfocom Rubika and Pole3D schools, screening  some the best films made in recent years by their students. Thanks to Patrick De Carvalho for his contribution.
REANIMA JURY MEMBERS 2019
Marita Mayer: Marita grew up in Hamburg, Germany. She has a background in Cultural Management and Education from the University of Hildesheim and specialized in drawn animation at the Animation School Hamburg. Marita has worked for several 2-D and stop-motion productions since and was the program manager for five editions of Fredrikstad Animation Festival (FAF). Since August 2018, she lives in Dovre, Norway, and works as a short film producer and production manager at Trollfilm AS, among others on Anita Killi's new short film Mor visste ingenting / Mother didn't know.
Gustav Kvaal: Gustav is a graphic artist, illustrator and newspaper icon. He is originally from Bodø, and today he is a bus in Bergen. He has a master's degree in illustration and graphic design from Bergen Academy of the Arts. In addition to illustration and visual art, he has also created a series of cartoon and animated films for both children and adults. Luisa and Ugla are his first book published on SKALD. He is currently working as associate professor in KMD, Bergen.
Claudia Cazzato: Claudia moved her first steps in animation in 2017 when she joined Craft (a sister company of Nørlum) as the person responsible for festival collaborations and soft-funding. Her desire to experiment new ways to engage with the audience brought her to join VOID International Animation Film Festival in Copenhagen, DK. She currently works as the festival´s Project Manager taking care of event development, programming, and branding. In her free time, she works as Marketing Communications Specialist for Mila, an independent animated short movie. When she is not busy serving the creative community, you can find her taking care of her plants or lindy hopping.
2019 Trailer


Ida Neverdahl animation, design and comics artist designs the 2019 ReAnima Festival poster.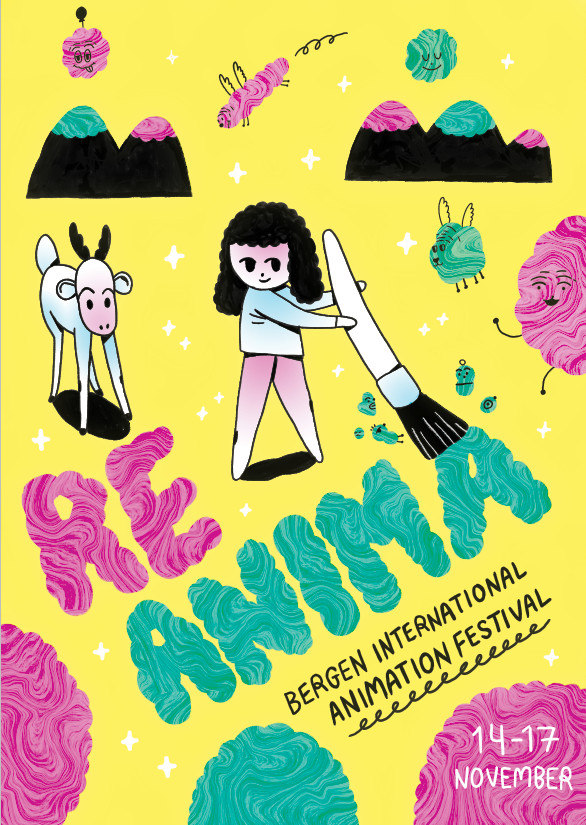 2018  News Coverage (Archive):

2018 Festival Programme:
Festival program for adults:
- International competition:  Received over 700 animated short films from all over the world. The festival will screen the best contributions and announce the winners within different categories
- The accredited feature film «Un Homme est Mort»: A moving film that takes up worker's rights
- Accredited short films from Norway: The best films from Volda Festival and Fredrikstad Festival
- Accredited short films from Europe: The best films from Turku Festival in Finland and Opla Festival in Poland, with the festival directors as international guests
- Short films made by promising artists and designers at the Faculty of Art, Music and Design in Bergen and the Art Faculty in Oslo
- Retrospective screening of the films made by Qvisten Animation, the largest animation studio in Norway (among other films, they have produced the new «Pinchcliffe» films and «In the Forest of Huckybucky»)
- Fredrik Rysjedal will hold his awarded performance «Close, Closer, Closest». The performance includes high level animation and performance art
- Art exhibition made by promising artists and designers at the Faculty of Art, Music and Design. Performance during the opening of the exhibition
- Outdoor screening on the wall of Bergen Public Library. The animation has been made by promising artists and designers at the Faculty of Art, Music and Design
- Debate and short films focusing on and promoting human rights. Experts on human rights and art will participate in the panel. Arranged in cooperation with the Rafto Foundation for Human Rights
- Visual lecture on the history of Norwegian animation, focused on animation in Bergen, held by central persons in the local animation society
- Festival parties with good vibes

2018 Festival program for the whole family and children:
- Exclusive outdoor preview of the new, big family film «Kutoppen», made by Qvisten Animation.
- The moving family film «Ana & Bruno» that takes up mental illness in a fun, clever and unique way (12 years)
- Animation workshop where children can learn how to make animation films. This fun workshop lasts for two days, and the children will have the chance to screen their films at the festival
- Performance with live animation and music made by creative pupils from Bergen kulturskole
- Short films made by creative pupils in the animation class at Bergen kulturskole
- The best children's films from the festival's international short film competition
 2018 Festival Trailer ( by Norwegian artist Simon Furdal)
2018 Festival Poster:
The 2018 ReAnima Festival poster is designed by Wind director Robert Loebel.