2020 Call for Entries (Short Films)
Weird, International Animation, Video Games and New Media Market opens the submissions for animation short films for its 13th edition, which will take place from September 27th to October 3rd 2020 in Segovia, Spain.
The works received may take part of the annual catalogue of short films of the Weird Market, a complete selection of around 200 titles of the latest and best animation works with the contact details of each project to facilitate the distribution and sales of them. Professionals who attend the market could watch all the selected titles in the screening booths.
The following sections are eligible:
INTERNATIONAL ANIMATION SHORT FILMS SELECTION
Short films completed after January 1st 2020
INTERNATIONAL ANIMATION MUSIC VIDEOS SELECTION
Music videos completed after January 1st 2020
NATIONAL ANIMATION SHORT FILMS
All the short films submitted for first time in the market and completed after January 1st 2020 participate
EVERY TECHNIQUE OF ANIMATION IS ACCEPTED and the length allowed, credits included, is 30 minutes for the national and international short films and 10 minutes for the music videos.
Jury Awards, composed by national and international professionals of the animation:
Best International Short Film Jury Award
Best European Short Film Jury Award
Best Spanish Short Film Jury Award
Audience Awards, as result from the votes of the screenings
Best International Short Film Audience Award
Best Spanish Short Film Audience Award
2020 Event Coverage

2019 Event Coverage
Silly Walks authors of the poster of the 11th edition
The poster of this edition is a creation of Silly Walks, a 2D animation and visual development studio based in Valencia. A powerful image in blue and pink tones that aims to convey the essence of the event as a meeting point for the industry and that makes use of the iconic cubes, hallmark of the Castilian-Leonese event. The studio has a solid track record started in 2013. Producers of pieces for television, films, video games and advertising, Silly Walks has an outstanding international prestige as witnessed by customers of the scope of Nickelodeon, 11 Bit Studios or Lorenzo Jovanotti; becoming nominated for the Quirino Awards for one of his most recent works: Lorenzo Live 2018 intro.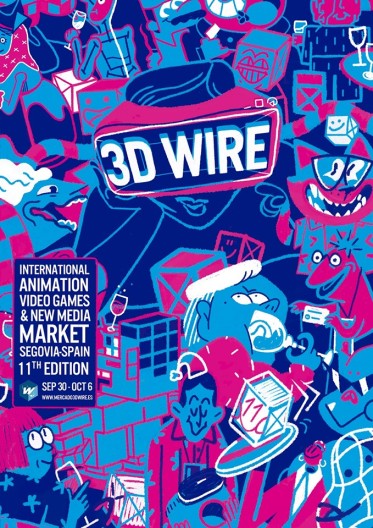 2018 Festival Coverage:
2018 Festival Trailer:
2018 Festival Poster:
The 10th anniversary poster is designed by Guillermo García Carsí. An illustration which envisions the pilgrimage of the entire industry of animation with Segovia as a meeting point, all crowned with a large cake that commemorates the tenth edition of the event. Guillermo Garcia Carsi is the creator and director of the acclaimed animation TV series for children Pocoyo, and has a long list of awards that guarantees his international success; such as Annecy Best TV Series and BAFTA Best Pre-school Series, among others. On 2009 he founded the production company El Señor Studio with his sister Beatriz; its first project Doomed, was awarded in seven festivals, including Best Comedy Fernand Raynaud at Clermont Ferrand Festival 2012. He is currently working in projects development for Disney EMEA, which he combines with some other own projects and giving lectures.
2017 Festival Coverage:
2016 Festival Coverage: