Festival Description: ANIMAC International Animation Film Festival of Catalonia is a not-for-profit cultural event organised by Lleida City Council and supported by the Department of Culture of the Government of Catalonia and other public and private bodies. Animac is a non-competitive film festival aimed at artists who use animation as a tool for personal expression.
2021 Call for Entries:


Eligibility:
There are no limits on length or restrictions on the year of production of the film.
Audience Award
The Shorts 1, 2, 3, 4and White Cube sessions are eligible for the Audience Award for Animac best short
TheFuture Talent sessions are eligible for the Audience Award for Future Talent best short
The Little Animac sessions are eligible for the Audience Award for Little Animac best short

Deadline: 31 October 2020

2020 Festival Coverage
The South African artist William Kentridge will receive the Animac 2020 Honorary Award for being a global artist, an original and committed filmmaker, and an essential benchmark in animated memory and art in animation. Florence Miailhe, the great lady of French animation, will be presented with the Animation Master Award in the opening of Animac, to be held in Lleida on 27 February.
The Bulgarian Theodore Ushev returns to Animac after having become one of the great names of world animation. His most recent films will be screened in the opening of Animac and he will deliver a lecture. Another of Animac 2020's guests is the Estonian animation filmmaker, producer and academic Ülo Pikkov, one of the most original international directors in illustrating time and memory in stop motion. He will deliver a lecture and Animac will devote a retrospective to him. The French cartoonist and director Aurel will deliver a lecture on the work process of his long-awaited animated feature film called Josep.
The Mexicans Karla Castañeda and Luis Téllez are visiting Animac. They form part of a generation of young independent Mexican animators prominent in the international scene thanks to their stop motion works and mentored by the Oscar-winning film director Guillermo del Toro.
Nuria G. Blanco, producer at Cartoon Saloon, will be the patroness of Animac Campus, the space for animation students visiting the festival.
The director Regina Pessoa and the producer Abi Feijó, great exponents of animation made in Portugal, will present in Animac the short Tio Tomás: A contabilidade dos dias, a recent winner at the Annie Awards. Pessoa and Feijó will lead the Animac workshop for illustration students of the Leandre Cristòfol Municipal Art School in Lleida.
 A Networking and Pitch with national and international projects of an extraordinary quality. 39 projects in gestation have been received to participate in Incubator, 22 Porfolio to be reviewed by experienced mentors, and 10 companies will participate in the Market Pitch to offer and showcase their services.
Selected Films:

List of short films selected for Animac 2020.
FUTURE TALENT 1
Au large. Mathilde Pepinster, Belgium
The Spirits of Cairn. Shinobu Soejima, Japan
Nigel. Natasza Cetner, United Kingdom
Just a Small. Na Kyung Kim, United States
Zdravstvujte, rodniye (Hello, My Dears). Alexander Vasiliev, Russia
Listen to Me Sing. Isabel Garrett, United Kingdom
Celeste. Bonaventure Monplaisir, Spain
Kõhkleja (The Hesitator). Katariin Mudist, Estonia
Mate. Chaerin Im, United States
Crazy. Inari Sirola, United Kingdom
Noctuelle. Martin A. Petrlíček, Czech Republic
FUTURE TALENT 2
Tête de linotte !. Gaspar Chabaud, Belgium
Pile. Toberg, United Kingdom
Hommes presses. Thibault Llonch, France
There were Four of Us. Cassie Shao, United States
Inside Me. Maria Trigo Teixeira, Germany
Don't Buy Milk. Julian Gallese, United Kingdom
Tout va rentrer dans le désordre. Cheyenne Canaud-Wallays
Silence. Isis Leterrier, France
Florigami. Iva Ćirić, Croatia
Princesa por apocalipsis. Raquel Juan Maestre, Spain
Blind Eye. D.A., France
Inès. Elodie Dermange, France
2.3 x 2.6 x 3.2. Jiaqi Wang, China
Balance. Timothée Crabbé, Belgium
FUTURE TALENT 3
Schovka (Hide N Sike). Barbora Halířová, Czech Republic
Ma Geôle. Bianca Scali, Germany
The Growth. Sarah Cheok Ling Fay, Singapore
Instinct. D.A., France
Hopus. Lucie Kokoliová, Czech Republic
Tamou. Tom Prezman and Tzor Edery, Israel
Hänen päänsä (Her Head). Emma Louhivuori, Finland
Good Intentions. Anna Mantzaris, United Kingdom
Psychophonic. Aline Romero, Spain
Le chant discret des cardiogrames. Raphaël Lozano Maurel, France
SHORTS 1
Têtard. Jean-Claude Rozec, France
À tona. Filipe Abranches, Portugal
Lursaguak (Scenes from life). Izibene Oñederra, Spain
The Flood Is Coming. Gabriel Böhmer, United Kingdom
The Levers. Boyoung Kim, South Korea
Talv vihmametsas (Winter in the Rainforest). Anu-Laura Tuttelberg, Estonia
Le monde d'ailleurs. Gregory Casares, Switzerland
Agouro. David Doutel and Vasco Sá, Portugal
SHORTS 2
Fuenf (Five). Peter Kaboth, Germany
Symbiosis. Nadja Andrasev, Francia
The Flounder. Elizabeth Hobbs, United Kingdom
Pulsión. Pedro Casavecchia, Argentina
Kids. Michael Frei, Switzerland
Eclosión. Rita Basulto, Mexico
Bellzebub. Cesar Díaz Meléndez, Spain
Metamorphosis. Juanfran Jacinto and Carla Pereira, Spain
Hänen päänsä (Her Head). Emma Louhivuori, Finlandia
Lidérc úr (Mr. Mare). Luca Tóth, Hungary
SHORTS 3
Tio Tomás, a contabilidade dos diez. Regina Pessoa, Portugal
The Fabric of You. Josephine Lohoar Self, United Kingdom
Purpleboy. Alexandre Siqueira, Portugal
Don't know what. Thomas Renoldner, Austria
Sororelle. Frédéric Even and Louise Mercadier, France
Carne. Kamila Kater, Spain
On est pas près d'être des Super Héros. Lia Bertels, France
SHORTS 4
Tom Has a Plant. Thinh Nguyen, Denmark
Sh_t Happens. David Štumpf and Michaela Mihalyi, Czech Republic
Mad in Xpain. Coke Riobóo, Spain
A Double Life. Studio Job, Joris & Marieke, Netherlands
Nox Insomnia. Guy Charnaux, Brazil
Human Nature. Sverre Fredriksen, Netherlands
Animals. Tue Sanggaard, Denmark
Udahnut zivot (Imbued Life). Ivana Bosnjak and Thomas Johnson, Croatia
Mekakure. Akifumi Nonaka, Japan
Toomas teispool metsikute huntide orgu (Toomas Beneath the Valley of the Wild
Wolves). Chintis Lundgren, Estonia
SHORTS 5 WHITE CUBE
Esfinge urbana. María Lorenzo, Spain
Flow. Adriaan Lokman, Netherlands
The Dawn of Ape. Mirai Mizue, Japan
Ruunpe. Boris Labbé, France
How I Learned to Stop Worrying. Aaron Holmes, United States
Hideouser and Hideouser. Aria Covamonas, Mexico
Uprising. Steven Woloshen, Canada
Orbit. Tess Martin, Netherlands
Garoto transcodificado a partir de fosfeno. Rodrigo Faustini, Brazil
Mais un oiseau ne chantait pas. Pierre Hébert, Canada
Serial Parallels. Max Hattler, Hong Kong
Macka je uvijek zenska (A Cat is Always Female). Martina Mestrovic and Tanja
Vujasinovic, Croatia
ANIMAC BY NIGHT. RANDOM SHORTS
XYU. Donato Sansone, France
Intermission Expedition. Wiep Teeuwisse, Netherlands
Asilo Esperanza. José Navaro, Chile
Where Do Babies Come From? Valerie Chang, Netherlands
This is Pig Meat. Peter Millard, United Kingdom
Twigs. Hadas Alamgor, Israel
A la poursuite du lapin blanc. Meat Dept, France
Motamo. Carl Roosens, Belgium
Protocorba. Kirill Khachaturov, Russia
Repasse-moi. Ivan Rabbiosi, France
Cosmic Spaghetti. Gurleen Rai, United States
Gaijin Sashimi. Erik Vos, Netherlands
Dream Cream. Noam Sussman, Estonia
MONOGRAPHIC SESSION TIME CAPSULE 1: SENSORIAL MEMORY
Mimi. Lisa Fukaya, Denmark
Egg. Martina Scarpelli, France
Shadow Passage. Ali Aschman, United Kingdom
Le bleu du sel. Alice Bohl, France
Objetos de desecho. Luis Renteria, Spain
Season. Giovanna Lopalco, France
Spolu sami (Apart). Diana Cam Van Nguyen, Czech Republic
Chloé Van Herzeele. Anne-Sophie Girault and Clémence Bouchereau, France
M E Z E R Y (S P A C E S). Nora Štrbová, Czech Republic
Per tutta la vita. Roberto Catani, Italy
MONOGRAPHIC SESSION TIME CAPSULE 2: COLLECTIVE MEMORY
En avant. Mitchelle Tamariz, France
Karenina in Somalia. Qieer Wang, United States
Niebla. Julian Arias Garzon, Belgium
Armed Lullaby. Yana Ugrekhelidze, Germany
31 de março, Brazil. Emerson Rodrigues, Brazil
Esperança. Cécile Rousset, Jeanne Paturle and Benjamin Serero, France
Off the Record. Liana Chirita and Nicoleta Miron, United Kingdom
Pour le France. Chansard Vincent, France
Bloomers. Samantha Moore, United Kingdom
Cage Match. Bryan Lee, United States
R.I.P. Cooper Haskell, United States
Freeze Frame. Soetkin Verstegen, Belgium
MONOGRAPHIC SESSION TIME CAPSULE 3: FAMILY ALBUM
The Coin. Siqi Song, United States
Duerrenwaid 8. Kirsten Carina Geißer and Ines Christine Geißer, Germany
Our Notebooks. Laura Ginès, Spain
Domus. Delphine Priet-Mahéo, France
Saigon sur Marne. Aude Ha Leplège, Belgium
A l'Ouest. Jérémie Cousin, France
Sent Away. Rosa Fisher, United Kingdom
The Lighthouse. Jay Pui-weng Lei, Macao
He Can't Live Without Cosmos. Konstantin Bronzit, Russia
A Bird with No Legs. Nicolas Cinelli, United Kingdom
LITTLE ANIMAC 1 - SHORT&SWEET
Balloné. Baptiste Tassin, France
Cat Lake City. Antje Heyn, Germany
Drawn. Andi Concha, United Kingdom
Fruits and Vegetables: Mischief. Norihiko Ito, Japan
Abecedaria. Adolf Rodriguez, Spain
Fruits and Vegetables: Pals. Norihiko Ito, Japan
Hannibal l'éléphant. Aurélie Monteix, France
Fruits and Vegetables: Snow Day. Norihiko Ito, Japan
Lamby. Pamela Sustaita, Mexico
The Ice Cream Man. Katerina Pantela, Cyprus
LITTLE ANIMAC 2
Le dernier jour d'automne. Marjolaine Perreten, Switzerland
Přes palubu! (Overboard!). Filip Pošivač and Barbora Valecká, Czech Republic
Fussel. Alex Berweck, Germany
The Cycling Wind. Nazanin Sobhan Sarbandi, Iran
Quma y las Bestias. Ivan Stur and Javier I. Luna Crook, Argentina
Heatwave. Fokion Xenos, United Kingdom
Grand Loup et Petit Loup. Rémi Durin, France
LITTLE ANIMAC 3
Good Heart. Evgeniya Jirkova, Russia
Lola zhivaya kartoshka (Lola the Living Potato). Leonid Shmelkov, Russia
Ailin en la luna. Claudia Ruiz, Argentina
Pouštět draka (The Kite). Martin Smatana, Czech Republic
L'Atelier. Bianca Mansani, France
La vie de château. Clemence Madeline-Perdrillat and Nathaniel H'limi, France
LITTLE ANIMAC 4
Maestro. Collectif Illogic, France
Forglemmegei (Forget-me-not). Katarina Lundquist, Denmark
Petit Versailles. Adi Lavon, Israel
Duodrom. Basil Vogt, Switzerland
Eaten. Mohsen Rezapour, Iran
O28. D. A., France
Babochki (Butterflies). Elizaveta Khlomova, Russia
A kak nashy kosmonavty (About our Astronauts). Galina Golubeva, Russia
Teamwork. Arad Safarzadegan, Germany
Desert (The Dessert). Yury Tomilov, Russia
Gunpowder. D. A., France
LITTLE ANIMAC 5
Strike. Trevor Hardy, United Kingdom
2020 Festival Poster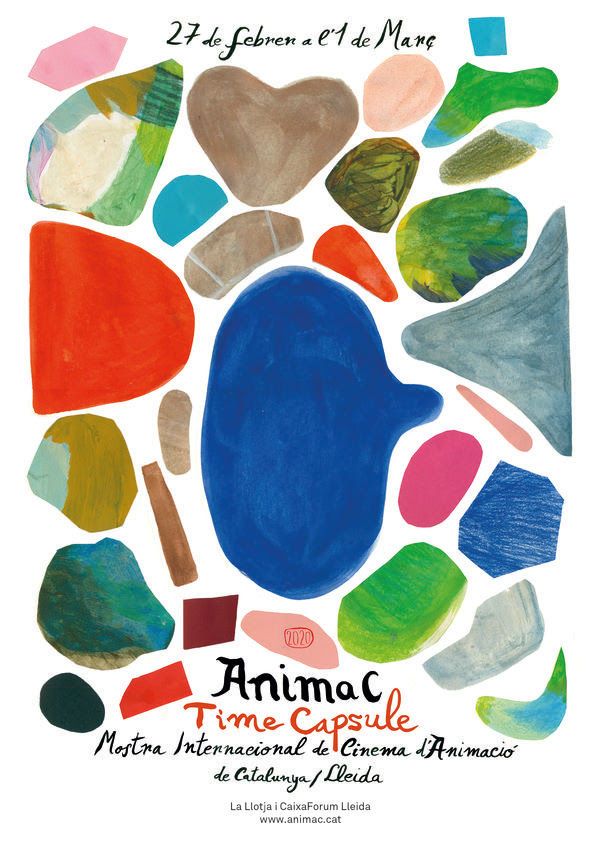 Animac presents the 2020 official poster designed by illustrator and animator Carles Porta. Under the theme 'Time Capsule', this year the festival celebrates animation as a powerful means to bring back memory, resignified by the artists perception and the present moment. Animac will take place in Lleida from February 27th to March 1st.
2019 Festival Coverage:
2019 Festival Poster
Carles Porta has worked out xtures and materials in an image that celebrates stop motion animation.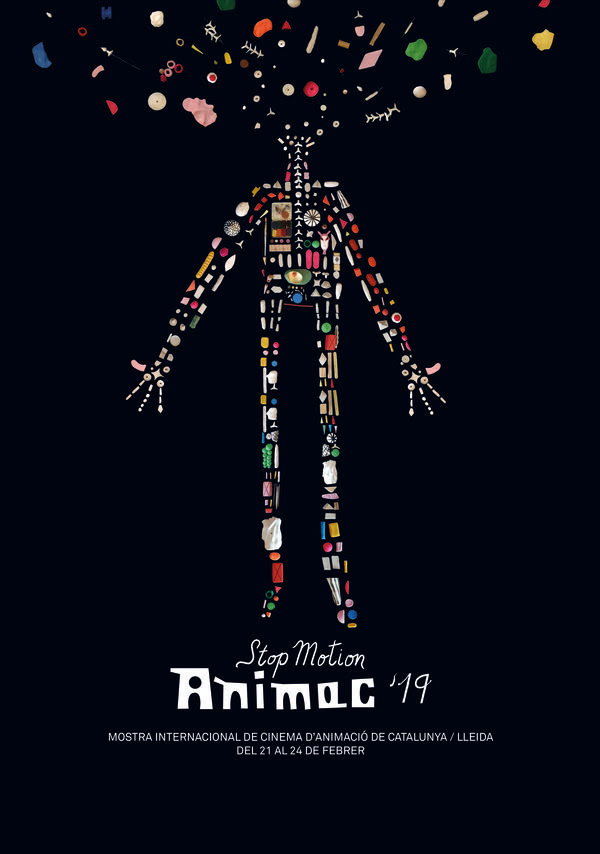 This year the Animac theme will be stop motion, so it was important to make a poster in volume. I  firstt hought of Gulliver, surrounded by tiny people, unconscious on the beach, I also thought of the Golem, then a group portrait.  I imagined a futuristic city made out of recycled material, a superhero watching twilight sitting on the edge of a roof, and at one point a sand dune covered the city, an amorphous being with shell eyes. But none of this had just worked: on a black velvet cloth, I started to combine the remains of all these failed projects; first some characters that had no story to explain, a ghost, a papagueno, a vampire dragée and a ballerina. Finally and definitely, on the study table appeared the body and limbs of a being made of many different materials; he was so over-excited by all the possibilities of being, that his head exploded. "
 2018 Festival Coverage
Festival news:
ANIMAC International Animation Film Festival of Catalonia is a not-for-profit cultural event organised by Lleida City Council and supported by the Department of Culture of the Government of Catalonia and other public and private bodies.