Festival Description: ANIMAC International Animation Film Festival of Catalonia is a not-for-profit cultural event organised by Lleida City Council and supported by the Department of Culture of the Government of Catalonia and other public and private bodies. Animac is a non-competitive film festival aimed at artists who use animation as a tool for personal expression.
2023 Call for Entries:


A film can be submitted by its national or international distributors, producers and/or filmmakers.
 Each participant can enter an unlimited number of films, provided they comply with the applicable requisites.
There are no limits on length or restrictions on the year of production of the film Audience Award
Audience Award
The Shorts 1, 2, 3, 4 and White Cube sessions are eligible for the Audience Award for Animac best short, the Future Talent sessions are eligible for the Audience Award for Future Talent best short and the Little Animac sessions are eligible for the Audience Award for Little Animac best short.
Deadline: 31 October 2022

2021 Festival Coverage


2020 Festival Coverage
The South African artist William Kentridge will receive the Animac 2020 Honorary Award for being a global artist, an original and committed filmmaker, and an essential benchmark in animated memory and art in animation. Florence Miailhe, the great lady of French animation, will be presented with the Animation Master Award in the opening of Animac, to be held in Lleida on 27 February.
The Bulgarian Theodore Ushev returns to Animac after having become one of the great names of world animation. His most recent films will be screened in the opening of Animac and he will deliver a lecture. Another of Animac 2020's guests is the Estonian animation filmmaker, producer and academic Ülo Pikkov, one of the most original international directors in illustrating time and memory in stop motion. He will deliver a lecture and Animac will devote a retrospective to him. The French cartoonist and director Aurel will deliver a lecture on the work process of his long-awaited animated feature film called Josep.
The Mexicans Karla Castañeda and Luis Téllez are visiting Animac. They form part of a generation of young independent Mexican animators prominent in the international scene thanks to their stop motion works and mentored by the Oscar-winning film director Guillermo del Toro.
Nuria G. Blanco, producer at Cartoon Saloon, will be the patroness of Animac Campus, the space for animation students visiting the festival.
The director Regina Pessoa and the producer Abi Feijó, great exponents of animation made in Portugal, will present in Animac the short Tio Tomás: A contabilidade dos dias, a recent winner at the Annie Awards. Pessoa and Feijó will lead the Animac workshop for illustration students of the Leandre Cristòfol Municipal Art School in Lleida.
 A Networking and Pitch with national and international projects of an extraordinary quality. 39 projects in gestation have been received to participate in Incubator, 22 Porfolio to be reviewed by experienced mentors, and 10 companies will participate in the Market Pitch to offer and showcase their services.
2020 Festival Poster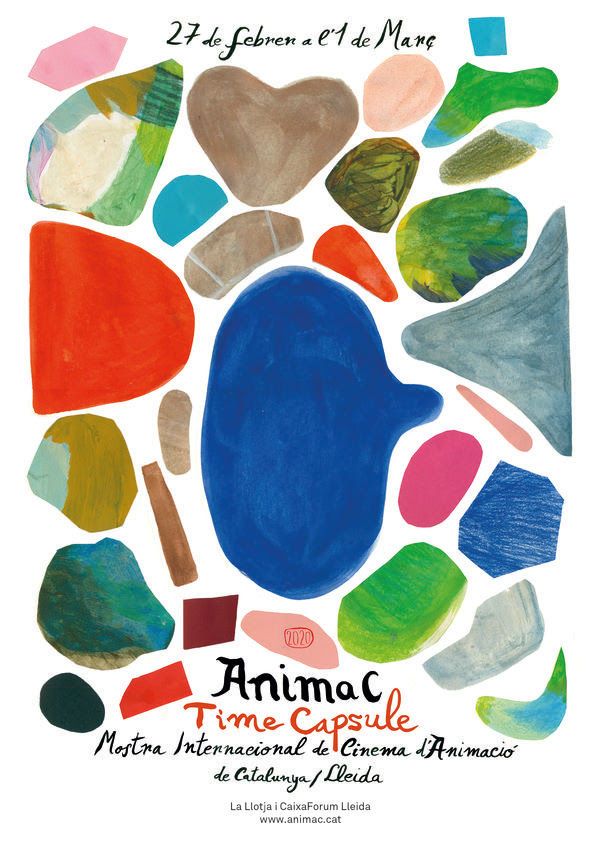 Animac presents the 2020 official poster designed by illustrator and animator Carles Porta. Under the theme 'Time Capsule', this year the festival celebrates animation as a powerful means to bring back memory, resignified by the artists perception and the present moment. Animac will take place in Lleida from February 27th to March 1st.
2019 Festival Coverage:
2019 Festival Poster
Carles Porta has worked out xtures and materials in an image that celebrates stop motion animation.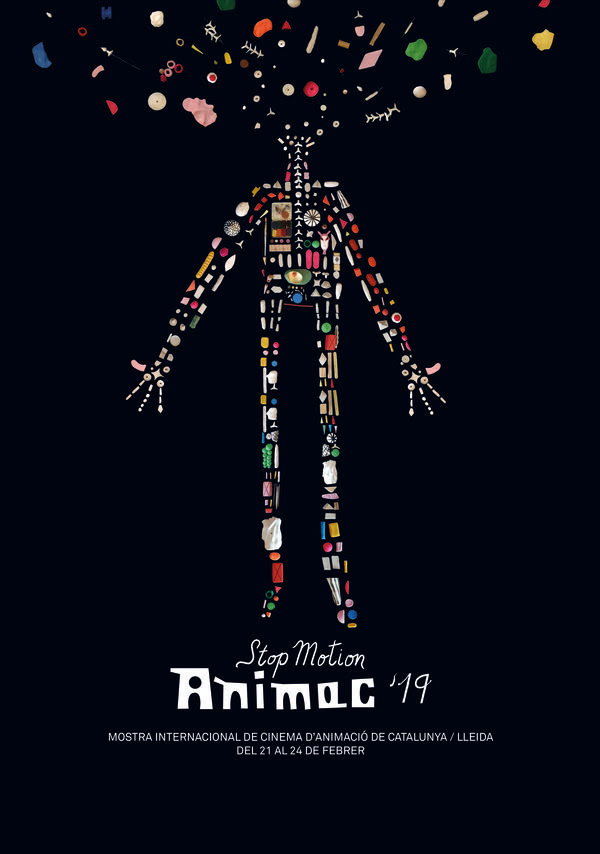 This year the Animac theme will be stop motion, so it was important to make a poster in volume. I  firstt hought of Gulliver, surrounded by tiny people, unconscious on the beach, I also thought of the Golem, then a group portrait.  I imagined a futuristic city made out of recycled material, a superhero watching twilight sitting on the edge of a roof, and at one point a sand dune covered the city, an amorphous being with shell eyes. But none of this had just worked: on a black velvet cloth, I started to combine the remains of all these failed projects; first some characters that had no story to explain, a ghost, a papagueno, a vampire dragée and a ballerina. Finally and definitely, on the study table appeared the body and limbs of a being made of many different materials; he was so over-excited by all the possibilities of being, that his head exploded. "
 2018 Festival Coverage