Animation Block Party alumni screenings will take place in June 2020 (dates TBC).
2019 Festival Coverage
The official short film program to the Animation Block Party alumni screening at Rooftop Films on Friday, June 21, 2019 is now available.
Animation Block alumni include Academy Award nominees, Sundance winners, hit television show-creators, independent filmmakers, commercial producers, and animators from Cartoon Network, Disney, Netflix and more.
The outdoor event takes place at Industry City, located at 51 35th St., Sunset Park, Brooklyn. Doors to the Animation Block Party alumni show open at 8pm, live music at 8:30pm and a screening at 9pm. The screening will be followed by a filmmaker Q&A and an open-bar after-party. All films are listed in alphabetical order.
Avarya (Gökalp Gönen / Turkey / 20 min) North American Premiere*: Trapped in a spaceship in the hope of finding a new habitable planet
Charles Darwin, Family Man (Directed by Steven Kraus, Animated by Joy: Buran & Noelle Melody / NY / 2 min) Meet Mr. Darwin, his loving wife Emma and their darling yet: accident-prone daughter Winnie.
Flex Calibur (Bob Fox, Chris Burns, Gary Doodles & Tommy Sica / NY / 7 min): Flex Calibur lived like a rock star, and now he's rocking in Hell!
Floreana (Lou Morton / Denmark & California / 4 min): On a remote island in the future, people are training for an important mission.
Grandma's Cats (Danica Perry / California / 2 min): More fun with those sneaky cats courtesy of DreamWorksTV.
Octane (Jeron Braxton / NYC/ 6 min): A man must race thru hell and back to get what he wants.
Phantom 52 (Geoff Marslett / Texas, PA, CO / 8 min): Calling out on his CB radio, a trucker waits for a reply that never comes.
Pine High (Created by Rob Bohn & Produced by Nate Milton / US / 7 min): A colorful portrayal of what suburban teenage life looks like from the other side of normal.
Popcorn (Frank Moser & Paul Terry / NY, Terrytoons / 5:40 min):New restoration of 1931 county fair cartoon from animation historian Jerry Beck's archive.
Rose Quartz/Fulton Street by La Dispute (Sarah Schmidt / Columbus, OH / 5:46 min): Animated music video from the La Dispute album Panorama.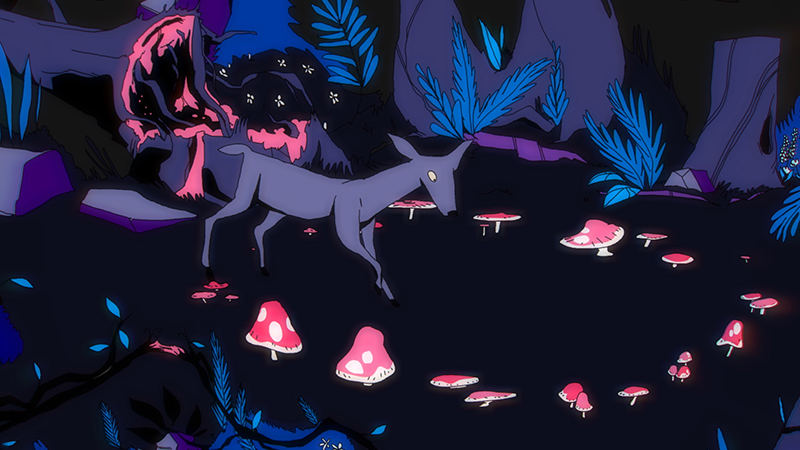 Too Loud (Nico Colaleo / California / 5 min): DreamWorksTV exclusive premiere follows two loud kids to the library.
Under Covers (Michaela Olsen / Brooklyn / 7 min): The night of a lunar eclipse, uncover the sweet, salacious, and spooky secrets of a small town.