Festival Description:
Hiroshima International Animation Festival is a biennial manifestation held in Hiroshima City in August, endorsed by Association Internationale du Film d'Animation (ASIFA). Under the spirit of LOVE & PEACE, the festival has been dedicating to the advancement of visual media art culture in general, by promoting international cross-cultural exchanges through the development of animation art. Today, Hiroshima Festival is considered as one of the most respected animation festivals in the world. It is also qualified as an Academy Award Short Film Festival as well as ASIFA-Hollywood's Annie Awards Short Film Festival.
2020 Festival Coverage
Important dates:
May 1st;  selection committee starts working on competition entries
End of May: selection results announced
Early July:  International jury announced
End of August: award winners announced
Coronavirus Pandemic:/ Festival Statement: We have now decided to take place HIROSHIMA 2020 on another format and smaller scale as follows.
1. The official competition, the core of our festival, is going to be held using online conference system by the international jury members in place of public screenings with audience at the festival venue.
2. We are going to cancel all our special programs such as the screening of superior animation works from around the world, Educational Film Market, workshops and all pre-events for instance 'The Festival Eve'.
3. As for award-winning films, due to cancellation of the screenings, we will continuously consider the possibility to open them to the public via the Internet
Previous coverage:
Call for Entries  (Archive)
Films are accepted which were completed after 1 April 2018 and don't run above 30 minutes.
Message from the Festival Director
Dear Friends,
 On behalf of the International Animation Festival in Japan – HIROSHIMA, I would like to extend my sincere gratitude to all of you for your continued cooperation with our festival.
With your kind support, we are very pleased to announce that the 18th edition, HIROSHIMA 2020, will be held from August 20th to 24th next summer.
The Hiroshima International Animation Festival was established in 1984 with the spirit of pursuing world peace, shared by both the City of Hiroshima and the Association Internationale du Film d'Animation (ASIFA). Since the first edition  took place in 1985, our festival has been held once every two years, and will be held for the 18th time in 2020, which means that we have continued to organize the festival for 36 years.
 We are making every effort to organize our festival, providing you with reliable content and a venue for cross-cultural communication beyond languages. We aim to meet your expectations and hope that open-minded people from all over the world can come together to focus on animation art, which brings together every kind of cultural endeavor created by mankind, including music, fine art, literature, history, philosophy, science, nature and imagination, etc.
We, the festival team, are working hard for the preparation of the 18th edition in August 2020.
We look forward to your inspirational entries, and to your participation in person in HIROSHIMA 2020!

Sincerely yours,
 
December, 2019
Sayoko Kinoshita, Festival Director
HIROSHIMA 2020 Poster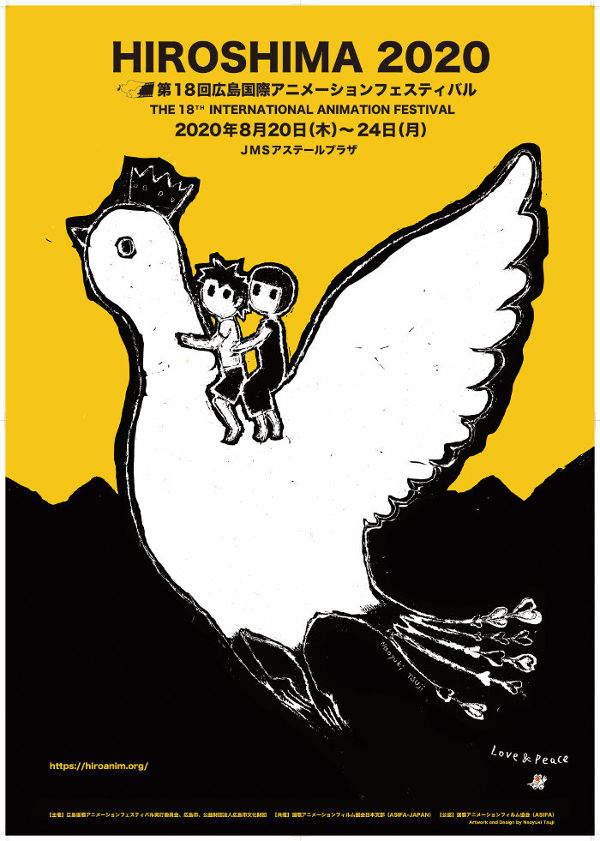 2018 Festival Coverage (Archive)

2018 Highlights:
Yoji Kuri — the International Honorary President of HIROSHIMA 2018, and who also created our official poster — spearheaded Japanese independent animation. He has received international recognition since as early as the 1960's and is still actively working today. Celebrating the 90 years of Yoji Kuri,  you will enjoy the screening of his witty and satirical works as well as his valuable talk.
Michael Dudok de Wit has been the only winner of both Grand Prize and Hiroshima Prize from the past Hiroshima International Animation Festival, and we are pleased to welcome him as our special guest.  There will be two programs:
(1) a screening of his inspiring feature animation "The Red Turtle", with Michael's short speech before the screening.
(2) a screening of his two short films "Father and Daughter" (HIROSHIMA '02 Grand Prize) and "The Monk and the Fish" (HIROSHIMA '96 Hiroshima Prize), as well as Michael's talk about his filmmaking.
Raoul Servais Retrospective: Belgian master of animation Raoul Servais, who will also turn 90 this year, remains as active as ever. He has honored us by serving as the festival's International Honorary President twice in the past. In appreciating Raoul's dedication to animation field over many years, we will be screening a selection of his short films that have received numerous international awards.
Estonian Animation Special (34 Programs): An intensive focus on Estonian animation from its pioneering days until the present. Such a huge focus on Estonian works together will be the first time ever in the world.
Organizers: Hiroshima International Animation Festival Organizing Committee, Hiroshima City, Hiroshima City Culture Foundation; Co-organizer:ASIFA-Japan