The 15-minute UK/Czech co-production and animation short Salvation Has No Name by Joseph Wallace to hit festival screens spring 2020.
Salvation Has No Name the new short film from BAFTA Cymru-nominated writer/director Joseph Wallace, has now entered production.
The stop motion short will be a fifteen minute cinematic folktale exploring the prevalent themes of xenophobia and faith.  The film has nomadic circus performers come together to tell a dramatic folktale of a desperate refugee, a disgraced Priest and an illegitimate child.
I'm absolutely thrilled to be starting production on 'Salvation Has No Name' and to have the support of the British Film Institute, amongst others, to bring this story to life. It's a pertinent story that I'm keen to tell at this particular time. It's been a long journey developing ideas, finding producers and financing this ambitious short. I'm so grateful to be doing a co-production with Delaval Film and Animation People in the Czech Republic at a moment when we need international co-operation more than ever - Joseph Wallace, director/writer
The film received a development residency at the Open Workshop in Denmark in 2017 and, in the same year, won the main prize at the Visegrad (now CEE) Animation Forum ,before being selected to pitch at Animarkt Stop Motion Forum in 2018. This is what Zippy Frames wrote about the film when reporting from Animarkt 2018:
This risqué film (but with the story's beats firmly rooted in solid narration) had a spellbinding, Gothic trailer and a subject matter of a disillusioned priest falling in love with a refugee. Both narrative framework (a Greek chorus comments on the actual story) and bold imagery join each other in a calculated play - Zippy Frames
TRAINING OPPORTUNITY: STOP MOTION ANIMATOR NEEDED
The film now seeks a stop-motion animation trainee, based in Bristol. The applicant does not need to have a university degree or professional training, but they must be driven, determined and hard-working.

The role starts in February 2020, and runs up for 20 weeks. This is paid opportunity.  Email expressions of interest to This email address is being protected from spambots. You need JavaScript enabled to view it.by  2nd January 2020.

Production team is particularly interested in a trainee from underrepresented groups (this can be of any of the protected characteristics as defined in the UK Equality Act 2010, or the applicant's location in the UK and socioeconomic status. Applicants must not be in full-time education.
The short is produced by Loran Dunn and Francesca Carr of Manchester-based Delaval Film (listed as one of the 50 Most Creative UK Companies and supported by the BFI Vision Awards). The film  has received funding from the British Film Institute through their Network programme, and is co-produced by Animation People in Czech Republic, having also received a grant from the Czech Film Fund.
Having been aware of Joseph's work for a long time, we're very excited to be supporting him in what we know will be an exceptionally cinematic and poignant film - Loran Dunn, Producer
With additional support from Dragonframe and Aardman Animations, renowned British animator Tim Allen (Corpse Bride, Isle of Dogs) will animate alongside Joseph on the short, whilst visionary film- makers the Quay Brothers will act as creative consultants.
Joseph's previous works include 'The Man Who Was Afraid of Falling' (2011), 'Natural Disaster' (2014) and Edith Piaf (Said It Better Than Me (2017) the acclaimed music video for Sparks.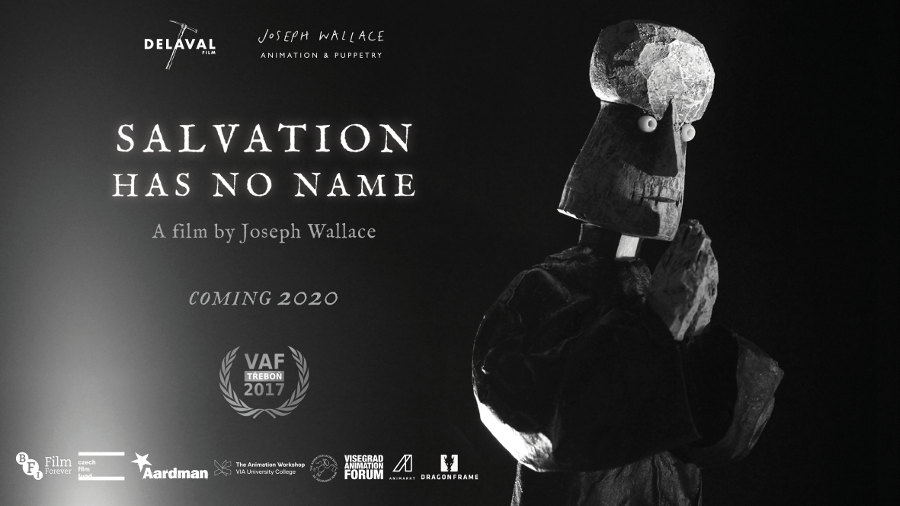 Visit: www.josephwallace.co.uk,  www.delavalfilm.com
Salvation Has No Name by Joseph Wallace will hit festivals spring 2020.