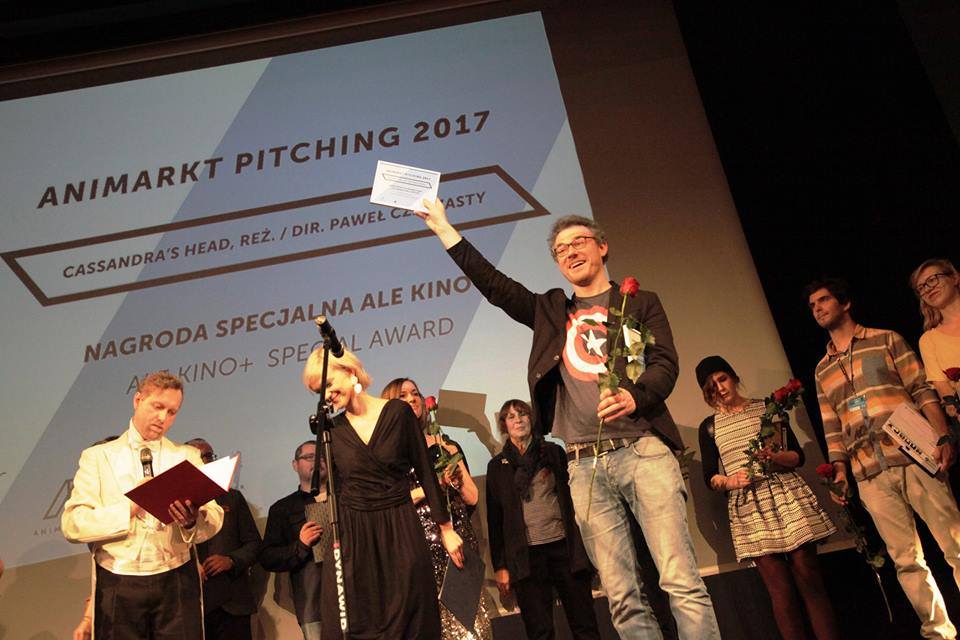 Paolo Polesello reports from Lodz, and Animarkt stop-motion pitching forum (2-6 October 2017).
From 2nd to 6th October took place in Lodz the stop motion pitching event Animarkt. It was the first time that this event took place at this extent with five days devoted to pitching sessions, masterclasses, presentations, case studies and encounters.
A particularity of the event was the preparation of the pitching sessions: the first two days the participants to the pitching had a one-to-one session with Wim Vanacker, who revised scripts and storyboards of each project, and with Nancy Denney- Phelps who gave advice on each presentation about how to make them more successful in front of the audience. Then, on the third day, the presentations took place: as Nancy told me, "they made their homework tonight".
So, the event could be seen as a mix of a pitching and a campus where the participant had occasion to learn about the pitching process.
In total, 15 projects were presented from Poland, Czechiac, Norway, Austria, Great Britain, Hungary, Croatia, Russia, Israel, Greece and Lithuania. All the projects were quite strong and their presentations interesting, so that I guess that it should not have been easy for the jury, composed by Véronique Encrenaz (head of MIFA in Annecy), Bartosz Kędzierski (director), Kateřina Krejčí (of Czech Television) and Ben Tesseur (producer of Oh Willy..., among others), to choose the winner.
The winners of the three main prizes were (for the full list, see below):
The Kite, by Martin Smatana, Czech Republic, first prize: a child has to cope with his grandfather's death, wherein the dying grandfather is seen as becoming as thin as paper. Very delicate, it affords the question of how to explain death to a child.
Bear Hug, by Margrethe Danielsen, Norway, second prize: a lonely little bear at his birthday party tries to make friends with some birds, but they are scared of him. Cute visual style contrasts with an unexpected gloomy final twist which can be seen as a reflexion about bullying.
Sacculina Carcini, by Kasia Nalewajka, Poland, third prize: in an undersea pub a brain-controlling parasite enters into the brain of a crab which is having a drink with is friends and convinces him that he is pregnant. A serious documentary voice-off contrasts with the wackiness of the characters.
In addition to the pitching sessions several presentations and case studies took place. Tim Allen and Jacek Spychalski introduced the screening of the Polish production The Magic Piano, wherein the painstaking process of building and animating the flying piano was remembered (it contained 52 articulations!). As Tim said: "that was the most difficult work of my career". The presentation was actually a sort of walk into memory lane with pictures from the making of the film.
In a similar tone was Kim Keukeleire's presentation, wherein she remembered her career, from painting cels as a student job to being the animation director of "Ma via de Courgette" and working on Fantastic Mr. Fox and Frankenweenie". Very funny were the live action videos shot in order to study the movements and expression of the puppets: she showed one from "Ma vie de Courgette" and some from Mr. Fox with Wes Anderson himself.
In animation, according to Kim, the most important are the emotions: the same message was conveyed by the lightning artist Maciej Bedyk in his presentation about lighting in stop motion animation.
Peter Gottschalk from Arte showed examples from Arte co-productions in animation, among them Waltz with Bashir. In his talk he stressed the fact that animation is not a slot, but may be used everywhere.
I asked him about this statement and he replied to me that animation is a medium for telling stories, and as such may be used where needed, like in historical documentations. Actually, that is possible now: still 20 years ago, animation was considered something for children that could not be used for speaking of serious arguments, like war.
Case studies were focalized on co-productions. Katarzyna Gromadzka introduced the activities of Momakin, organizer of Animarkt, and of the project Polish Quality, which acts as a go-between for finding co-productions between Polish and foreign producers. One of the supported projects is the Mexican feature Inzomnia  by Luis Tellez Ibarra.
Other case studies were: Even Mice Belong in Heaven, Czech/French/Belgian co-production directed by Vladimir Lothak, Denisa Grimmová and Jan Bubeníček which mixes stop motion and 3D CGI; "Moomins and the Winter Wonderland" presented by Zofia Jaroszuk and Piotr Szczepanowicz of Animoon, Polish/Finnish co-production which re-edits the Polish stop motion series of the 80s in a new frame; Harvie and the Magic Museum by Martin Kotík, 3D CGI film about the popular characters of Spejbl and Hurvínek, a Western/Eastern European co-production involving Czech republic, Belgium and Russia.
The event was a success thanks to the dynamic team from Momakin who organized it: Paulina Zacharek, Iwona Buchcic, Agnieszka Kowalewska, Olivia Jary and Kasia Gromadzka. I thank them heartily and wish them a successful next edition of Animarkt 2018!
ANIMARKT FULL LIST OF WINNERS:

1st prize -  "The Kite" (dir. Martin Smatana, prod. Peter Badač), Czech Republic – Centre of Audio-Visual Technologies' contribution in-kind in the amount of 60 000 PLN (ca €14.200)
2nd prize - "Bear Hug" (dir. Margrethe Danielsen, prod. Tonje Skar Reiersen, Mikrofilm), Norway – Centre of Audio-Visual Technologies' contribution in-kind in the amount of 30 000 PLN (ca €7100)
3rd prize - "Sacculina carcini" (dir. Kasia Nalewajka, prod. Joanna Wendorff-Ostergaard, ANIMA-POL), Poland – Centre of Audio-Visual Technologies' contribution in-kind in the amount of 20 000 PLN (ca €4700)
Licence of Dragonframe 4 + Bluetooth controller: "The Bridge" (dir. Izumi Yoshida, prod. Likaon), Poland
Armature Kit from Animation Supplies: "Cassandra's Head" (dir. Paweł Czarzasty, prod. Molo FX Paweł Czarzasty), Poland
Accreditation to the MIFA 2018 market sponsored by CITIA:   "The Man in the Door" (dir. Wolfgang Matzl, prod. Moana Rom), Germany; AND  "The Kite" (dir. Martin Smatana, prod. Peter Badač), Czech Republic
Ale kino+ Special Award (TV channel Ale kino+ will buy a licence rights for pitched projects when they are ready) jointly in
o    "Attitude" (dir. Szandra Pataki, prod. Mónika Mécs), Hungary;
o    "Bear Hug" (dir. Margrethe Danielsen, prod. Tonje Skar Reiersen, Mikrofilm), Norway;
o    "Cassandra's Head" (dir. Paweł Czarzasty, prod. Molo FX Paweł Czarzasty), Poland
Weekend in SPA resort sponsored by CFI HOTELS GROUP: "Man Wanted" (dir. Irida Zhonga, prod. Magikon, Nukufilm, Animated Society from Albania), Greece, Estonia
Paolo Polesello is a Berlin-based  animation afficionado and supporter.
The premiere Animarkt took place in Lodz, Poland (2-6 Oct 2017). It was organized by MOMAKIN, and co-organized by Lodz Community Center (ŁDK) and Audiovisual Technology Center from Wroclaw. It is funded by the International Visegrad Fund and the Ministry of Culture and National Heritage.