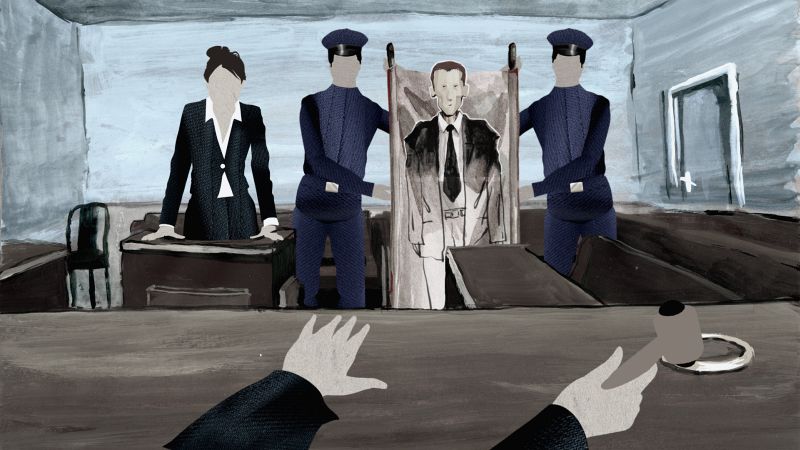 Anca Damian scripts and directs an inventive documentary-animation film about a Romanian prisoner in 2007 Krakow, who goes on a hunger strike.
No more drama, just facts. That seems to be the motto of the impressively-looking animated documentary Crulic: The path to beyond.
The film is based on the 2007 case of the 33 year-old Romanian Claudiu Crulic, who gets caught in Krakow, Poland and is accused of theft. He is detained and released, but a further theft accusation will have him behind bars in the Krakow Detention Center. He will start a prolonged hunger strike, and die a few months later of tissue atrophy and pneumonia.
Crulic: The path to beyond might be easily dismissed as another accusation against unjustified imprisonment, cruel or negligent behavior towards the prisoners, and the need to reform. The film is as opinionated as it might be: all the facts are narrated from the first-person perspective, and the officials' accounts only appear in the end credits, broadcast in live-action via an animated TV set. Yet, Crulic is more a personal journey to beyond than a social cause enlisting.
Two facts testify this. The American Beauty narration style from the dead makes Crulic an intimate affair. The life story of Claudio Crulic is narrated by himself without pathos, calm and almost outside the chain of causality. An inventory of personal things taken from the prison after his death only corresponds to the enumeration of things stolen from the judge's purse, and the cinematic process that includes faceless prosecutors and judges leaves no doubt that a step-by-step description of a journey into death is what is here intended.
Another inventory of visual animation techniques (Dan Panaitescu, Raluca Popa, Dragos Stefan,Roxana Bentu,Tuliu Oltean) never bores the eye. From cutout animation that can really cut drawings (as when the doctor cuts portions of Crulic's brain for examination) to photos of Crulic in front of an animated moving background, and stop-motion, lines and drawings seem to evaporate at the moment of  weakness, to lead finally to a flying sheet in the end of the film.
The technique prohibits an easy sentimentality, and invites curiosity, even when the subject-matter and the script is totally predetermined. No appeal to Romanian consulate and no text message to his step sister will help Crulic survive his hunger strike, which he initiates as a last resort to exclaim his innocence, and fails to secure the relevant attention.
The 007 passport line and the fantasy prison scene lighten up the mood of Crulic. In dark contrast, the guard's monotonous and stern walk outside the prison cells reveals a world in a terrifying predicament, and thereby enhances the dramatic interest. Crulic may be a personal journey, but the big bad world picture is to presented as well.
 This autobiographical, almost transparent story of self-destruction done by a person who had no intention of becoming a martyr (even though Jesus Christ surfaces in the film) proposes an anatomy of a silent personal fight.
 It is sad enough, such as watching Crulic transferred through endless prison cells to end, in a long take, to his final hospital bed. But it is also interesting.