Festivals
Tricky Women/Tricky Realities 2021: Festival Report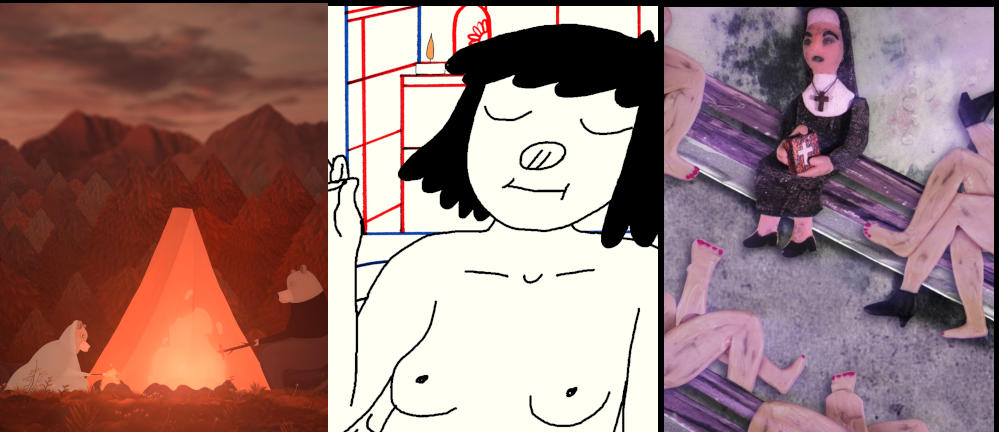 The Austrian festival was held online and provides a unique and fresh insight into the art of animation made by women. This exciting festival also hosts artists-in-residence and retrospectives. Below is a selection of highlights from the festival. 
1. Chado | Director: Dominica Harrison, UK 2020
During a long hot summer in the forest, a child is forced to grow up. First her dog falls ill, then out of the blue her mother returns to their dacha with a new lover. With each unsettling event, her visions become stronger up to the point where she takes a dangerous decision. Chado combines digital animation and Risograph printing to transform a coming-of-age tale into an enchanting film.
ZF Review:
This film makes striking use of risograph printing; with an atmospheric and affecting soundtrack, it contains a dream sequence of a young girl, Chado, walking through the forest. The gentle graphic quality evokes a sense of childhood wonder. As her Mother and her new lover look through Chado's sketchbook, the scribble drawings spring to life as they turn the pages. Containing an interesting use of a child's drawings as a thought process in understanding the world. A nicely realized film with a sense of wonder and curiosity at its core.
2. Moutons, loup & tasse de thé…/Sheep, wolf and a cup of tea... | Director: Marion Lacourt, France, 2019
At night, while his family members indulge in curious rituals before sleeping, a child invokes a wolf from the bottom of a box hidden under his bed. Disturbing sheep then besiege the door of his bedroom. Transgenerational dreamscapes involving sheep, a wolf and a cup of tea.
ZF Review:
This film uses an interesting ink wash and pen drawing style, giving it a moody shadowy atmosphere. Foley is key to situating the story in a creaky house, containing ticking clocks, an old record player and snores which transform into sheep. Deploying striking compositions, the story follows a child dressed in a wolf costume as he explores a surreal dreamscape. With a visual approach echoing the work of Maurice Sendak, the child experiences a strange fusion of his grandparents' dreams and his own mysterious meanderings. He wanders through forest and cosmos, where animals, plants and body parts mutate.
3. Thanadoula | Director: Robin McKenna, Canada, 2020
Layering real-life details with an otherworldly magic, Thanadoula recounts the story of an end-of-life doula brought to her calling through the loss of her beloved sister.
ZF Review:
A highly moving short film, recounting a young girl's relationship with her sister. Made using composited photos and painterly environments, the story sensitively follows as the narrator recounts her sister's descent into mental illness, and how she looked for her after she disappeared. Imbued with a strong affinity with Nature, the story reflects beautifully on childhood memories and the harshness of loss.
4. Le Fremissement s'envole à bras ouverts, Adieu./The Shudder flies away with open arms, Farewell. | Directors: Celia Eid, Sébastien Béranger, France, 2020
The expression of an instant, dominated by the confrontation with fear, anguish and death. Change is happening and nothing will be as it was. Beautifully abstract lines and articulations of severe yet fragile emotions and transitions.
ZF Review:
Animated abstract forms, squiggles, circles and scribble, jostle and move against a roughly textured backdrop. Evoking both organic growth and mechanized motion, with a beeping electronic score, there is a feel of cycles of growth and decay.
5. 유령들/Ghosts | Director: Jee-Youn Park, South Korea, 2020
They are like ghosts in their apartment, floating through time, space and feelings. Diving into togetherness, embodiment and disembodiment. Dreamscapes and dreamlike characters blend into everyday activities of coexistence between boredom, attraction and dissolved boundaries.
ZF Review:
A strangely surreal film with a sense of weird horror; a couple living in an apartment experience strange bodily transformations; with curious orifices appearing in the floor, and in the characters' bodies, the film follows an odd trajectory, with a depressing overtone through the sense of bodily decay between the couple, aided by a flock of crows.
6. Divoké Bytosti/Wild Beasts | Directors: Marta Prokopová, Michal Blasko, Slovakia, 2019
Three stories set on a mysterious island. A father and son on a trip into the wild. Children on the eerie edge of cruelty and innocent play. The pursuit of synchronicity in dark waters. In a wondrous, dreamlike atmosphere of landscapes and soundscapes, the subtle qualities of interpersonal dynamics are examined through hypnotic images and suggestive sounds.
ZF Review:
Marked by strong compositions, and with a richly coloured wilderness environment, the film has a profoundly mysterious quality at its core. The landscape feels very alive, as the endless forests sway in the stormy winds. The brooding soundtrack (channeling composer Angelo Badalamenti); creates an eerie quality that pervades the story; flocks of humans cross the sky on wings like hang gliders; synchronized swimmers move as one like a shoal of fish; a group of teenage animals roam the landscape, playing a game of hide and seek with vicious undertones. They discover something unsettling in the woods; a father and son bear on a camping trip into the wild; and a team of bears, sweating as they row their boat across a lake.
This is a very interesting and intriguing film; seeming to question our connection with Nature, and imagining adolescent animals as players of human games, whilst humans move in flocks and shoals as though animal. A deeply mysterious artwork, with a humming soundtrack providing a heartbeat at its core.
7. Jeroboam | Director: Bianca Caderas, Germany, 2020
Be it at bars, house parties or romantic dinners, the people in Jeroboam like to raise their champagne-filled glasses. However, they all seem quite indifferent to the cruelty necessary to give their favourite beverage its signature fizz.
ZF Review:
With a punky, neo-expressionist aesthetic, fusing wonky drawings and discordant colour, this film falls within a very contemporary mode of animation, with emphasis on bodily functions, imperfections and grotesque sexualized imagery. Refreshingly current in its depiction of debauched social behaviour and really loose in its surface play with dancing party shapes, whilst a pack of cats perform hairdo fellatio. Striking and energetic.
8. Flow | Director: Kayla Parker, UK, 2020
A film poem created with wild flowers growing along the shore of the Laira estuary, the tidal mouth of the River Plym, on the southwest coast of Britain. Petals and leaves stream past as a haunting soundscape ebbs and flows.
ZF Review:
A lyrical collage film, made with constellations of wildflowers and plants found along a river estuary in South West England. Nicely made, recalling the collage films of Stan Brakhage.
9. INVIZIBILII/INVISIBLES | Director: 4inaroom, Romania, 2019
At home in her apartment, a young woman finds herself caught up in thoughts and memories. Layered experiences of past and present distort the tender balance of her life, as the space surrounding her reveals its mysteries and unsolved riddles. When do you feel at home with yourself?
ZF Review:
An isolated young woman sits in her dreary flat, smoking and reminiscing. Drawn using a wonky expressionist approach, the film uses household sounds to heighten tension as the young woman attends a drunken family meal and becomes increasingly withdrawn. The interior of the flat has a visceral presence, through the foley and disjointed sense of space.
10. Glader Gök Och Mäster Katt/Mellow Yellow and Pretty Pink | Directors: Frida Hammar, Sam Addo, Sweden, 2020
Mellow Yellow and Pretty Pink are in a kitchen drinking wine. The drinking advances to a party, and the party leads to a fight. A little panda is a silent witness to it all.
ZF Review:
A slightly odd short film, about two animal-like characters who get drunk together; their party descends into a fight.
11. Sina al-Qamar, Artiste Queer/Sina al-Qamar, Queer Artist | Director: Madi Piller, Canada, 2020
Fragments exchanged over the course of eight weeks in confinement. Clips, imagery and bodies. Glimpses and coded reflections on isolation, identities, crisis, introspection and performance. A dense and visually intense experimental portrait of the artist Sina al Qamar. Developed for the Parenthèse project commissioned by ONF Canada.
ZF Review:
An experimental film, using a multiplicitous collage approach to a portrait of the artist Sina al Qamar. The film mixes a constantly changing flux of textures, pixillation and stylised approaches.
12. Scalp Deep | Director: Naseeba Bagalaaliwo, Uganda, 2020
Hair and constructions of identity are often deeply intertwined. "Scalp Deep" captures the struggles of a young woman as she navigates the reactions and expectations of others after she decides to commit to a new look.
ZF Review:
A young woman decides to get a new hairstyle. She receives lots of varied reactions from her friends and feels hurt by some of the comments. The film provides a critique of how women are constrained by how their image is perceived in society.
13. Flatten The Curve | Directors: Kathrin Steinbacher, Emily Downe, Austria, 2020
A collection of animated moments of experiencing, seeing or thinking something positive amidst the strange times of confinement during the global crisis caused by the outbreak of the Covid-19 pandemic. Following a call, more than ninety animators worldwide contributed to this multifaceted collage, sharing glimpses of their realities. This is the first film out of a series of three, assembled and initiated by Kathrin Steinbacher and Emily Downe.
ZF Review:
An interesting, highly eclectic mix of the work of 90 animators (spread across three films), who responded to a callout to make something positive during the pandemic.
14. Je me gratte/Self Scratch | Director: Chenghua Yang, France, 2020
Trying to keep together all the little beings that are fragments of yourself. Overwhelming states of shapeshifting through contradictory perceptions of the inner and the outer self. Feeling, not feeling, falling apart and finally reassembling and reconciling all the little beings into one loving self again.
ZF Review:
An interesting film showing a young woman's experience of anxiety, isolation and the urge to self-harm. It's quite a difficult watch, with a strong sense of the rawness of emotion of relationship breakdown, along with dreamy fantasy of future joys.
15. דורהעץ/Gen Tree | Directors: Ronni Shalev, Hod Adler, Alon Sharabi, Israel, 2020
In a town where adults live on ground level and children refuse to come down from the treetops, a series of interviews tries to find out what it is exactly that different generations misunderstand about each other. An animated documentary highlighting the absurdity of childhood, adultness, the internet, and generational gaps.
ZF Review:
Made using a hybrid approach, with an overarching very creative and vivid stylization; jumping rapidly between different influences, this discordance is mobilized to highlight an absurdist gap in communication between children and adults.
16. In the Shadow of the Pines | Director: Anne Koizumi, Canada, 2020
Drawing on childhood memories the filmmaker stages a conversation and sensitively explores her upbringing and ambiguous relationship with her Japanese immigrant dad, who was also the janitor at the elementary school she attended.
ZF Review:
A very sensitively made stop-motion film, in which the filmmaker recalls her childhood relationship with her father. Utilizing a nice collage approach, along with clay, mixed media and live footage. Staged through an imaginary conversation between the filmmaker and her father, there is a haunting sense of lost time and the memories and connections that people experience through a sense of place.
17. Cipka/Pussy | Director: Renata Gasiorowska, Poland 2016
A young woman spends the evening alone at home. She decides to have a sweet solo pleasure session, but not everything goes according to plan.
ZF Review:
A very sweet and humorous short film, in which a young woman decides to spend the evening pleasuring herself at home. This is a highly imaginative film, with playful imagery and a refreshing approach to depicting sex and bodily function. The design style evokes a sense of the desire and exploration of youth, with fluid transformations and a suggestively joyous line boil.
18. Just a Guy | Director: Shoko Hara, Germany 2020
A clay puppet animation based on interviews and the director's written encounter with the protagonist. Three women share glimpses of their affection, attraction and relationship with Richard Ramirez, a serial killer and rapist they contacted after he was convicted.
ZF Review:
A brilliantly exciting animated documentary based on interviews with three women about their relationship with imprisoned serial killer Richard Ramirez. The production design and conceptualization is truly imaginative; combining clay puppet animations with live footage, composited within a strikingly flattened landscape of containment. Many interviews are read out in front of letters sent back and forth between the women and the killer. The imagery is at times wildly grotesquely sexual, and there is a palpable menace in the prison visits. The characters have a sexually charged roughness, through visceral textures and at times their faces transform into angry scribble. This is a boldly imaginative and disturbing film, with a striking aesthetic which evokes both gloss and dirt.
19. Sequence of Tenses | Director: Adele Razkövi, Austria 2020
A message from the past, a direction for the future. In search of codes and formulas for planetary regeneration and reconciliation. The film was created by Adele Razkövi and Vikram Chandra as part of the project 'No Place like the Future', whose motto is 'Art excels in times of crisis'.
ZF Review:
A very inventive stop motion, musing on the planet and cosmic constellations. This is an interesting piece, with a Sanskrit poem read out loud, against a bodily, visceral soundtrack that imbues all parts with a sense of organic breath.
This was a highly varied and interesting festival; in the climate of recent events, it felt highly significant to watch so many innovative productions which focused on the female experience.
Joseph Norman was accredited as a journalist at the Tricky Women/Tricky Realities festival.
Contributed by: Joseph Norman
SIGN UP: Want to read more free articles like this? Sign up for Our Newsletter