Shorts
My Juke-Box by Florentine Grelier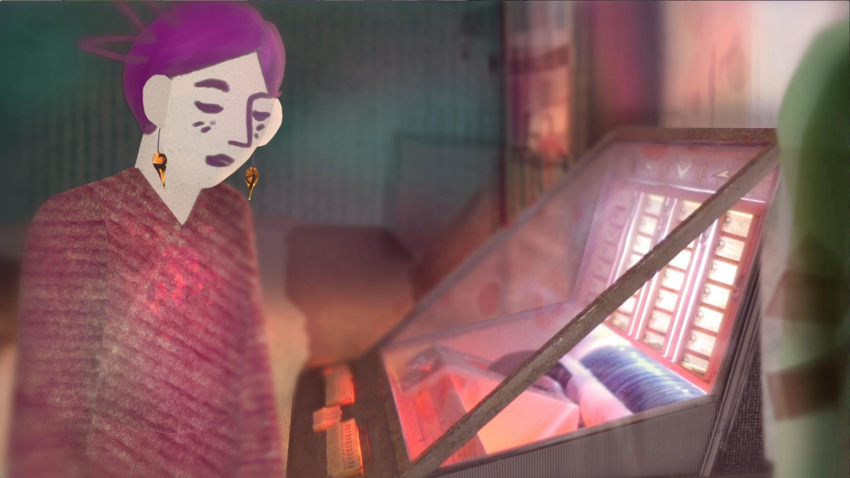 Father and daughter relationships in animation are always welcome. Yet what if this association is addressed indirectly, through a musical instrument, and goes back in time? In Florentine Grelier's 15-minute My Juke-Box (Mon Juke-Box, produced by Novanima Porductions and Girelle Production), the ostensible locus of interaction is Jupiter, an old jukebox, which won't start. The main character will ask her dad, one of the last remaining connaisseurs, to fix it, and the whole train of memories of an ear unfolds.
My Juke-Box was both Cesar-shortlisted and selected at the 2020 Sundance Film Festival,  after winning the André-Martin Award at the 2019 Annecy Festival. As Florentine Grelier tells Zippy Frames, she wanted the graphic style to be a reflection of the actual jukeboxes, colorful and varied. Producer Marc Faye (of Novanima Productions) helped with incorporating more documentary elements.
Grelier met Marc Faye (the Novanima producer, a company known for its animation documentary lines and technique mix),  when he was coming to present a film on a radio show in Paris about his great-grandfather Marius O'Galop, one of the pioneers of animated cinema and inventor of the Michelin Bibendum. "We share a taste for vintage objects", Grelier notes. The film was hosted in the Novanima studio for more than a year, and a co-production with Girelle Production also took place.
Watch My Juke-Box
The film starts out as a simple story of jamming and fixing Jupiter, an old jukebox at the main character's home. Her own father is the best person to fix this; a frail jukebox now becomes a more personal worry. "One day, I happened to hear an old piece of rock n' roll, a jukebox music, and, without understanding why, I found myself crying" Grelier confesses. "Then, I asked myself this terrible question: who will repair the jukeboxes when he'll be gone? That's where my desire to make this film came from. It led me to a new interest for my father and his stories".
Yet this story of trying to re-connect with your father could have only taken place through music and the jukebox. "The jukebox is perfect for building the parallel with the father because it is representative of a time that no longer exists , it carries nostalgia". As Grelier notes, "it brings together the sound and a spectacular visual, which contrasts with its worn mechanics, similar to the human mechanics. We don't necessarily realize that our loved ones are getting older."
Both Florentine and her father Roland Grelier voice the main characters in the film; a period of research and interviews also proceeded. "My father was very happy and proud that I took records of his life and jobs. We did several recording sessions at the beginning of the writing".

The film involves a lot of past episodes, and, as Greiler confirms, these could have amounted to making a feature film. During the animatic stage, passages were simplified and clarified. Additional voice recording took place, and a third re-recording of the two voices took place during post-production. "All along we played our own characters, reality and fiction came together. I prefer to talk about self-fiction rather than animated documentary because in this film I recreate a dramaturgy based on documentary elements."
There are feats and travels in the film, which work charmingly, yet fiction is always a different thing from reality -or maybe not. "Regarding the parts of my father's past, he says that it's all true" Grelier attests. The Jupiter jukebox was the second (not the first) jukebox he repaired. Her father, a real jukebox seller and repair man, gave it to her for her 30th birthday, during the film's production.  And (spoiler alert) the ending dance was always on the menu on Grelier's country house.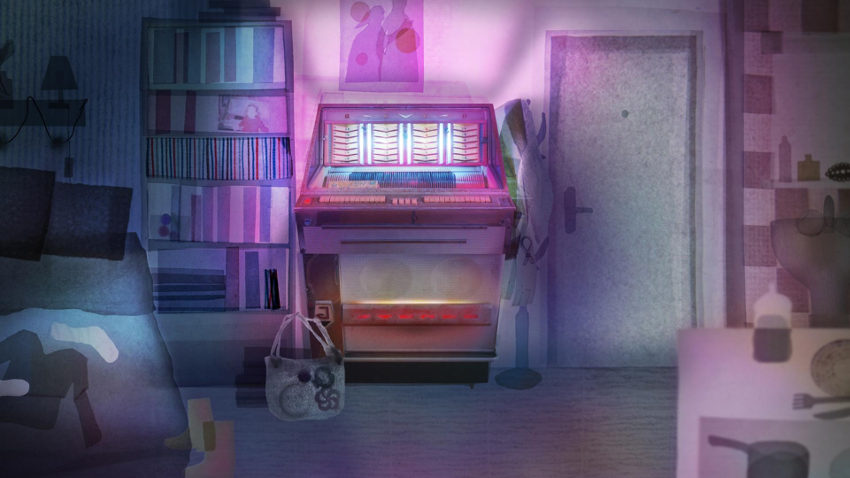 For a film that is a loving need to reconnect with your childhood, it couldn't have been otherwise than to be vibrant, full of colors. Here's the animation tropes (cut-out, stop-motion, live-action) work on the film's favor. " In my films, I always look for the best technique for the style and content to respond" Grelier elaborates. "The film is dense and shows several temporalities. I assumed the messy side of the film by mixing several techniques".
Cut-out paper allowed Grelier to keep the colors and light that runs through the jukeboxes, her characters and the sets. "I could also crumple the paper to show the father's damaged hands. The abstract animations are in stained glass painting on layer to transcribe the flamboyant colors of the machines". In turn, stop-motion sequencs focuses on the wear and tear of objects, while the jukeboxes themselves are being shot ("it's just beautiful and amazing in the real life").
Editing proved to be a lot of work during the animatic. "I did a lot of storyboard images to get rushes and find the right balance between the different parts".  Editor Daniela de Felice brought the necessary outside look. For the experimental parts and the father's own story, the staging was less defined, and this allowed Grelier to improvise.
I like to play with materials, new ideas emerge from the objects themselves. They have their own lives.
Sometimes, a single frame could make a difference to the timing of the sequence - Florentine Grelier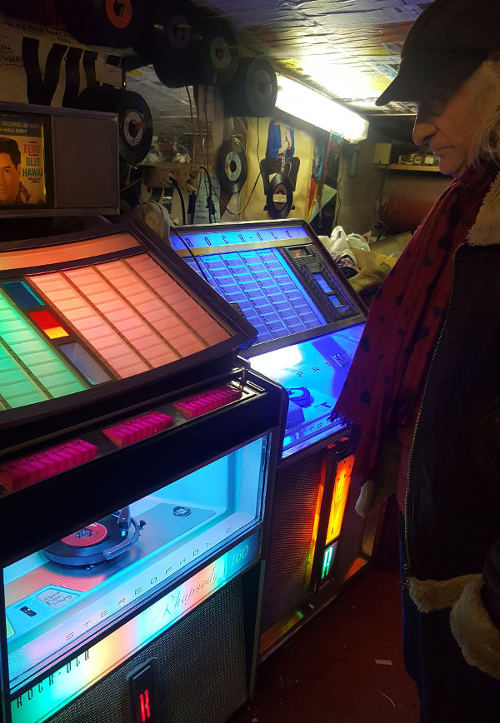 "Frame-by-frame techniques keep their share of mystery, we don't have control over everything and we can be surprised at the result" Grelier comments on the analog vs. digital revolution, still acknowledging the help she got (" thanks to modern computer techniques and post-production software I was able to mix all the elements of my film"). She further believes that  digital is no more widely accessible, but also opens up many possibilities if we explore its limits ("We have to get out of the frame, to be challenged").
Florentine Grelier still has the Jupiter with her ("my father has to fix the amp because it endured a lot during the shooting"), and refuses to sell it -even though Roland Grelier has a lot of fantastic jukeboxes for sale. 


Film Review (Vassilis Kroustallis):
Shakin' all over by Johnny Kids & the Pirates is the initiatory act which moves both narrative and animation in the sprightly and wistful (but never melancholic) My Juke-box by Florentinte Grelier.  Director quickly moves from the initial narrative thread to show a potential frail relationship: the nuts and bolts of a jukebox suddenly acquire more focus (and close-ups) than human faces themselves. They are the colorful but still sensitive instruments of a relationship which has its own tempo. Grelier crafts more than presents a relationship and a story, and this is where both past episodes and the animation variety helps her. Between fake and fiction, she presents not facts but personal facts in an always rhythmic fashion, managing the different episodes as 45rpm records linked to a vibrant but contemplative cinematic jukebox. A film for a repeat play.
About Florentine Grelier
Graduated from a Parisian Art School and a Master's degree in realization, Florentine Grelier likes investigating the numerous techniques of the images by image. After a first movie with puppets, she realizes her short film Ru, finished in a professional context and produced by LES TROIS OURS. Since the end of her studies, she teaches the art of animation in several schools and supervises workshops while pursuing her experiments. Between 2011 and 2014, she auto-produced different movies (REM with paint on film 16mm then Pixel Joy completely animated on Nintendo DS and Drunk, blending paint and animation) and worked on her new project: My Juke-Box. This 15 minutes short film mixed several techniques and was produced by Novanima and Girelle productions. The film was achieved in 2019.
CREDITS:
My Juke-Box (Mon Juke-Box), Written and directed by: Florentine Grelier
Production : Novanima Productions Marc Faye, assisted by Magali Hériat, Aliénor Pauly and Julien Rougier
Girelle Production (Christophe Camoirano et Marion Lacôte, assisted by Céline Bernardo)
With the participation of the Centre national du cinéma et de l'image animée (CNC) Fonds de Soutien Audiovisuel FAI Aide à la réécriture  |  With the support of the Région Nouvelle-Aquitaine , the SACEM and Ciclic- Région Centre-Val de Loire, in partnership with the CNC |  With the participation of TV7, director of broadcasting : Thierry Guillemot, production manager: Damien Cortadi |  My Juke-Box has been presented for the short films pitch, organized by the AFCA at Rennes in 2017

With the voices of: Florentine Grelier, Roland Grelier, François Chen, Marcel Villoing, Violaine Lécuyer, Chantal Faucher, Scylia Poyer, Elisabeth Kvaalen |  Sound editing and mixing: Pascal Bricard, Guy Tourreau | Soundtrack: Thomas Gallet | Animation: Julien Delwaulle, Florentine Grelier |  Animation trainees: Josephine Gobbi, Judith Larrède, Camille Depay, Léo Villemin, Taya Ben Jebara, Eugénie Marguerite |  Settings :Florentine Grelier, Baptiste Maury | Fabrication trainees: Clarissa d'Orival, Camille Solbès, Eva Lagrange, Matthieu Fou, quetMarion assemat |  VFX : Julien Rougier, Justine Hwang | Editing: Florentine Grelier, Daniela de Felice | Compositing/calibration: Justine Hwang | Image and post-production technical manager: Julien Rougier | Diffusion and Distribution Novanima: Maria Pia Santillo 


SIGN UP: Want to read more free articles like this? Sign up for Our Newsletter