Reviews
Seoul Station Review: Last Stop to Hell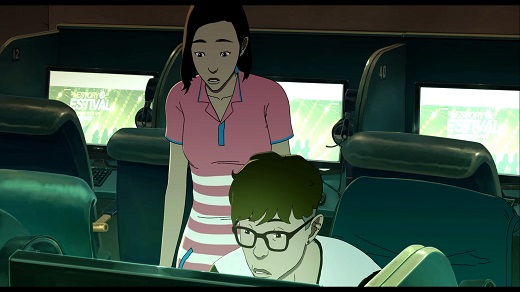 Seoul Station (Production: Studio Dadashow, Finecut) is the third feature film by Yeon Sang-ho, who uses violence in the same way that Coppola used violence in The Godfather (1972): it all runs in the school (The King of Pigs), family and church (The Fake) or in the society at large (Seoul Station).
 Seoul Station is the name of a metro station in a quiet but unnerving South Korean capital, with hues that always promise the worst (but without the fluorescence of Tarantinos' violence).
 Three people will be found entangled in a social unrest gone awry: the runaway teenager Hae-sun (Shim Eun-kyung), always helpless but decisive as well, her bespacteld boyfriend and wannabe pimp Ki-woong (Lee Joon), and her father Suk-gyu (Ryu Seung-ryong), who desperately searchers for her.
These are only the pawns in the zombie affair that starts when an old homeless person at Seoul Station, severely beaten, is eating down another homeless person.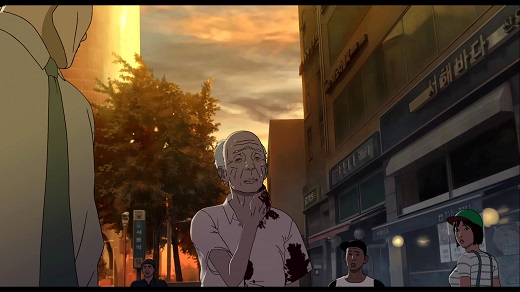 No need to know what happens first, the focus is here is when it happens.
In a masterful editing that brings to mind Hitchcock's The Birds (1963) - substitute birds with colorful zombies here- Seoul Station soon becomes the habitat for an all-time social automatism; homeless zombies with all the fanciful characteristics of the genre feed on other, less fortunate homeless people.
Moving away from the flashback conventions of his earlier films, Seoul Station takes its place at the present, and substitutes chronological traumatized periods with spatial expanse.
Hospitals (ER is the first affected department), police stations are the ones to get affected in the ever-high, impersonal buildings and rich suites. It seems that having a big car is the only solution to your zombie problems (or a real nutty lady walking in the underground).
No wonder that zombie movies tell of a sick society that refuses to die. State authority is either zombified or imposes its own authoritative powers to those who can only wonder in the streets, away from any apartment safety.
But Yeon Sang-ho cleverly puts his main characters in the middle of all this, as if they were inhabiting their own microcosm, somehow being caught up in a torment that did not relate to them.
In the manner of a conventional Hollywood thriller, the helpless Hae-sun will simply get away with anything, while the nerdish Ki-woong and the more brutal Suk-gyu become a kind of an odd couple, nicely complementing each other in their search for Hae-sun.
Beware: a major plot twist awaits all three of them. In Yeon Sangho's universe, Kansas is far away, especialy for its main characters.  
For a film done within a mere 600,00 US dollars, animation flows effortlessly: close-ups alternate with long shots of abandoned buildings, and travelling shots have a field day. After all, everybody is looking for a home on the streets.
The extraordinary violence of Seoul Station comes from the extraordinary negligence, and Yeon Sang-ho operates like the devilish master of ceremonies here. This is a cabaret show that will only lead to inevitable, personal fall.

Vassilis Kroustallis
Read More About: