Reviews
On Happiness Road Review: Decisions Are Not Forever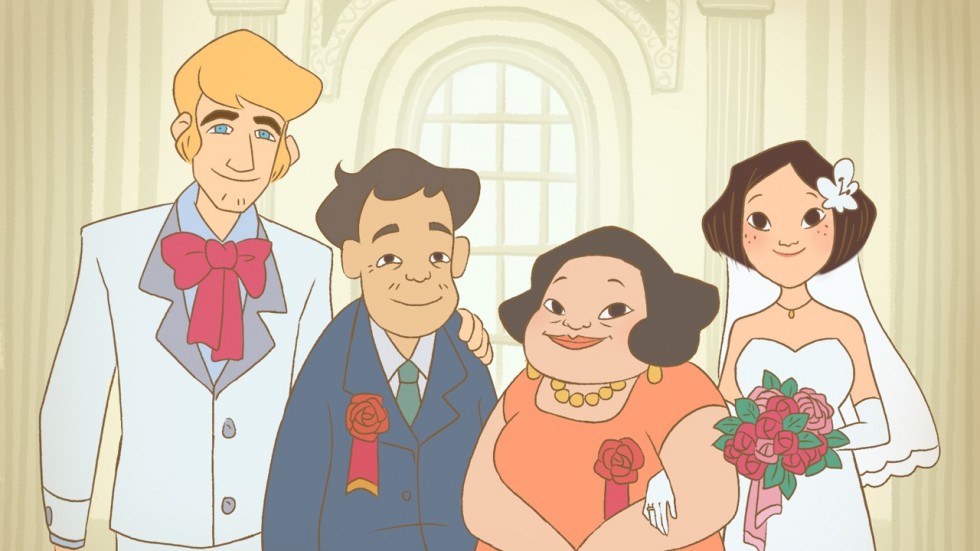 It is quite a challenge to develop a  sweeping 110-minute feature film based on a 13-minute, 2013 short, but here it delivers. On Happiness Road by US/Taiwanese director and scriptwriter Hsin- Yin Sung   on her first feature film effort (producer: Sylvia Feng) opens its canvas from the mid 70s. It continues to the late 80s and the abolishment of the martial law in Taiwan, before it depicts (in early 2000s) the people's favorite politician and president Chen Shui-bian; the ending point is his own trial and conviction of corruption charges (he is now on parole).

Relevant political background informs, but, unlike Persepolis, here it won't enter into the foreground of the problems of Lin Shu Chi (Lun-Mei Gwei). Born in 1975, the exuberant  Chi looks at first like the Taiwanese cousin of Miyazaki's Ponyo -but appearances may deceive.  Always looking for happiness in a material world (her home is situated on 168 Happiness Road, Taipei), Chi wants to be determined and do something in life; she but always needs to rely on her betel-nuts eating Grandmother (Giwas Gigo).
The film actually starts with the news about the death of the Granny, and the first decision to be made is here. Chi is now a US citizen married to an American (but we see early on that they are not doing that well). Unlike her cousin Wen who is also situated in the US (and makes a lot of money, has no time etc.), Chi makes the journey to her child home.
The Grandmother herself was an Amis descendant, one of those aboriginal Taiwenese people, and some would call her a 'savage'; but she had a lot of hard-won advice to give to her granddaughter. Granny (and Candy Candy 'cartoons') are Chi's only counselor:  Chi's mother (Hui-Jen Liao) is constantly anxious for money to survive, and her father (Bor Jeng Chen) is concerned with money to spare -the pervasive social issue of gambling is here touched upon more than eloquently. School rote learning is the standard -and cram schools flourish. Chi also needs to choose her friends and her role in life. What is going to make her happy?
Friends are easy: the blond Chuang Betty, herself a 'mixed-blood' child of an American soldier and a Taiwanese mother needs Chi's constant attention, but proves to offer more to her as years go by. The amicable Hsu will also be at her side (and will himself express one of Taiwan's own recent catastrophes). And Chi stills needs to find her own calling in storytelling, which seems to mix fantasy and reality.
Without being too bold or spectacular, On Happiness Road is a solid, down-to-earth mix of fantasy dreams, nightmares and reality, which excellently suit its restrained tone. Sequence editing here makes a wealth of material that covers almost 35 years stream like a natural memory stream or canal, which moves back and forth in time. Match cuts here serve the purpose (but sometimes too many of them). Chi has many decisions to make, but she won't radically change; she will simply evolve from a story-seeking child to a woman who puts her own storytelling questions to test, namely: what is home.
The pastel warm colors of the film and fluent 2D animation subserve this aim. The pink and purple fantasy sequences animated with less detailed characters, and the product of a child's imagination give a nice contrast. And screen only goes black when political color-blindness demands so. The soaring music by Tzu-Chieh Wen tells things that the ambivalent Chi is hard to express.
The handling of national culture subtleties, and what makes a child and a woman at home gives the film On Happiness Road its distinct feel of contemporaneity, even more satisfyingly than its implied politics angle. But the best element in the film comes from the way it puts its characters into informed action: if you wish to be happy, you have to decide and do something about it.
SIGN UP: Want to read more free articles like this? Sign up for Our Newsletter
Read More About: