Festivals
153 Films Selected for Anima Brussels 2019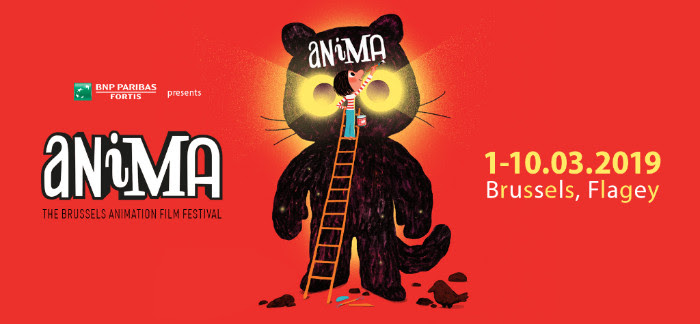 This year, the ANIMA selection committee watched 1,667 films coming from around the world. The committee appreciated the incredible profusion and high quality of the films submitted and wanted to reflect the inventiveness and imagination of the filmmakers and the diversity in styles, subjects and techniques. In total, 153 short films representing 34 countries, including 23 European, were chosen, of which 127 will be judged by two juries of industry professionals and the public.
 International Competition Jury
Jury members for the international competition for 2019 hail from the United States, Germany and the Netherlands. Internationally renowned animation historian, Maureen Furniss is the editor of Animation Journal and author of Art in Motion: Animation Aesthetics, The Animation Bible and A New History of Animation. Jakob Schuh co-founded Studio Soi in 2003, where he has also directed some of the studio's greatest successes, including both BAFTA and Oscar nominated The Gruffalo. Hisko Hulsing has already a number of Oscar nominated shorts to his credit. And apart from his talents as an artist, director and illustrator, he also composes the music for his films.
International Competition - Shorts - Professional Films
Aghaye Gavazn, Mojtaba Mousavi /IR - 09'00''
Agouro, David Doutel, Vasco Sá /PT/FR - 15'16''
Bavure, Donato Sansone /FR - 04'45''
Biciklisti, Veljko Popovic /HR/FR - 07'20''
Egg, Martina Scarpelli /FR/DK - 12'07''
Elektrika diena, Vladimir Leschiov /LV - 08'44''
Fest, Nikita Diakur / DE - 02'55''
Guaxuma, Nara Normande / FR/BR - 14'16''
How to Paint your Rainbow, Erick Oh /US/KR - 01'47''
Impossible Figures and Other Stories III, Marta Pajek /PL - 12'00''
Je sors acheter des cigarettes, Osman Cerfon / FR - 13'35''
L'après-midi de Clémence, Lénaïg Le Moigne /FR - 10'00''
La Nuit des sacs plastiques, Gabriel Harel /FR - 18'06''
Le Jour extraordinaire, Joanna Lurie / FR - 14'00''
Le Mans 1955, Quentin Baillieux /FR - 15'00''
Love He Said, Ines Sedan /FR - 05'40''
Mind My Mind, Floor Adams /NL/BE - 29'40''
Nakts Pastaigas, Lizete Upite /LV - 05'50''
Neputovanja, Ana Nedeljkovic, Nikola Majdak Jr. /CS/SK - 09'25''
Per tutta la vita, Roberto Catani / IT/FR - 05'20''
Piat minut do moria, Natalia Mirzoyan / RU - 07'07''
Raymonde ou l'évasion verticale, Sarah Van Den Boom / FR - 16'35''
Reruns, Rosto / FR/NL/BE - 14'15''
Ride, Paul Bush / PT/GB - 05'42''
Roughhouse, Jonathan Hodgson /GB/FR - 15'35''
Selfies, Claudius Gentinetta /CH - 03'40''
Sueta Suet, Alexey Turkus, Alexey Shelmanov / RU - 18'51''
That Yorkshire Sound, Marcus Armitage / GB - 02'10''
Toumei Ningen, Yamashita Akihiko /JP - 13'13''
 International Competition - Shorts - Student Films

Basav ! Chante !, Janis Aussel /FR - 03'56''
Best friend, Nicholas Olivieri, Yi Shen, Juliana De Lucca, Varun Nair, David Feliu / FR - 05'46''
Bloem?, Jorn Leeuwerink,NL - 06'46''
Dimanche Matin,Vinnie Ann Bose / FR - 04'09''
Facing It, Sam Gainsborough /GB - 07'32''
Flipped, Hend Esmat, Lamiaa Diab / GB - 04'54''
Good Intentions, Anna Mantzaris / GB - 08'35''
Grand Bassin, Héloïse Courtois, Victori Jalabert, Chloé Plat, Adèle Raigneau /FR - 06'37''
Him&Her, Nathalie Lamb / DE - 07'47''
Hors pist, Léo Brunel, Loris Cavalier, Camille Jalabert, Oscar Malet/ FR - 06'01''
Inanimate, Lucia Bulgheroni / GB - 08'35''
Kwadratura kola, Karolina Specht / PL - 04'50''
Na zdrowie! Paulina Ziolkowska / PL - 04'45''
Nie masz dystansu, Karina Paciorkowska /PL - 03'57''
Perforato, Andrea Giovanni Sitodi, Hannes Oehen / CH - 04'39''
Pura Vida,  Nata Metlukh /EE - 09'35''
Sister,  Siqi Song /CN - 08'02''
Somewhere Soft, Satoe Yoshinari / NO - 04'57''
Souffle court, Guillaume Pochez, Jean-Luc Dessertaine, Tristan Poulain, Alessandro Vergonnier /FR - 05'11''
Spell of the West, Sam Lane /US - 07'12''
Tango tęsknot, Marta Szymanska /PL - 05'22''
Thermostat 6, Maya Avron, Mylène Cominotti, Marion Coudert, Sixtine Dano /FR - 04'48''
Vermin,Jeremie Becquer /DK - 06'03''
Vertigo, Liana Mihailova /LV - 03'25''

International Competition - Shorts - Films for children
Anglerfisch, Julia Ocker /DE - 03'37''
Bijela vrana, Miran Miošić / HR - 09'00''
Coucouleurs, Oana Lacroix /CH - 06'30''
Cycle, Sophie Olga de Jong, Sytske Kok /NL - 02'15''
Drôle de poisson, Krishna Chandran A. Nair / FR/CG - 06'20''
Giraffe, Julia Ocker /DE - 03'37''
Kuap, Nils Hedinger / CH - 07'38''
One Small Step, Andrew Chesworth, Bobby Pontillas /US/CN - 07'40''
Roboten och Valen, Jonas Forsman / SE - 06'21''
Schaf,Julia Ocker / DE - 03'37''

National Competition Jury
The heavy task of choosing the Belgian shorts has fallen upon Anders Narverud Moen, Julia Ocker and Ron Dyens. Since 2012, Anders Narverud Moen has been director of the Fredrikstad Animation Festival, the oldest and largest animation festival in the Nordic region. Julia Ocker is a filmmaker, designer and writer based in Stuttgart. Her films cover a wide range of subjects, from the dark and frightening Kellerkind to the ingeniously funny Zebra. Finally, Ron Dyens is the founder of Sacrebleu Productions, which walked away with a Palme d'Or in 2010 for Serge Avédikian's Barking Island.
National Competition Selection

Alfred Fauchet, Georis Mathieu 06'40'' /ENSAV La Cambre
Bamboule,Emilie Pigeard 09'14'/ 'La Boite,... Productions
C'est moi le plus beau, Anaïs Sorrentino, Arnaud Demuynck 05'30'' /La Boite,... Productions
C'est moi le plus fort, Anaïs Sorrentino, Arnaud Demuynck 06'00''/ La Boite,... Productions
From the Snow-Covered Hill,Matty Jorissen, Wijnand Driessen 14'00'' /Walking the Dog, seriousFilm
Génération Playmobils,Thomas Leclercq 07'29'' /ENSAV La Cambre
Grand Loup & Petit Loup, Rémi Durin 13'59'' / La Boite,... Productions
Heen en Weer, Lisa Foster 04'26''/ KASK
Hello Emptiness, Louison Chambon 05'00''/ ENSAV La Cambre
Home, Koudou Hermann, Mangubat Jane 04'00'' / Haute Ecole Albert Jacquard
J'ai perdu mon papa,Collectif de 28 enfants 07'00''/ Camera-etc
La Bague au doigt, Gerlando Infuso 14'58'' / L'agence du court métrage
Le Retour du grand méchant loup, Pascale Hecquet 12'00'' / La Boite,... Productions
Little Agent, Mathis Dubrul 02'20'' /© Haute Ecole Albert Jacquard
Not Today, Marine Jacob 05'20'' / ENSAV La Cambre
Nuit chérie Lia Bertels, 13'46'' / Ambiances...Asbl
Où vas-tu Basile ? Jérémie Mazurek 03'15''/ La Boite,... Productions
Panta Rhei,Wouter Bongaerts 10'14'' /Creative Conspiracy
Récit de soi, Géraldine Charpentier 04'53'' /ENSAV La Cambre
Robo,Leo Becker 02'45'' /ENSAV La Cambre
Sous le Cartilage des côtes, Bruno Tondeur 13'00'' / Autour de Minuit
Spermaceti, Jacky De Groen 11'35'' / Cinnamon Entertainment
Story of my Triumph, Oleksandr Soldatov 07'57'' / DocNomads (LUCA)
Tutu, Gaspar Chabaud 03'20'' / ENSAV La Cambre
Velo, Glenn D'Hondt, Birger Platteeuw, 09'23'' /Eugene and Louise Studio
 
In addition to all the screening sessions and events, the Festival will also feature a number of conferences as part of the FUTURANIMA professional days, meetings with filmmakers, workshops for kids and teens, an exhibition, concerts and the Animated Night. Full programme details will be announced officially on the 7th February 2019, during the press conference. The Brussels International Animation Festival will be taking over Flagey from the 1st to 10th March 2019.
SIGN UP: Want to read more free articles like this? Sign up for Our Newsletter
Read More About: