Festivals
Animafest Zagreb 2020: Grand Competition Short Films: Themes and Motifs

(Press Release)
For the most prestigious competition section of the 30th World Festival of Animated Film – Animafest Zagreb 2020, the selection committee consisting of Daniel Šuljić, Iva Kraljević and Božidar Trkulja among 861 entries selected 40 works from 27 countries. Next to the animation titans, Canada, France, USA, Japan, South Korea, Poland, Hungary and Czech Republic, the programmers were thrilled by works from countries appearing less frequently on the global map of animation, such as Columbia or Greece.
The selected filmmakers competing for the Grand Prix and an Oscar qualification include many stellar names of different generations, like Andreas Hykade (Altötting) and Piotr Dumała (The Last Supper), Theodore Ushev (The Physics of Sorrow) and Atsushi Wada (My Exercise). They display genre, theme and motif diversity which encompasses family and partner relationships, ecology, video games, physicality, humour, addiction, dystopias, media in experimental film and animated documentary on the subject of migrations, psychopathology and personal history.
Another quality of this year's Grand Competition is definitely a pluralism of techniques, with different varieties of stop motion (particularly impressive are the claymations of Shoko Hara's Just a Guy and Izabela Plucinska's Portrait of Suzanne, as well as black wire in Dina Velikovskaya's Ties), black and white drawings (the Chinese The Six by Xu An and Xi Chen and Lucija Mrzljak's The Closing Door) and the lavish images reminiscent of visual traditions ranging from encaustic painting (The Physics of Sorrow), to avant-garde geometrics, graphics and Kandinsky's playful colours (Genius loci, Adrien Mérigeau), to sculpture, woodcut and renaissance (The Last Supper).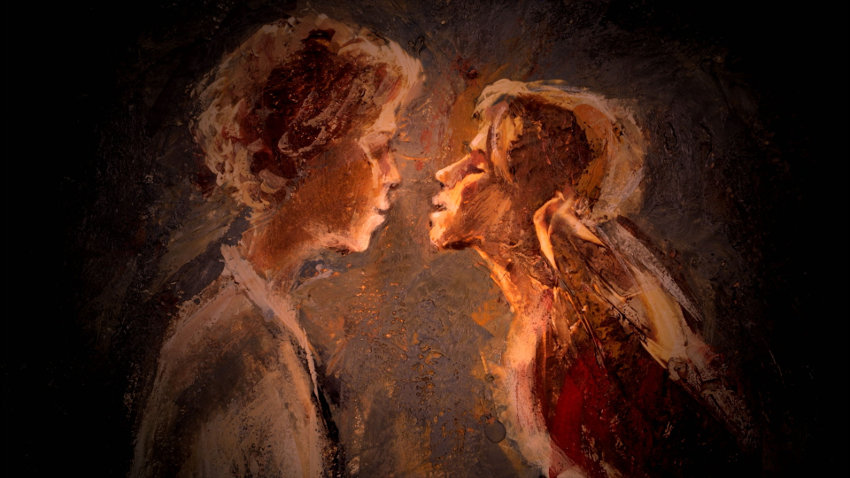 Naturally, computer generated visuals are no less impressive, such as Erick Oh's Opera, Antonis Doussias's Violent Equation, Charby Ibrahim's Bright Lights and How to Disappear by a group of Austrian filmmakers. Animafest's visitors will have a chance to check out the art and craft of these pieces at the exhibition Behind the Scenes 2 at the ULUPUH premises (Ilica 13), as well.
Visually spectacular films, which regardless of personal inclinations to certain animation techniques, should not be missed are definitely The Physics of Sorrow, Genius loci, Leaking Life by Shunsaku Hayashi, Opera and Bright Lights, as well as somewhat more reserved but powerful and relevant films by Hykade and Dumała. n his latest film, the winner of Annecy, The Physics of Sorrow, Theodore Ushev in terms of screenwriting returns to the prose of the Bulgarian writer Georgi Gospodinov, but despite that this is the most intimate film made by Animafest's favourite guest, in which he broods upon his memories, amazingly playing with encaustic painting, an ancient wax technique in which he has made over 15 000 paintings in eight years In this both epic and intimate film, Ushev juxtaposes personal histories and vastness in a polyphony of memories imbued with many poetic motifs. One of the film's voice artists is Donald Sutherland, although most of the narration was done by his son Rossif.
Named after the Marian prilgrimage and his native town in Bavaria, Hykade tells an intimate tale of faith and losing it, passion and death, coming of age and disillusionment, and in the technical sense he combines the finest qualities of the both ends of his previous work, simple smoothly moving characters often reduced to a single line and visually more lavish pieces into a synthesis worthy of a great artist. Altötting is a timeless film about innocence lost, contributed to, during the five years of its long work process in the form of engraving, by the great Portuguese animator Regina Pessoa.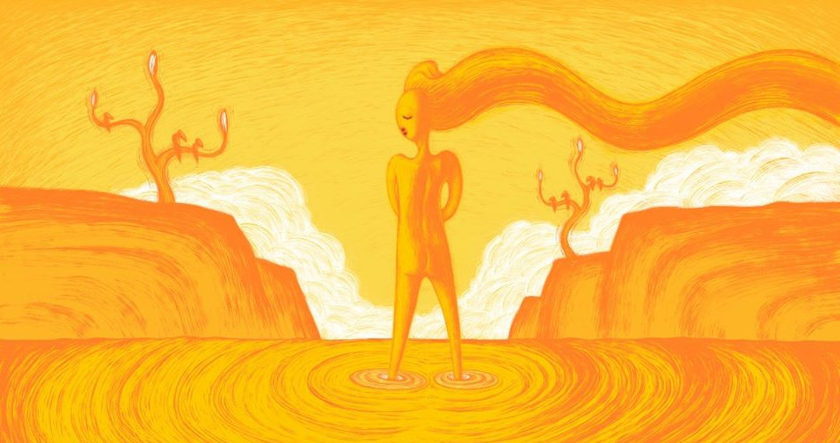 Piotr Dumała's The Last Supper is a contemporary view of the famous Biblical story and the iconic painting from the point of view of a timeless classic among Animafest's winners (Franz Kafka). Dumała is considered by many the 'sculptor' among animators because of his technique of plaster slabs (plaster engraving), old school precision and clear inspiration stemming from highbrow culture, although his films often address very human conditions. The Last Supper thus with its black and white appearance and central motif reminds somewhat of Gustave Doré (apart from, understandably, Da Vinci), but setting Christ and his disciples in a speeding train.
Finally, particularly thrilling is the fact that four Croatian films entered this 'world championship' in animation. Kreativni sindikat produced Arka by Natko Stipaničev – a wondrous and contemporised version of the Biblical tale set on a transatlantic cruiser as a relevant dystopian allegory of the late capitalist society in which civilisation embarks on its last journey to the night 'while the band plays on'.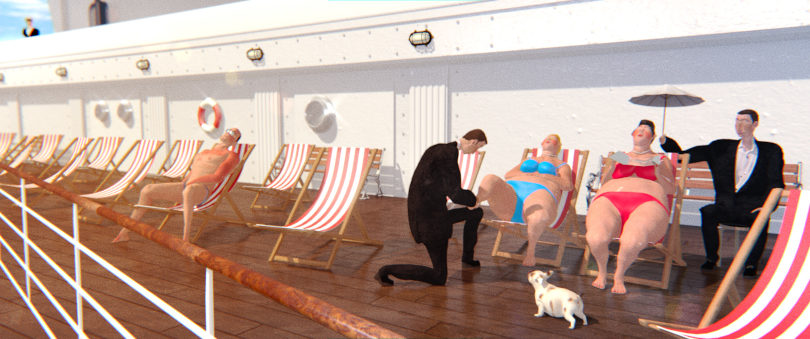 Funny and somewhat surrealist motifs punctuate the exceptionally precise dramaturgy and skilful directing of this meditative film of absurd atmosphere, original characters and subtle dark humour. Jurica Pavičić compares Stipaničev with Ruben Östlund. In addition to the Grand Competition Short Film, Arka has also been selected for the competition of the biggest international animation festival, the one in Annecy. On Arka, his first professional film, Stipaničev worked for three years, brushing up on his 3D animation skills.
The Croatian and Serbian co-production Murder in the Cathedral by Matija Pisačić and Tvrtko Rašpolić leans on Mima Simić's queer detective collection (with a screenwriting contribution by Jasna Žmak), including the spin-off on the story The Adventures of Gloria Scott from the Sherlock Holmes serias. The collection and the film turn the protagonist into a quirky female Sherlock with crazy deduction, having an affair with 'Watson' by the name of Mary. Although the plot is set in London at the turn of the century, the film, produced by Kinematograf, resorts to parody, humour and bubbly references to address many crucial issues of today – gender issues, identity (de)constructions, control mechanisms (politics, religion, media), the role of popular culture in the (re)production of stereotypes etc. Exceptionally atmospheric (thanks mostly to the backgrounds of the Belgrade-based illustrator Boban Savić GETO), with many high and pop cultural hints taking it in rapid turns, Murder in the Cathedral has also earned a place in Annecy's official selection with its humorous social critique dressed in stereotypical crime, and it could soon evolve into an animated serial. Matija Pisačić is an established animation filmmaker and comic book artist who made a name for himself in the new wave of Croatian animation with his acclaimed film Choban, while Tvrtko Rašpolić, writer, TV director and author of documentary and experimental films, debuts at Animafest 2020.

The author of the best Croatian film at last year's Animafest, Lucija Mrzljak, this year moves to the most prestigious 'competition rank' with the music video The Closing Door for the eponymous song by the Irish singer-songwriter, Oscar and Grammy winner Glen Hansard. After her A Demonstration of Brilliance in Four Acts proved her as an outstanding disciple of the Pärn couple and the rest of the Estonian animation tradition to which she is professionally related, Mrzljak in The Closing Door partly returns to her earlier (2016 graduation film Angle) skill of mastering geometric and figural minimalism with an amazing sense of the line. The Closing Door takes us on a journey filled with associations in 2D computer animation reminding of ink. The Closing Door, of exceptionally fluid animation, is a result of Lucija's free interpretation of the song's lyrics in which she found an ecological subtext together with the composer.
Animafest 2020 Grand Competition Short Film continues the queer series of the Estonian-Croatian filmmaker Chintis Lundgren, this time with a focus on the adventures of the sexy wolf Toomas, who previously had an affair with the award-winning Manivald. However, Toomas Benetah the Valley of the Wild Wolves has also seen the world – it was screened in Annecy in 2019, won awards at many festivals and has been acknowledged by the audience who respect this humorous metaphorical modern tale of sexual liberation and family relations begun in 2015.

The 30th World Festival of Animated Film – Animafest Zagreb 2020 takes place from 28 September to 3 October at SC Cinema, &TD Theatre, Kinoteka and many other venues around the city. The film programme comprises over 300 films, and next to the prestigious competitions it includes a panorama section, focus on Hungarian cinema, with a special accent on new generation female directors, the programme Masters of Animation with retrospectives of Georges Schwizgebel, Pavao Štalter and Croatian 1972 classics, the celebration of ASIFA's as well Annecy festival's 60th birthday, with a selection of award-winning films from its rich history, and the 'midnight' section WTF fostering diversity, Animafest PRO with the Animafest Scanner symposium VII and masterclasses, three exhibitions and an interesting children and youth programme, as well as Animafest in Your Neighbourhood. Due to the epidemiological measures and to protect the youngest audience, this year Animafest provides online streaming of the Children and Youth Competition in schools and kindergartens.
SIGN UP: Want to read more free articles like this? Sign up for Our Newsletter
Read More About: