Production
Finding Your Look and Content: Report from 2019 CARTOON Forum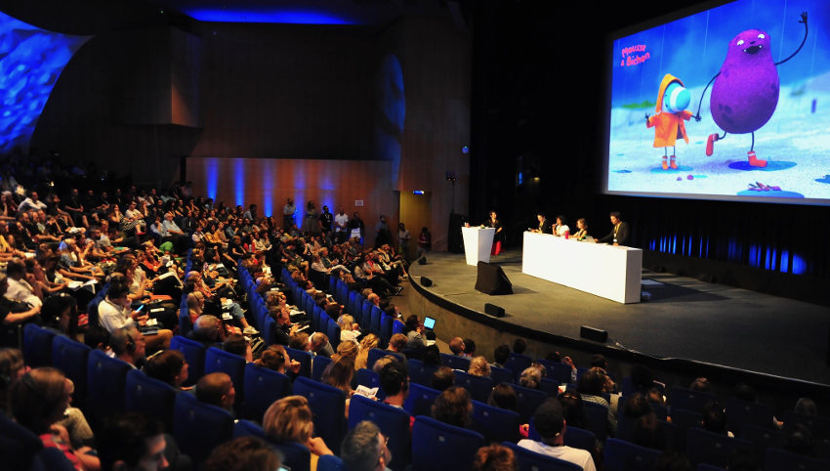 CARTOON Forum 2019 (c) CARTOON
Is this a time to celebrate? 30 years of CARTOON Forum, the pan-European initiative of building together a European 'industry' of animation kicked off with the aim of educating the young, and to actually make the dispersed European animation professionals in the TV sector to actively engage in co-operation.
30 years later, the numbers are indeed impressive, and thankfully, corresponding celebrations were chaste. CARTOON Forum has helped 782 animation series obtain financing to the tune of over 2.7 billion Euros. In 2019 CARTOON Forum, 85 projects from 24 countries were selected to be pitched in the lovely (but humid -can't have it all) Toulouse environment. Around 1000 European animation professionals (producers, investors, broadcasters and other potential partners) from 42 countries were present at the 16-19 September 2019 event. An almost 50-50 women/men participation implied that gender parity would be no difficult task for European independent animation professionals.
In contrast, the gap between former Western and Central Eastern European countries remains wide: France alone participated with 26 projects, while combined projects from Finland, Estonia, Hungary, Poland, Croatia, North Macedonia, Czech Republic and Ukraine only amounted to the lucky (?) number of 13. Financing conditions at different European countries need to follow, of course, differentiated economic conditions, but that doesn't imply that this issue should not be raised at least at CARTOON, and get a way of dealing with that. - for the quality of the projects presented was not negligible in this CARTOON Forum.
CARTOON Forum has a rigid, 30-minute pitching structure, which now has been fitted to work like a well-oiled clock mechanism, and eliminated indeed any traffic jams between the 85 projects presented. The projects were pitched simultaneously in three different rooms, and the event flow between the famous croissant& show breakfast, pitches and lunches at the Centre de Congrès Pierre Baudis was as smooth as ever. Attendance dropped the third day of the event (a sad fact for those projects pitched) at that point. A much-needed "extra time" corner was reserved after each pitching, and proved necessarily brief but invaluable.
CARTOON wants to keep abreast of the times, and (sometimes) the latest fashion in the animation industry. In the early years of this decade, it was the stereoscopic format that was prominently showcased at the sister event for feature animation CARTOON Movie (2011 CARTOON Movie report). With the stereoscopic now on the wane, CARTOON Forum (and CARTOON Movie) has transmedia as its own wild card. Since this is a practice that originates back in the early days of animation (book adaptations and illustrations have always been one of the defining sources to make an animated film), let's hope that this fashion is here to stay.
Still, some projects at CARTOON Forum were more inherently suited to this format than others. For instance, the intriguing Some of Us (Bachibouzouk) on athlete discrimination was carefully conceived as a transmedia project, while other pitches seemed to just use the notion to add something extra to their (essential) TV series ingredient. In those cases, 'transmedia' looked more of a burden and a new obligation to attend to than an inherently liberating notion. So much for fashion.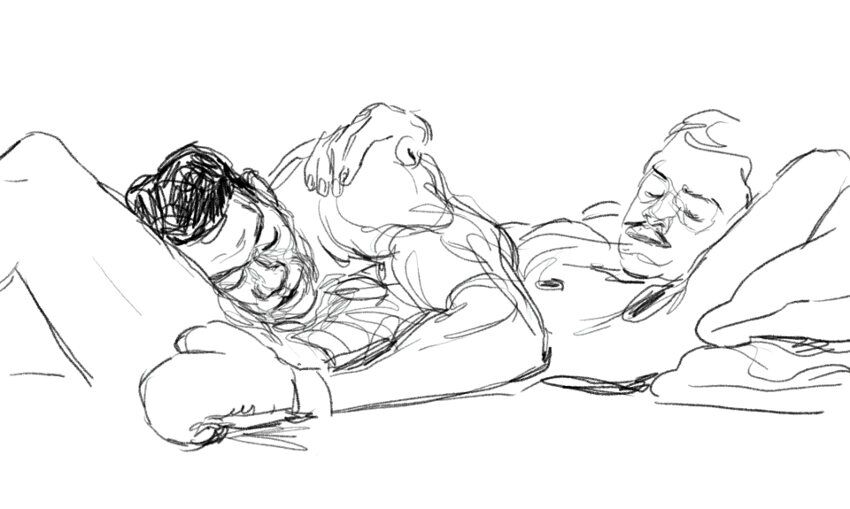 Some of Us
Everybody enjoyed the showcase of Wallonia-Brussels region this year (responsible, among other, for Panique au Village!, Smurfs and much more delights) and their inventive "Little Giants of Animation" spots. But the headache of the production financing system which was presented by the participants themselves in a wryly comic sense makes it the case that European national and regional funding bodies should desperately collaborate at some point. European animation producers need to be jugglers and financing magicians, but they really don't have to be.
Make no mistake, apart from trends, business and network meetings and deals, the heart of CARTOON Forum are the projects themselves, which showcase what we can expect of European TV animation, And here's an interesting introductory note. More than half of the projects pitched were 2D animation projects, with less than 30% of the projects in 3D animation; the rest were either a mixture of 2D/ 3D animation and/or stop-motion animation. 2018 CARTOON Forum percentages were similar, and it looks like that European animation professionals won't follow blindly the big US studio practices of 3D animation software and look.
CARTOON director Marc Vandeweyer will not attach much importance to the fact (it's content that matters, he answers Zippy Frames), but it somehow has to be more than that. Why would otherwise two high-profile and top-attended pitches, the dreamy adventure of Lucy Lost (Xilam Animation) and the canine Versailles story of Belfort and Lupin (Ellipsanime Productions) did render their 3D software in 2D to get the feel of old-school animation? And why in the delightfully eccentric Croatian project Nutz (Recircle) an audience participant defended strongly the use of a certain 2D software (ToonBoom Harmony in this case)? This goes beyond technical issues and individual choices to suit a specific project. It shows that, within the limitations they need to face, animation professionals in Europe feel the need to mix, adapt to and really have their own aesthetic cake. Successful or not it may be, it's a different game. But the look matters in order to build the content afterwards, and it is (most of the times) never formulaic.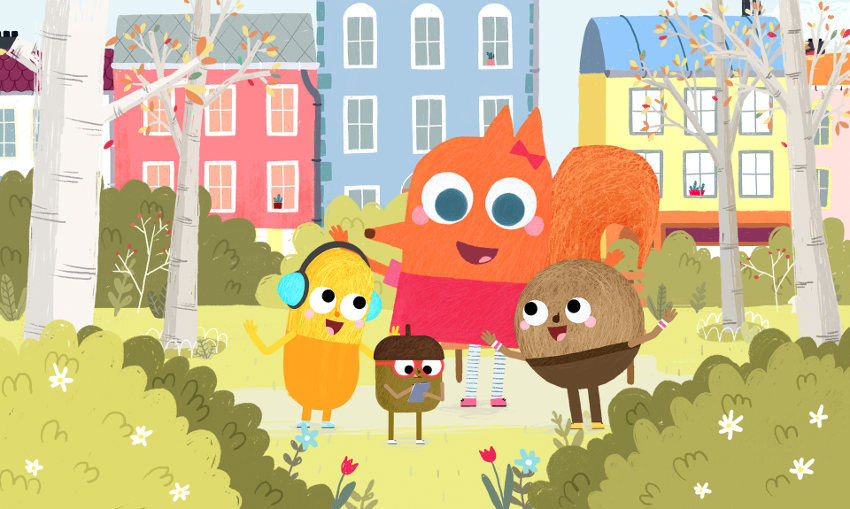 Nutz
Given the urgency of the environmental issue, we would have expected more direct, on the nose TV projects on climate change (CARTOON Forum took place just before the Global Climate Strike week, 20-27 Sep). But we were positively surprised to find out that the environment itself (sets, backgrounds) of the projects presented was nothing but uninteresting. The watercolor feel of The Ishmael's Journey (Les Batelières Productions, Foliascope), the oniric but inviting forest of Tempo (Girelle Production, Olesya Shchukina in art direction), the purposedly messy street art of Roni (La Productora de Juanjo Sáez), the seashore of Mousse and Bichon (Vivement Lundi!) made the case that where the characters live is indeed important. Less flashy, less turbulent -unless we're talking about the documentary aesthetics of Struggles (Foliascope, Les Films du Tambour de Soie), the best TV projects presented there had an environmental aesthetic of their own. Sometimes a dangerously approaching utopia, but at their best they were examining alternative options to the urban craze.
Urban craze is the place where most of the animation characters live anyway, and they need to function. Once again the important issue is to belong (to a family, school community, your town and country), a topic not unknown to animation addressed to children. It was no surprise that sensitive projects like Dounia (Tobo) would examine the current Syrian refugee crisis, or that the finely-rehearsed Palimpsest Tree (Nebularts Productions, Pit productions, Yobo Studios) would resort to African oral history to present contemporary challenges of integration. But it did matter that identity troubles and outcasts were evident even in more traditional projects. The elephant conceived as a puppy dog in Hugo & Holger (Wilfilm) or the little proud girl with moustache in Misstache (Normaal), for instance. As expected, friendship is important in all projects, but a special focus on cases not ordinarily represented (like deafness in the almost otherworldly-looking Truths by Les Fées Spéciales), gives itself a special character. Typecast characters (dogs, squirrels, cats etc.) were of course present, but here's a native tendency to move away from the already tried out animation meal for children. Whether this tendency will be awarded by broadcasters / distributors or not, that's another issue.
Behind the 'industry' (in vertical commas) facade of CARTOON Forum, and the necessary logistics (business meetings, getting your project off the ground), there is a content out there. But not in the much-lauded (and Marvel-inspired) 'IP property' sense. European animation professionals have always shown, and will continue to show imagination and creativity in handling their own content. To be able to digest issues that concern all into a story and an aesthetic for children or grown-ups, this is a feat for itself. And while they were also many projects that followed rules already laid out, much-attended projects were the ones that were able to bend these rules a little bit, and re-define (the most daring) their own field. To go to CARTOON Forum is to be able to see this creative fight and development in the making, and it's worth it.
Vassilis Kroustallis
SIGN UP: Want to read more free articles like this? Sign up for Our Newsletter